In the hushed corridors of August 2023, the world mourned as somber clouds of loss gathered over the realm of celebrity. With heavy hearts, we bore witness to the untimely departure of prominent figures whose brilliance had once illuminated our lives. As the month unfolded, their names echoed through the corridors of memory, each syllable a melancholic sigh of recognition. The curtain fell on these luminaries, leaving behind a void that seemed impossible to fill—a tapestry of talent and charisma woven into the annals of history, forever shrouded in the mists of gloom.
Ron Cephas Jones and His Cause of Death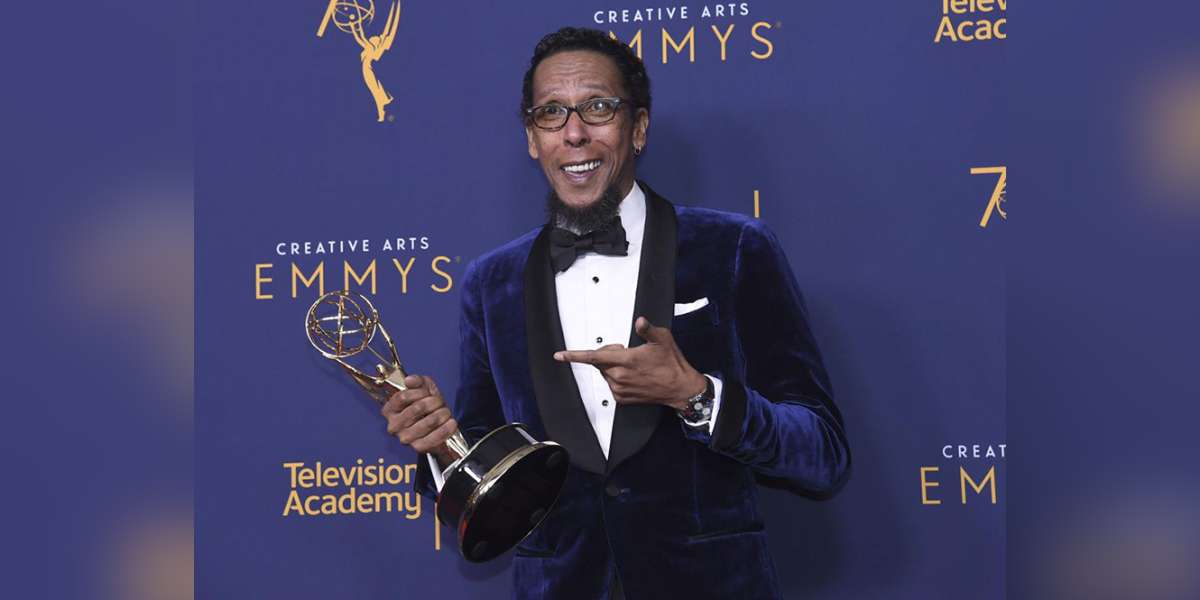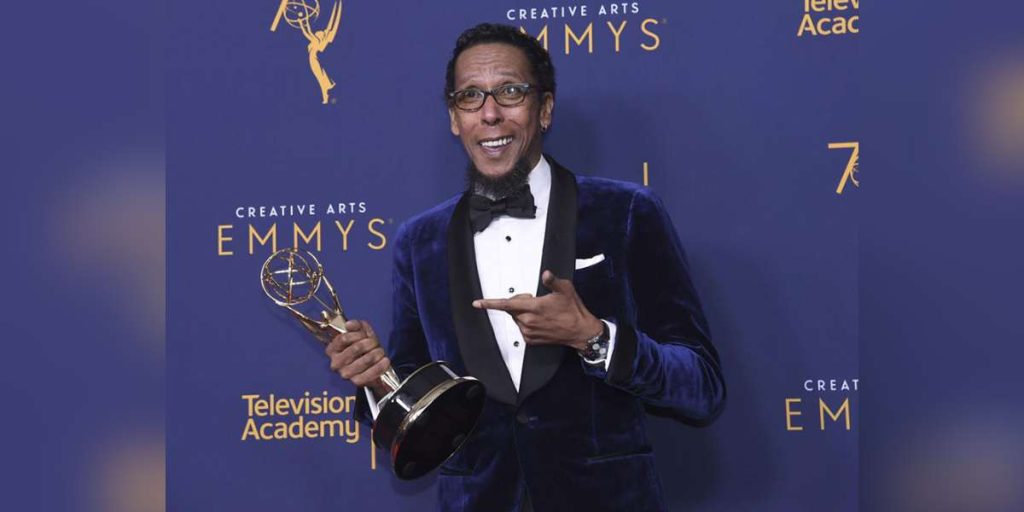 Ron Cephas Jones, an acclaimed American actor most recognized for portraying William Hill in the captivating drama series This Is Us from 2016 to 2022, passed away on August 19, 2023. His remarkable performance led to a prestigious Screen Actors Guild Award win and four back-to-back Primetime Emmy Award nominations as well. Jones received critical acclaim for his performance on This Is Us, secured a Primetime Emmy Award for the title of Outstanding Guest Actor in a Drama Series in 2018 and 2020 for his beyond compare acting skills.
Jones graced our screens with appearances in various TV series, including:
Mr. Robot (2015–2016)
The Get Down (2016–2017)
Luke Cage (2016–2018)
Truth Be Told (2019–2023)
In addition to television series, the Emmy-winning actor showcased his talent in numerous films, including:
Half Nelson (2006)
Across the Universe (2007)
Glass Chin (2014)
The Holiday Calendar (2018)
Dog Days (2018)
Dolemite Is My Name (2019)
In 2022, he earned a nomination for his exceptional acting in the Broadway play Clyde's at the prestigious 75th Tony Awards in the category of Best Performance by a Featured Actor in a Play.
The famed actor initiated his journey in the entertainment world as a humble bus driver. Ron Cephas Jones set his path in the entertainment industry by delving into the world of hip-hop and performing arts during the mid-1980s. He collaborated with top-notch actors, taking on more significant roles, as time went on. Notable moments in his career include starring alongside Ryan Gosling in "Half Nelson" and sharing the screen with Eddie Murphy in "Dolemite Is My Name."
Furthermore, Ron Cephas Jones also exhibited his acting mastery in the Hulu teen drama series Looking for Alaska, as well as the Apple TV+ crime drama series Truth Be Told, opposite Octavia Spencer, Lizzy Caplan and Aaron Paul.
Ron Cephas Jones cause of death was a lung disease. The beloved actor would openly talk about his challenges with a long-lasting illness called chronic obstructive pulmonary disease (COPD). A harsh, irritating chemical, particularly cigarette smoke, may provoke COPD, a chronic inflammation of the lungs.
In 2020, he had surgery to replace both lungs and underwent an arduous treatment journey. Unfortunately, he could not overcome the disease and passed away in 2023. Despite his efforts, Ron Cephas Jones disease had him surrender, persuading his soul to leave his body at 66.
Tom Jones and His Cause of Death
Thomas Collins Jones, or Tom Jones, an American lyricist and librettist best known for The Fantasticks, 110 in the Shade, and I Do! I Do!, passed away on August 11, 2023. Jones also wore the hat of an author. He wrote a book called Making Musicals: An Informal Introduction to the World of Musical Theater.
Born in a small town in Texas in 1928, Tom Jones embarked on a journey that profoundly impacted theater and music. He went to the University of Texas, and there he met his future friend and partner, Harvey Schmidt.
After a while, Tom joined the military during the Korean War. Afterwards, he moved to New York to start his career in theater. At first, he wrote scripts for shows for a guy named Julius Monk. Later, he teamed up with John Donald Robb to make a musical called "Joy Comes to Deadhorse." The inspiration for this musical stemmed from Edmond Rostand's 1894 play "Les Romanesques." Although things started well, creative differences eventually led to their parting ways.
The most famous creation by him is The Fantasticks. It had a long run off-Broadway from 1960 to 2002. The hit song "Try to Remember" also comes from this show. Some other catchy tunes like "Soon It's Gonna Rain," "Much More," and "I Can See It" are part of it too. He even penned the screenplay for the movie version in 1995.
In a revival of The Fantasticks in New York City, he not only directed but also acted in it. He took on the role of the Old Actor, a character that had been there since the musical's opening in 1960. He performed this role from April 26, 2010, to June 6, 2010. He used the name Thomas Bruce for his acting credit in the show.
The cause of Tom Jones' death was cancer. The terminal disease claimed the life of the legendary singer. His son Michael confirmed the news of his passing in a statement, coping with the painful loss of his dear father. Also, the iconic lyricist's demise at the age of 95 has deeply saddened the world of music. However, the family's sadness was compounded by the fact that Tom's wife had also passed away in 2016.
Marty Ward and His Cause of Death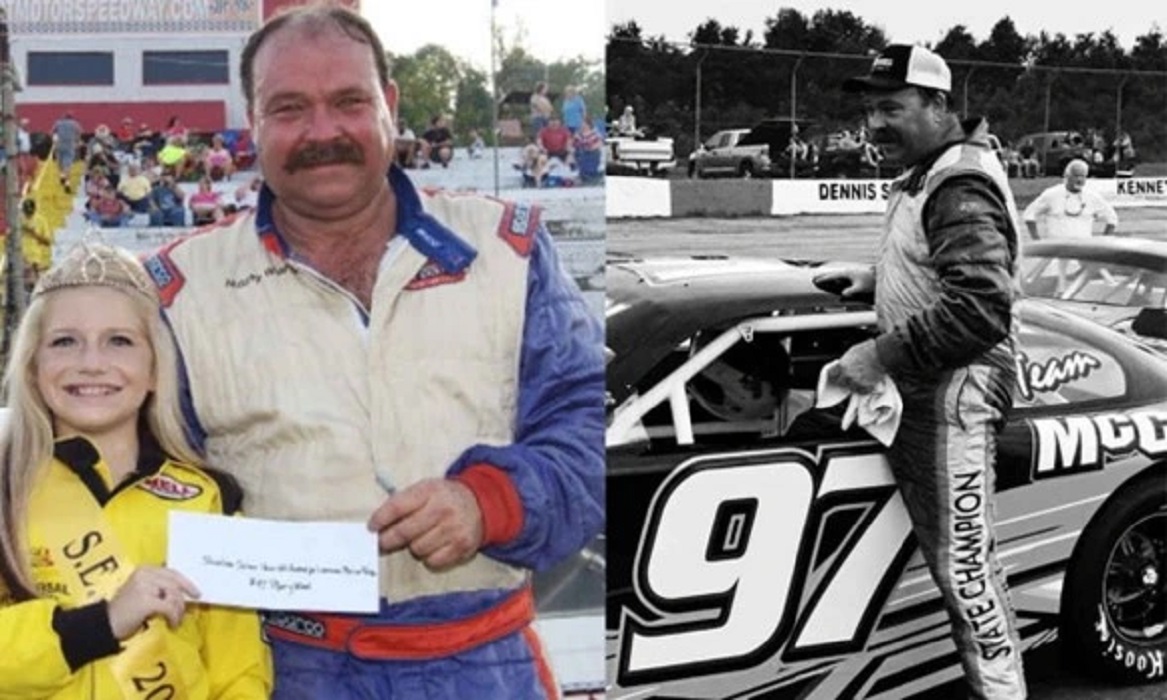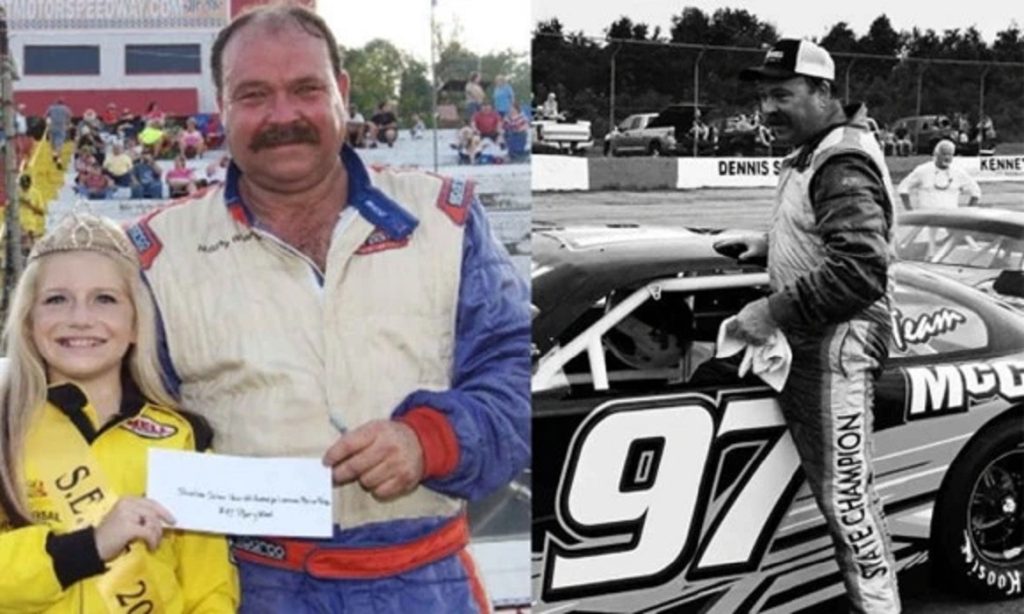 Marty Ward, one of the all-time greats in short-track racing from the state of South Carolina and a celebrated figure in the world of NASCAR, tragically passed away on August 6, 2023. Ward, whose illustrious career spanned several years, was a record-setter and achiever, etching his name indelibly in the annals of racing history.
Marty Ward's career was extraordinary, punctuated by a series of victories and achievements. He emerged victorious in various racing series such as the Hooters Pro Cup, the UARA STARS Late Model, NASCAR Sportsman, and the NASCAR All-American Challenge. However, these are just a few highlights of his impressive journey. He clinched the title of six-time track champion at Greenville-Pickens Speedway. In addition, he won the South Carolina State Championship three times in the NASCAR Advance Auto Parts Weekly Racing Series.
The cause of Marty Ward's death was a heart attack, as per the announcement of the official statement. The news emerged following Ward's participation in the Southeast Super Trucks competition at the Anderson Motor Speedway. His last big win happened in the Southern Classic Stock Car race at Anderson Motor Speedway, on the exact day he embraced death at 58.
William Friedkin and His Cause of Death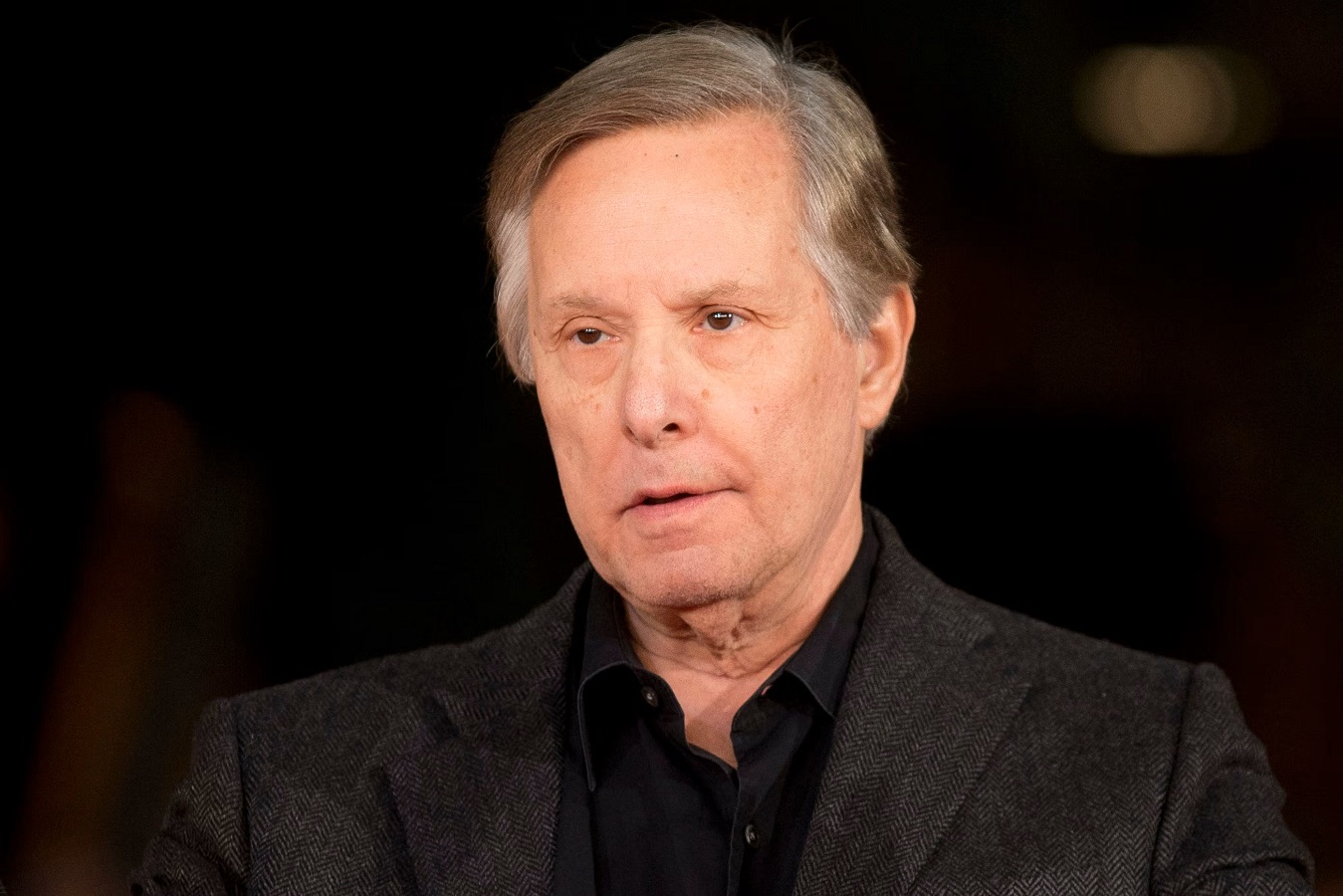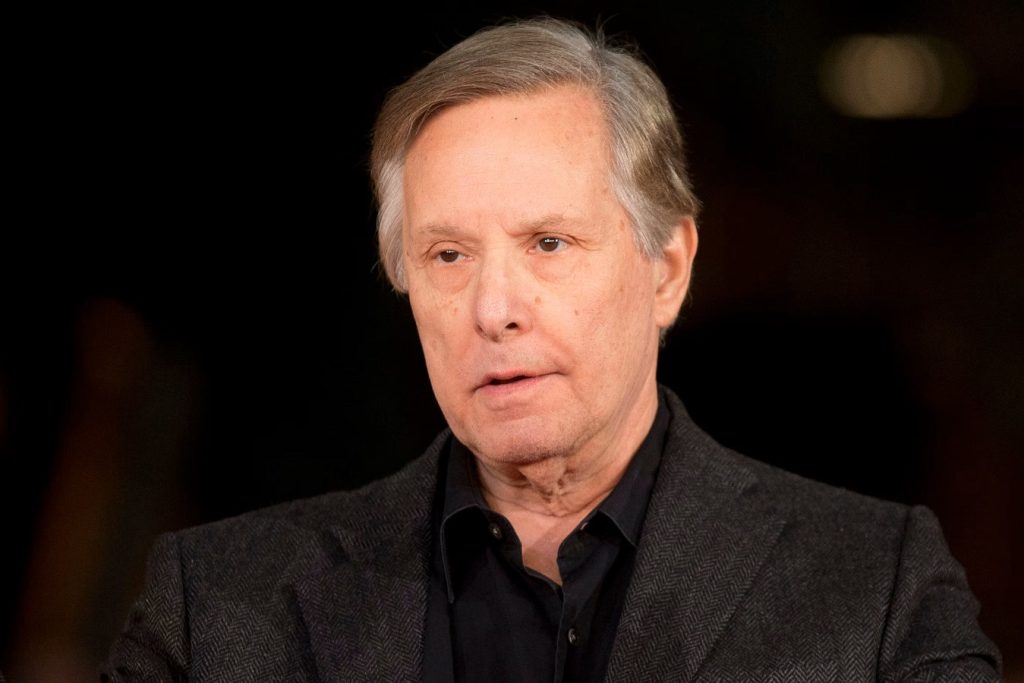 William David Friedkin, an American film and television director, producer, and screenwriter who was closely identified with the "New Hollywood" movement of the 1970s, passed away on August 7, 2022. Starting out with documentary work in the 1960s, he later made a name for himself by helming the gripping crime movie "The French Connection" in 1971. This film won an impressive five Academy Awards in the categories of Best Picture, Best Actor, Best Adapted Screenplay, and Best Director. Friedkin's talents shone once again with the spine-tingling horror movie "The Exorcist" in 1973, earning him another well-deserved Academy Award nomination for Best Director.
William Friedkin, born in Chicago on August 29, 1935, had a close-knit family as he grew up. Even though he was great at basketball in high school, he was drawn to the world of entertainment and began his journey as a director at WGN-TV. Friedkin started at the bottom, working in the mailroom, but quickly climbed the ladder, becoming in charge of many live shows and documentaries, including "The People vs Paul Crump."
William Friedkin's staggering net worth of $70 million testifies to his brilliance in the glamorous realm of Hollywood. His decision to relocate to Hollywood in 1965 proved fruitful, as his debut feature film, "Good Times," hit the screens within two years. However, it was movies like "The Boys in the Band" and "The Night They Raided Minsky's" that genuinely elevated his stature, earning him extensive recognition.
Spanning more than half a century of his career, Friedkin weaved a tapestry of horror, action, suspense, thrills, and the captivating essence of love through his craft. His documentaries, television series, and movies never failed to leave audiences spellbound. His 2017 documentary "The Devil and Father Amorth" further solidified his reputation as a master of the cinematic craft. Notably, William Friedkin was given the Lifetime Achievement Award to celebrate his enduring journey in the world of cinema at the 54th Chicago International Film Festival in 2018.
William Friedkin cause of death was heart failure and pneumonia. Sherry Lansing, his wife, disclosed the news of his passing, informing fans through the Los Angeles Times that her husband embraced death on Monday in Los Angeles at 87. Friedkin had been battling heart-related issues for quite some time.
Phillip Maxwell Smith and His Cause of Death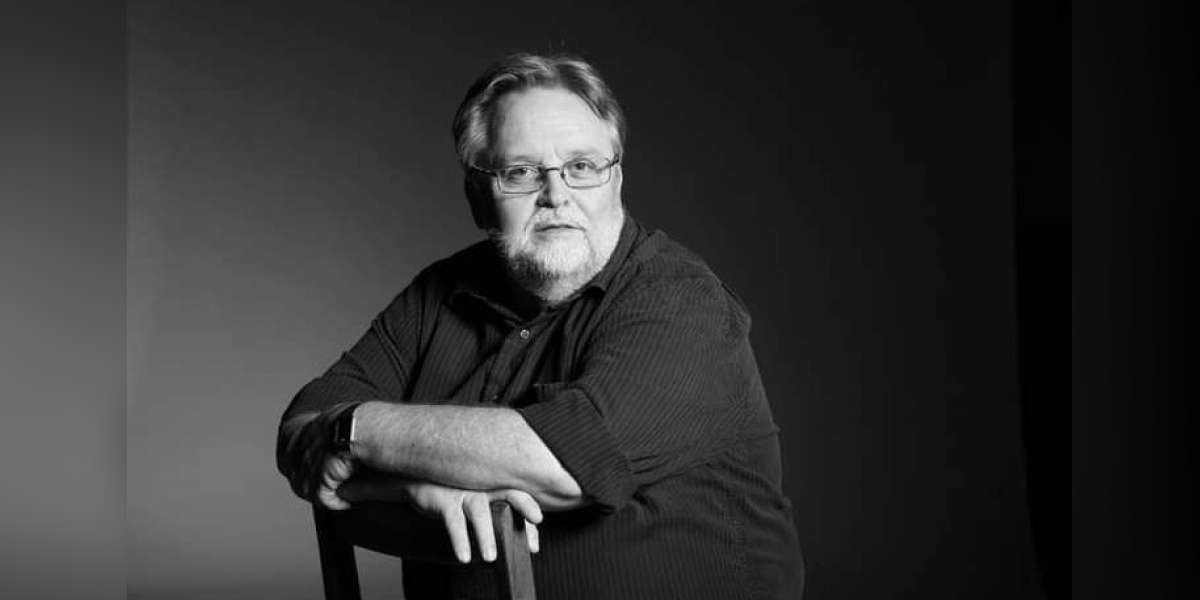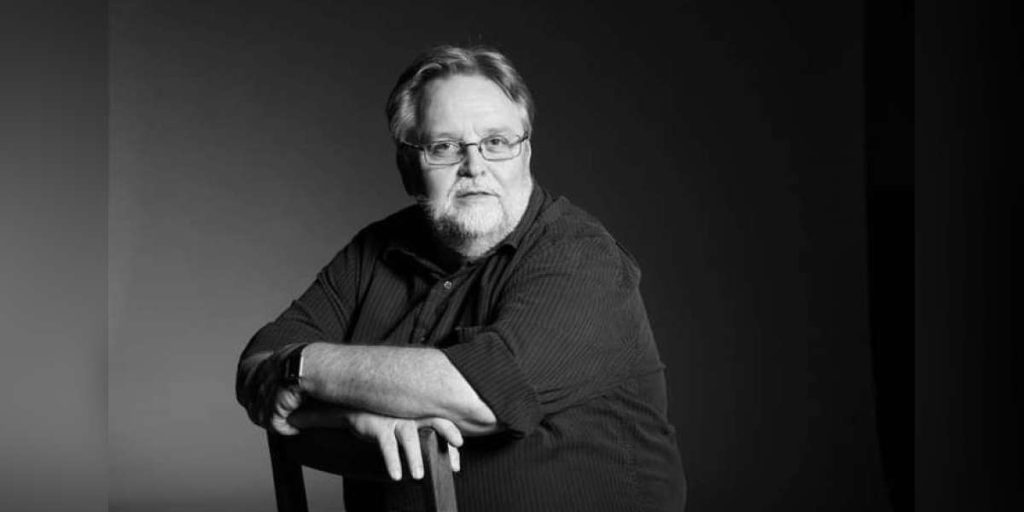 Phillip Maxwell Smith, whose life was like a canvas upon which he would paint his passions, will no longer be captivating us as he passed away on August 8, 2023. With a paintbrush or pencil in his hands, he excelled at the hidden talents of painting, drawing, and reading, articulating his thoughts through strokes and creativity in the art world. Painting and drawing were Phillip's ways of showing who he was. Phillip Maxwell Smith left behind a visual legacy of his creative soul.
In addition, Phillip's interests were not limited to art alone. He had a strong love for literature and loved delving into the literary world of brilliant authors who painted another picture of shared perspective with exuberance. His curiosity knew no bounds, and reading brought him immense happiness.
His love for beauty did not stop at art and literature; it extended to the world of antiques, especially lamps. He had a deep fascination for these timeless pieces, which showed his remarkable attention to detail and sense of aesthetics.
In remembering Phillip Maxwell Smith, his dedication to helping his community comes out on top. As a partner at Empty Bowls, a charitable organization, he played a vital role in supporting local food banks. Phillip's involvement with Empty Bowls demonstrated his belief in compassion and his unwavering commitment to aiding those who were less fortunate.
The cause of Phillip Maxwell Smith's death remains unknown. Any statement regarding the cause of his death has not been disclosed by his family. He embraced death at the age of 69 in Round O, South Carolina.
Gan Teik Chai and His Cause of Death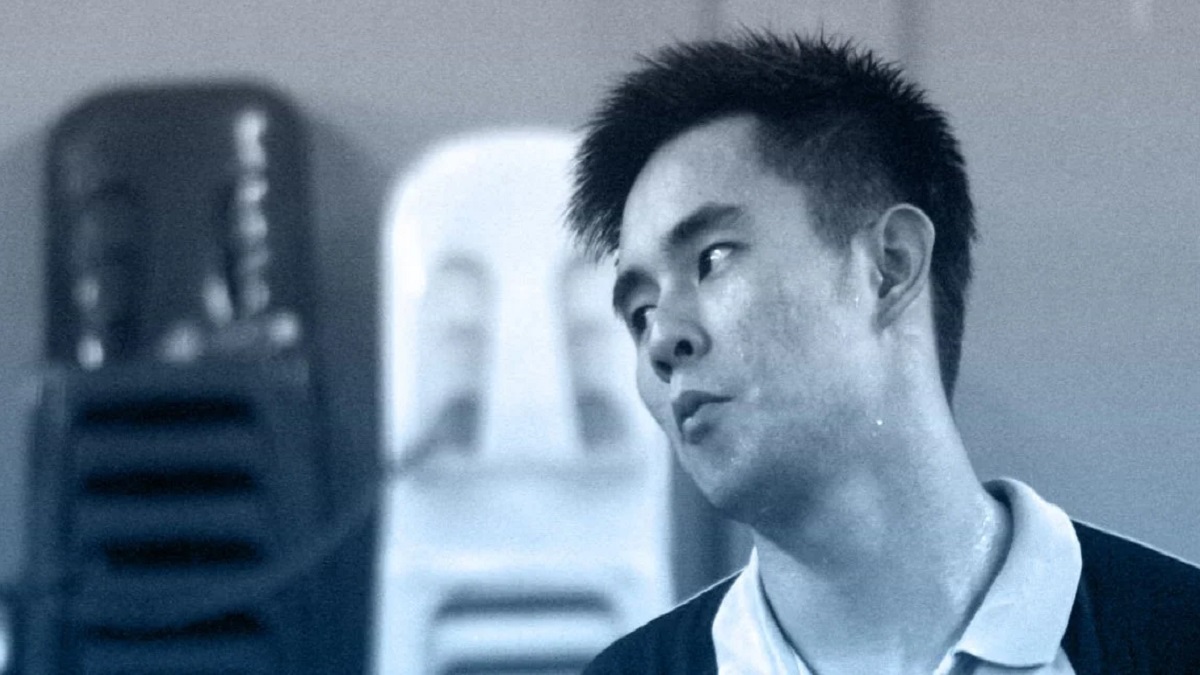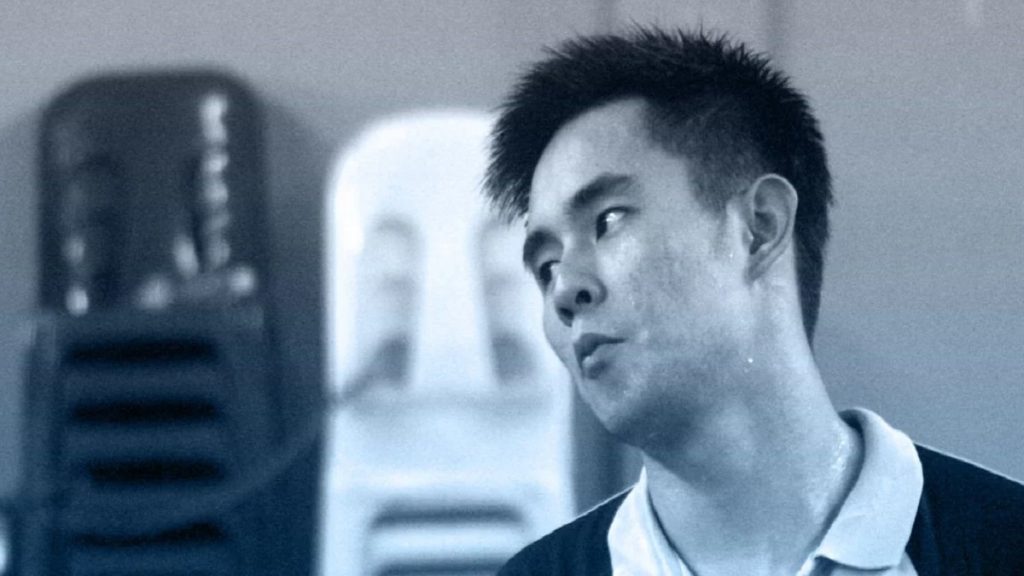 Gan Teik Chai, a Malaysian badminton player who played a pivotal role in boosting the Malaysian badminton community, passed away on August 5, 2023, at the age of 40. With his exceptional badminton skills, he represented Malaysia at top-level tournaments. Gan Teik Chai was widely regarded as the National Double Star, whose striking talent earned him great success, fame, and worldwide appreciation.
He had achieved significant titles and championships in his badminton career. In 2009, he won the Australian Open Grand Prix tournament with Tan Bin Shen. Two years later, in 2012, he won the BWF International tournament, partnering with Ong Soon Hock in Mauritius, Argentina, and Brazil. However, his most remarkable accomplishment will always be his title in men's doubles.
At a young age, Gan Teik Chai began his journey in badminton, showing brilliant skills on the court. He climbed the stairs of success with unwavering determination and hard work, quickly making a name for himself in the Malaysian badminton scene.
Teik Chai's winning record is impressive, as he stood victorious, achieving multiple national championships and international titles. His game knowledge and brilliant skills set him apart from his contemporaries. Gan Teik Chai's victories earned him a prominent place in the world of sports, especially badminton.
The cause of Gan Teik Chai's death was a heart attack. He died suddenly with no signs or symptoms of chronic illness. However, we must wait for the release of an official statement to learn about the circumstances surrounding his passing. Gan Teik Chai's friend broke the news of his passing, revealing his death cause.
Darren Kent and His Cause of Death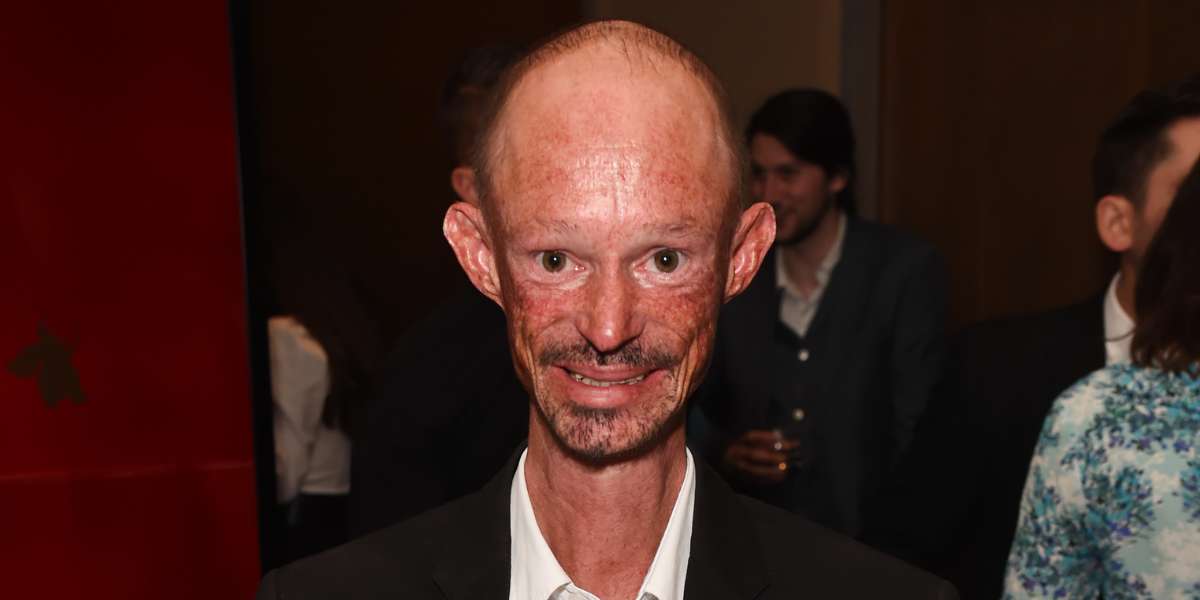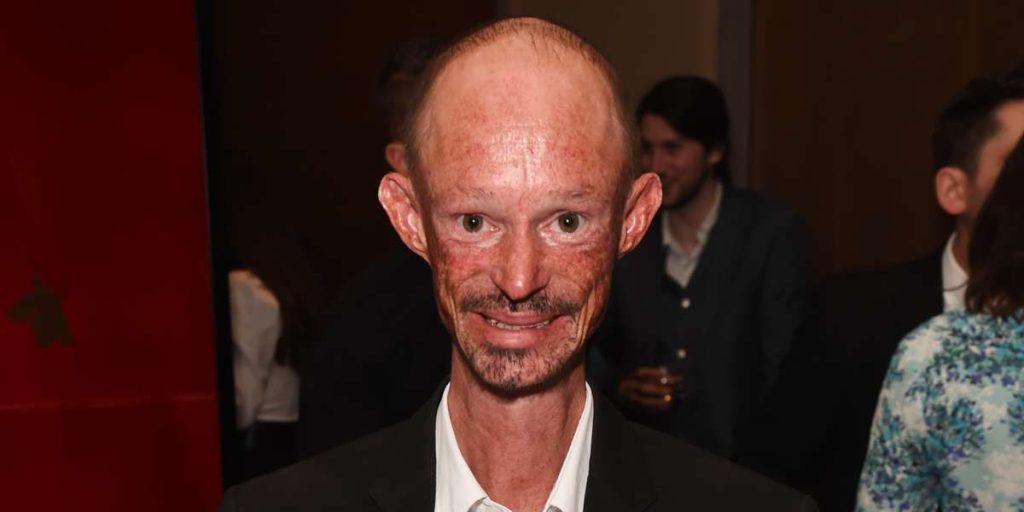 Darren Kent, an acclaimed director and actor who made his mark on both the big and small screens, passed away on August 11, 2023. Hailing from Essex, he stepped into the world of acting in the 2008 horror movie "Mirrors," where he shared the screen with Kiefer Sutherland. His journey in the entertainment world blessed him with significant roles, such as the gothic thriller "The Little Stranger" in 2018, a film directed by Lenny Abrahamson and featuring Ruth Wilson and Domhnall Gleeson.
Adding to his repertoire, Kent also made guest appearances in two episodes of the popular show "EastEnders" in 2022. His talents stretched beyond acting when he took on the role of a director for an episode of the BBC series "The Break" and the short film "You Know Me," both in 2021. His exceptional work on "You Know Me" gained well-deserved recognition, earning him the esteemed titles of Best Director and Best Short Film at the London International Monthly Festival.
The cause of Darren Kent's death has yet to be confirmed. We do not have knowledge regarding Darren Kent's untimely passing at the age of 36; however, it is known that he had been suffering from osteoporosis, arthritis, and some unique skin disease. Kent's impact as an actor and director will never fade away. The awards he earned, especially for his directorial work, mirror the hard work and ultimate love he put into his craft.
Nermin Crnkic and His Cause of Death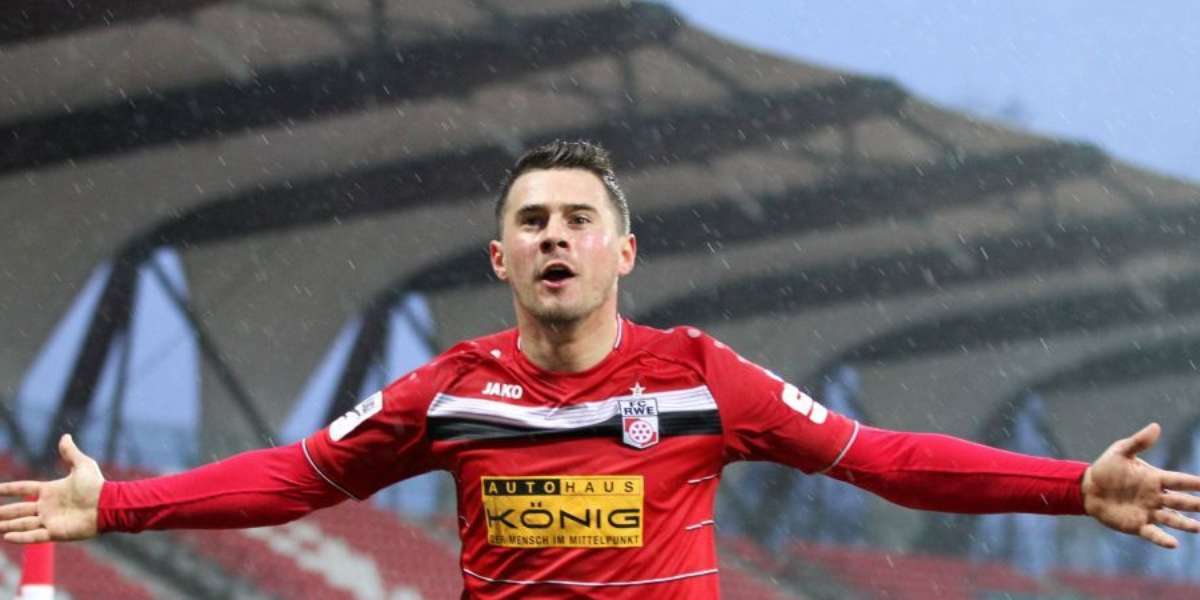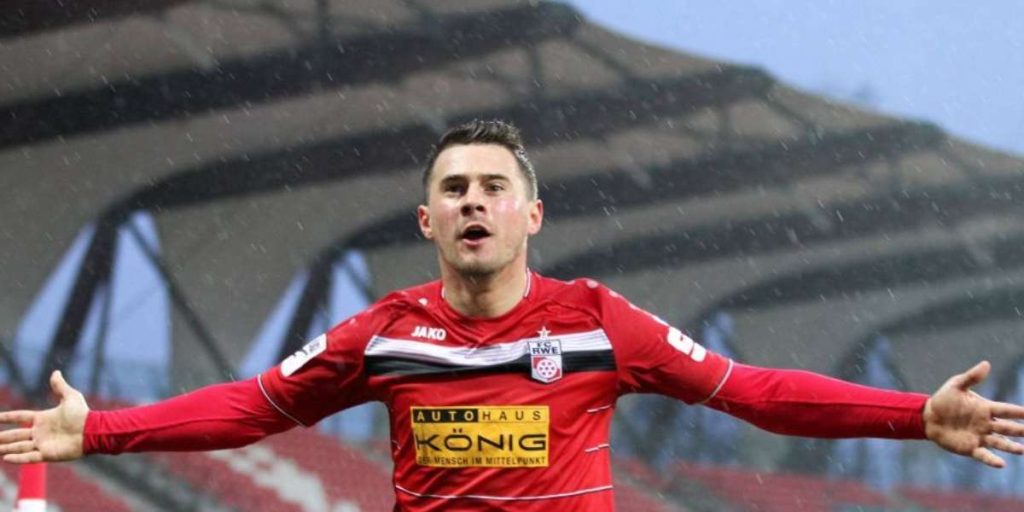 Nermin Crnkic, a Bosnian professional footballer who played as a left winger, passed away on August 5, 2023, at the age of 30. He showcased immense talent and passion for football from a young age and proved his decision right later in life. As a left-winger, the young sportsman mesmerized audiences with his exceptional skills on the field. The unfortunate young football player represented teams such as Sarajevo City and Tuzla, justifying his selection for both teams.
At the tender age of seven, an array of opportunities illuminated his path, and he chose America as his country. His family successfully migrated and later obtained American citizenship. This significant change opened new doors for Crnkic, allowing him to pursue his passion for football in a different setting.
In a new country like America, Nermin Crnkic's love for the sport flourished, with more opportunities and state-of-the-art facilities. He joined local teams and trained relentlessly to refine his football skills. However, his determination and perseverance did not go in vain, as he caught the attention of many coaches and scouts. Soon, in his life, Nermin Crnkic became a standout player, gaining recognition at the national and international levels simultaneously.
Nermin Crnkic's short yet excellent journey on the football field is a testament to the power of passion, hard work, and seizing opportunities. Starting in a small town in Bosnia and Herzegovina, he went on to make a name for himself in the global football community. His career record is not mind-blowing, but his story serves as an inspiration to all young aspiring footballers, reassuring them that dreams can come true with dedication and belief in oneself.
The cause of Nermin Crnkic's death was a sudden heart attack. He had lost consciousness and was discovered to be nonfunctional at his apartment in the United States of America. Before the release of the autopsy report, many suggested that he died by suicide. However, after the official announcement and the post-mortem report, it has been confirmed that Nermin Crnkic's death was attributed to a sudden heart attack that turned out to be fatal.
Clifton Oliver and His Cause of Death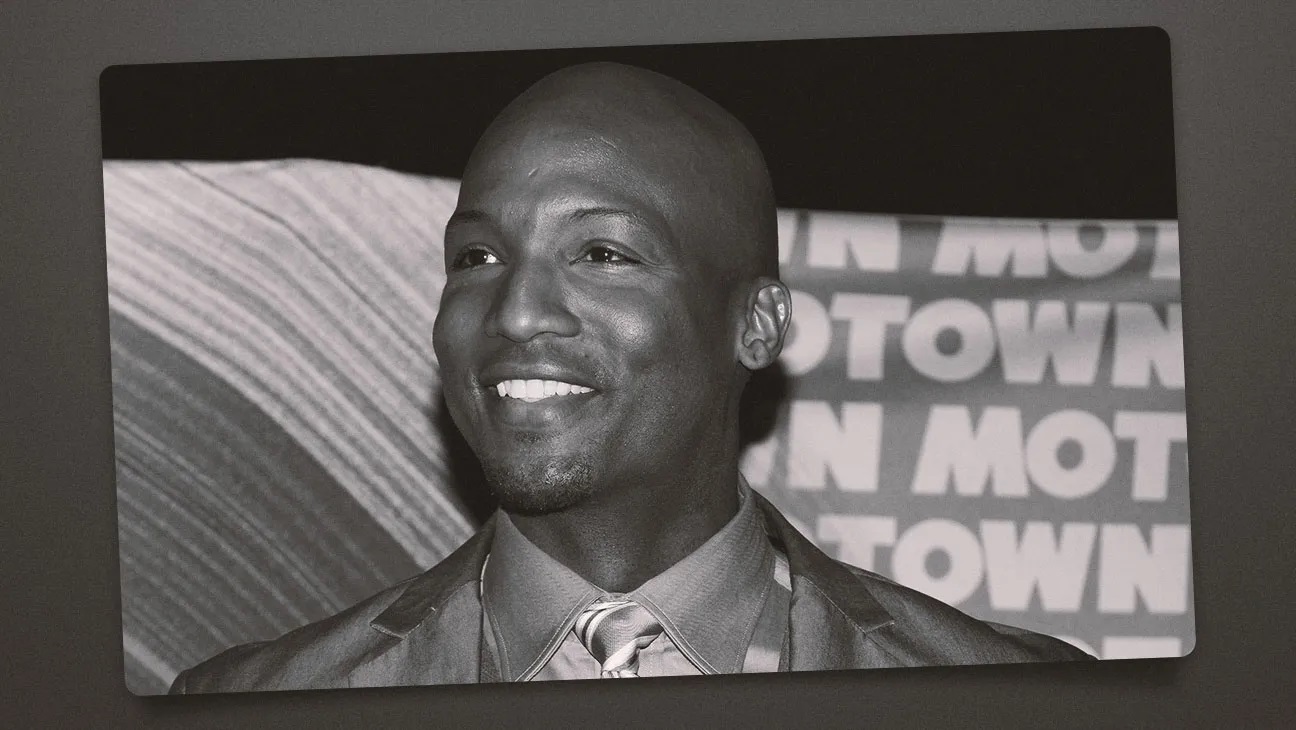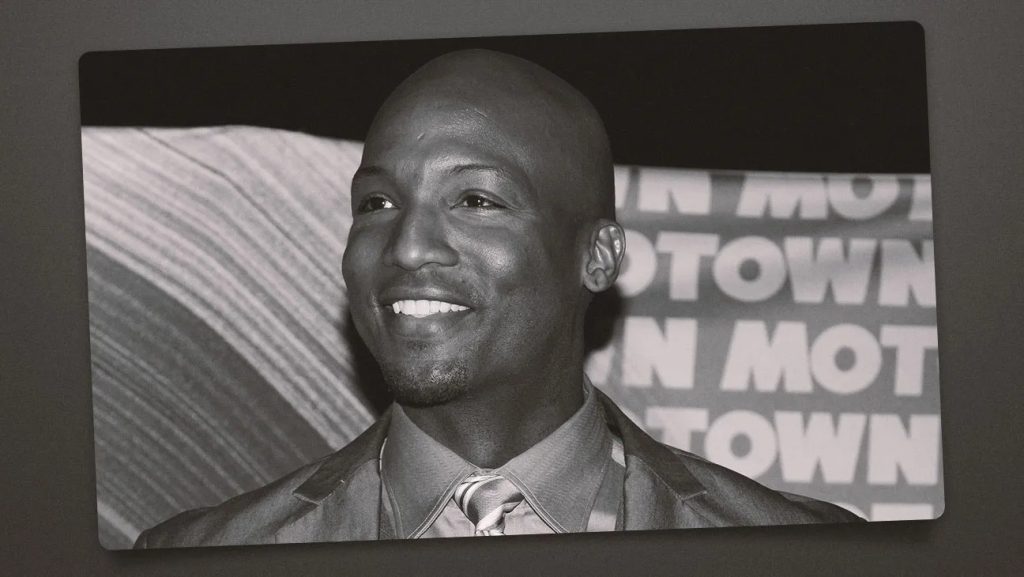 Clifton Oliver, a renowned Broadway artist and The Lion King's Simba, whose journey in the entertainment industry was an emblem of determination and passion, passed away on August 2, 2023, at 47. He knew he was destined to make his mark in acting from his early days. Restless work and God-gifted acting skills made him an extraordinary actor, leaving an incomparable legacy behind.
Oliver's Broadway debut occurred in 2010's 'Wicked.' His jaw-dropping performance in the movie captivated audiences on all continents. As his career progressed, he played a significant role in the musical 'In the Heights,' alongside Jordin Sparks. However, his portrayal of Simba in 'The Lion King' made history and left audiences in awe of his unique dialogue delivery and stellar confidence.
Throughout his illustrious career, Oliver showcased his talents in various productions, including 'Bella: An American Tall Tale,' 'Miracle Brothers,' 'Dreamgirls,' and 'Motown the Musical.' Clifton Oliver's memory lives on through the love and support of his partner Richard, his sister Roxy Hall, and his brothers Eddie Oliver and Jonathon Oliver.
The cause of Clifton Oliver's death remains unknown. A challenging and excruciating ailment claimed his life on Wednesday. Owing to an undisclosed illness, he spent significant time in hospice care, enduring six painful weeks under critical observation before his soul left his body to find eternal peace. Clifton Oliver's loved ones surrounded him at the time of his tragic passing. Oliver's partner provided comfort and solace by singing to him in his final moments. Additionally, in honor of Clifton Oliver's memory, New York's New Amsterdam Theatre dimmed its lights at 5 p.m. ET on Aug. 8, paying tribute to his immense impact on the theater community.
JM Canlas and His Cause of Death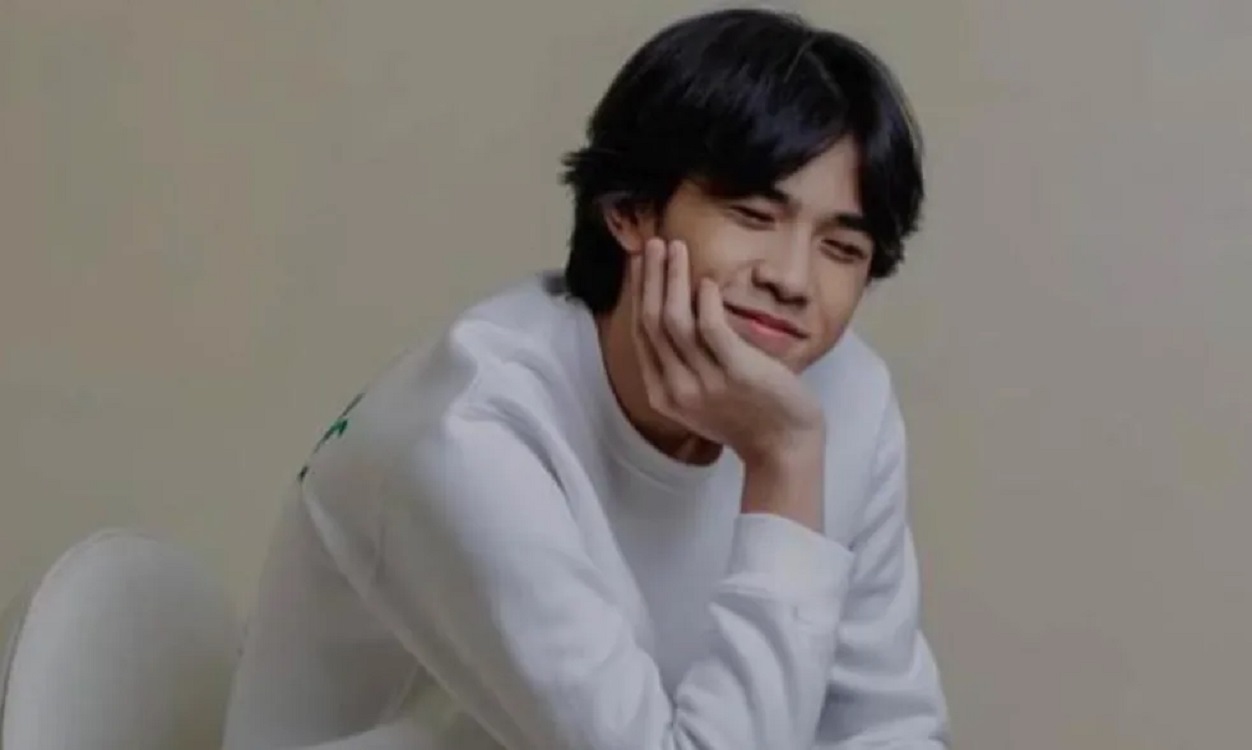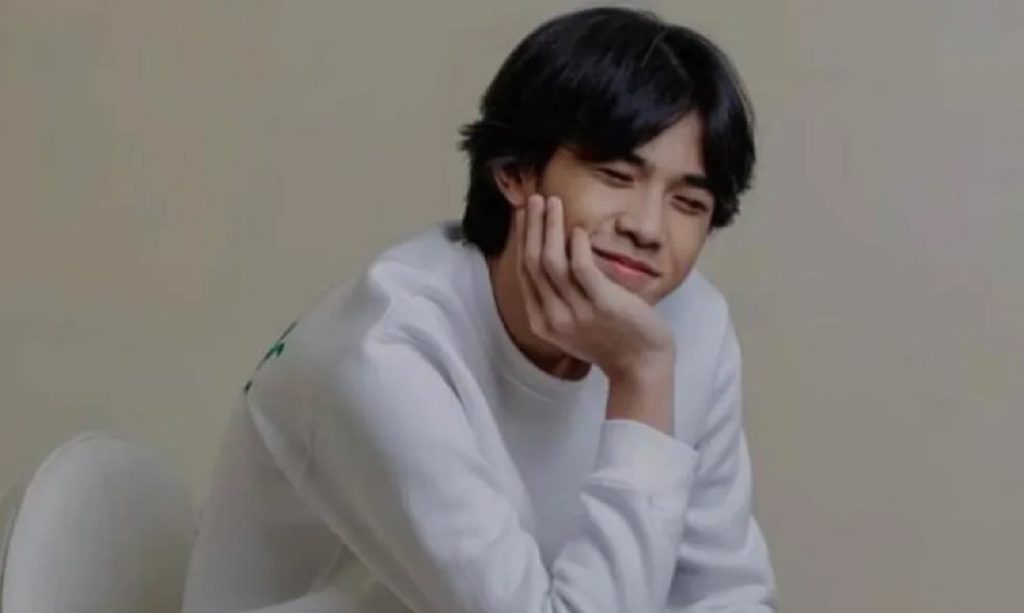 Jamile Matthew Madiclum Canlas, or JM Canlas, a former child actor and youngest brother of Gameboys star Elijah Canlas, passed away tragically on Friday, August 3, 2023. The entertainment world mourns the tragic loss of a talented and beloved young actor who captured the hearts of many.
Initially gaining fame as a child actor, JM's life was made even more exciting by his different interests, which brought him joy. Apart from the glamorous world of show business, he rose to prominence as a skilled athlete, showing exceptional abilities in various sports. His athleticism and strong competitive spirit greatly impressed people who saw him on sports grounds.
JM also expressed himself through music, as his singing and instrument-playing skills helped him portray and unfold his personality. Also, his musical performances strongly impacted the audience, creating lasting memories.
JM's intellectual acumen was just as remarkable as his artistic talents. He was a talented speaker who captivated listeners with his convincing arguments and eloquence, proving both his creativity and intelligence. In addition to other extraordinary skills, JM was a fantastic dancer. His graceful and fluid dance moves touched people, allowing him to convey feelings and stories through the art of dance.
The cause of JM Canlas' death was suicide. He took his own life at the age of just 17. JM had been battling mental health issues since adolescence, a burden he carried despite his remarkable successes as a child actor, extending far beyond his on-screen persona. However, his family confirmed the news of his demise via Facebook, painting a poignant picture of the multifaceted individual JM was.
Johnny Hardwick and His Cause of Death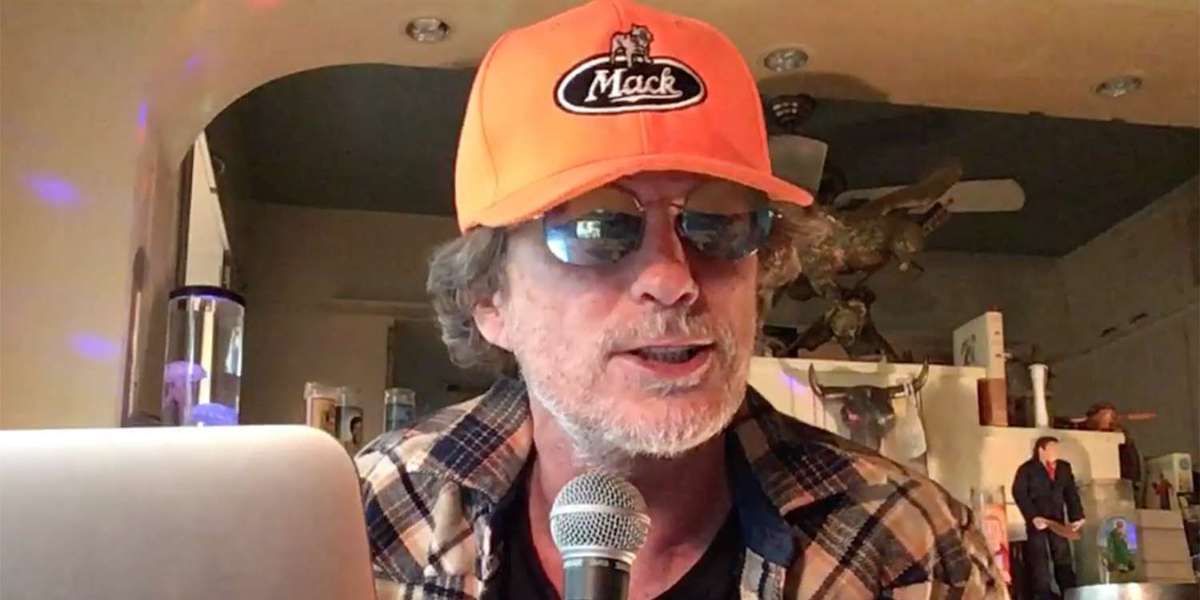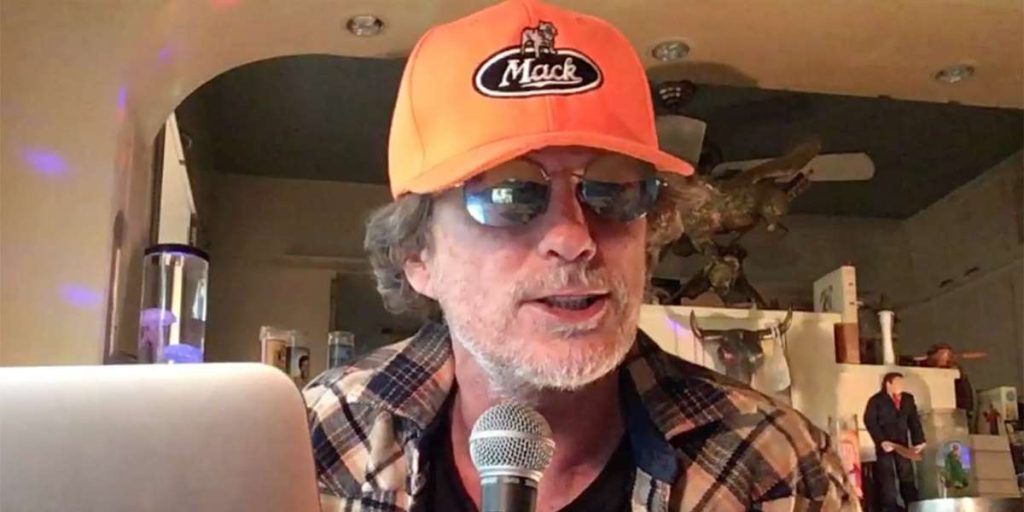 Johnny Hardwick, a renowned American voice actor, comedian, writer, producer, and YouTuber, sadly passed away on August 8, 2023, in Austin, Texas, United States of America. He was best known as the voice of Dale Gribble in the animated American television series King of the Hill. Hardwick was also its staff writer, story editor, and producer. He had three Primetime Emmy Award nominations, and in 1999, the voice actor won an Emmy for producing King of the Hill.
Starting in 1990, Hardwick began his career as a stand-up comedian and performed at various venues, such as the Dallas Improv and the Velveeta Room in Austin. He appeared on TV shows like Evening at the Improv and Caroline's Comedy Hour. Hardwick was notably the first comic to appear on The Jon Stewart Show. In 1995, he caught the attention of Brandon Tartikoff at the Montreal Comedy Festival, who offered him a sitcom on NBC, though the show never came to fruition.
After signing a contract with the Strauss-McGarr agency, Hardwick's stand-up gigs took him all over the U.S. Moreover, during a performance at the Laugh Factory in Los Angeles, he shared a story about his Texan father, which caught the attention of TV writers Greg Daniels and Mike Judge, who eventually created the Texan-themed comedy King of the Hill.
The role of Dale Gribble in King of the Hill was initially meant for Daniel Stern, but due to salary disputes, Hardwick won the role by not haggling over money. He portrayed Dale for the show's entire 13-year run, participating in 257 out of 258 episodes. He was set to return for the show's revival before his passing, having recorded a few episodes.
The cause of Johnny Hardwick's death has yet to be determined, as his lifeless body was discovered at his residence in Texas. However, his sudden departure did not promote suspicion of foul play. Authorities responded to a welfare check at his residence and found him unconscious. He was declared dead at the scene at the age of 64. Still, all eyes are on the Travis County Medical Examiner's office to learn about Johnny Hardwick's cause of death.
Terry Funk and His Cause of Death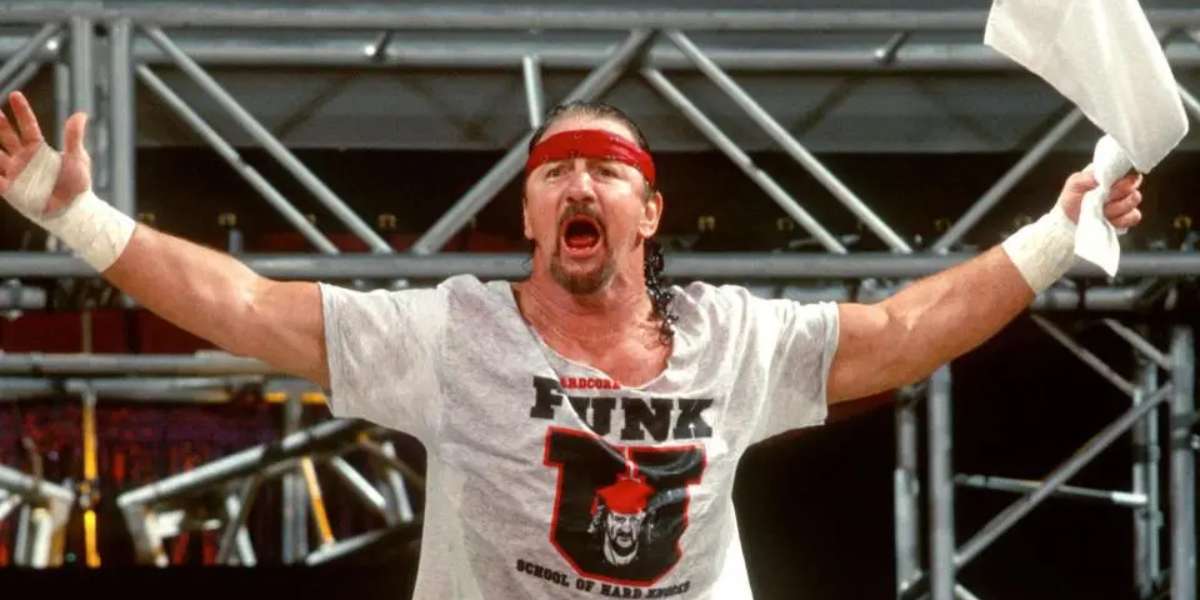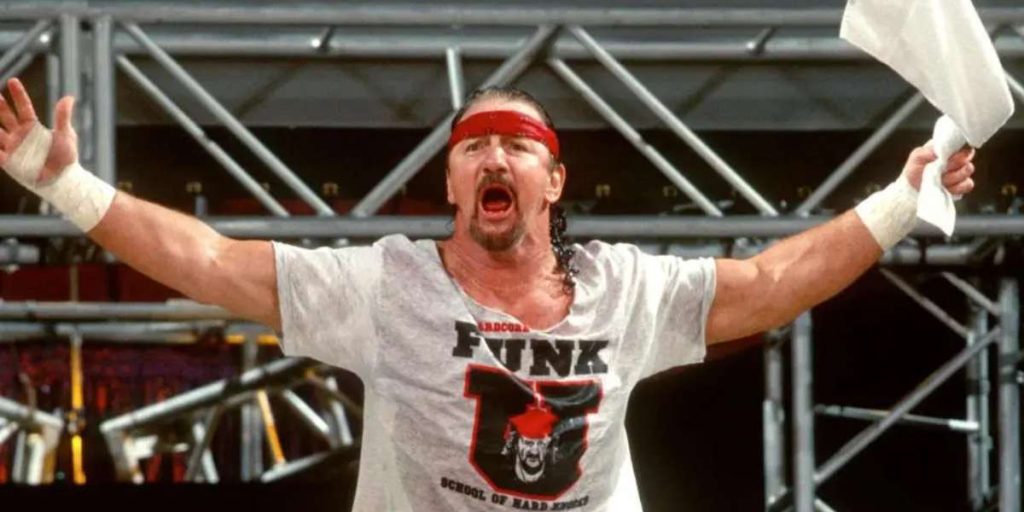 Terry Funk, an American professional wrestler who is best known for the longevity of his career, which spanned more than five decades, including multiple short-lived retirements, passed away, taking permanent retirement from life, on August 23, 2023. He is famous for the influential hardcore wrestling style he pioneered in the latter half of his career.
Terry Funk's impact on the world of wrestling is awe-inspiring. Born on June 30, 1944, in Hammond, Indiana, he became a significant figure in American professional wrestling. Dedicating more than fifty years of his life to wrestling, he successfully made a name for himself in the industry. Also, wrestling was deeply rooted in Terry Funk's family; his father, Dory Funk, and brother, Dory Funk Jr., were both involved in the same sport.
Funk's journey took him to Amarillo, Texas, and earned him a graduation degree from West Texas State University following World War ll. During his university years, he participated in amateur wrestling and football. His career was filled with standout moments, but Funk's rivalry with Ric Flair in World Championship Wrestling, his participation in Japan's "King of the Death Match Tournament" through the International Wrestling Association, and his groundbreaking role in Extreme Championship Wrestling (ECW) all contributed to his legendary status.
It is worth mentioning that even in his fifties, Terry Funk continued to surpass expectations. In April 1997, he achieved an unexpected victory over Raven, claiming the ECW Championship, which further solidified his legacy.
The cause of Terry Funk's death remains undisclosed. However, it has been reported that he had been facing health-related issues for some time and was admitted to a nursing home. Sadly, he departed from life at the age of 79.
Conclusion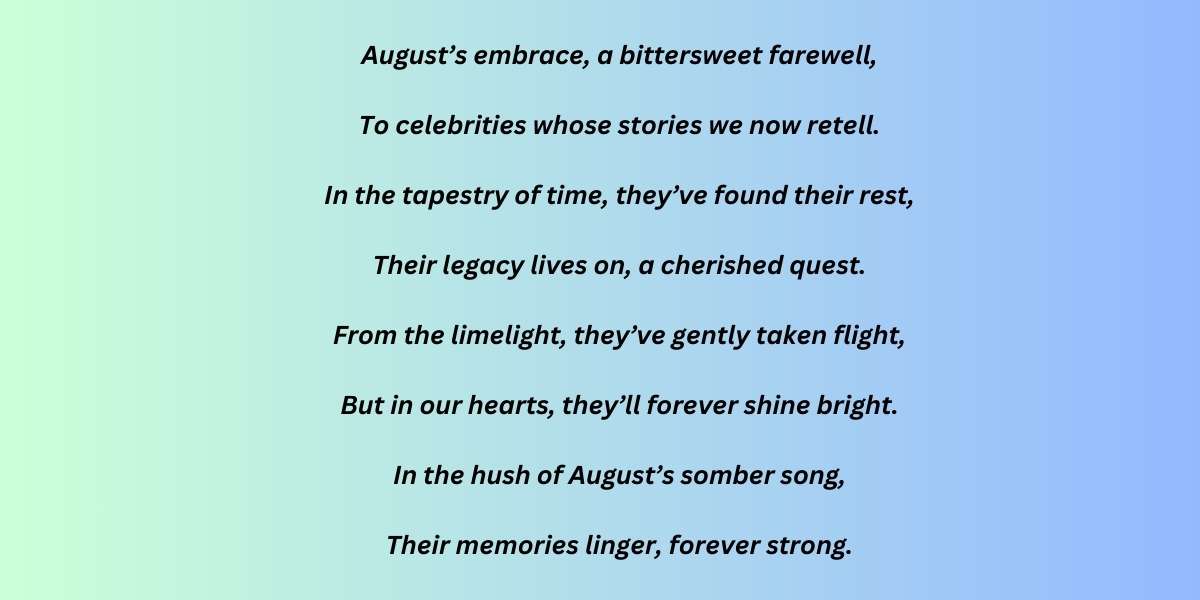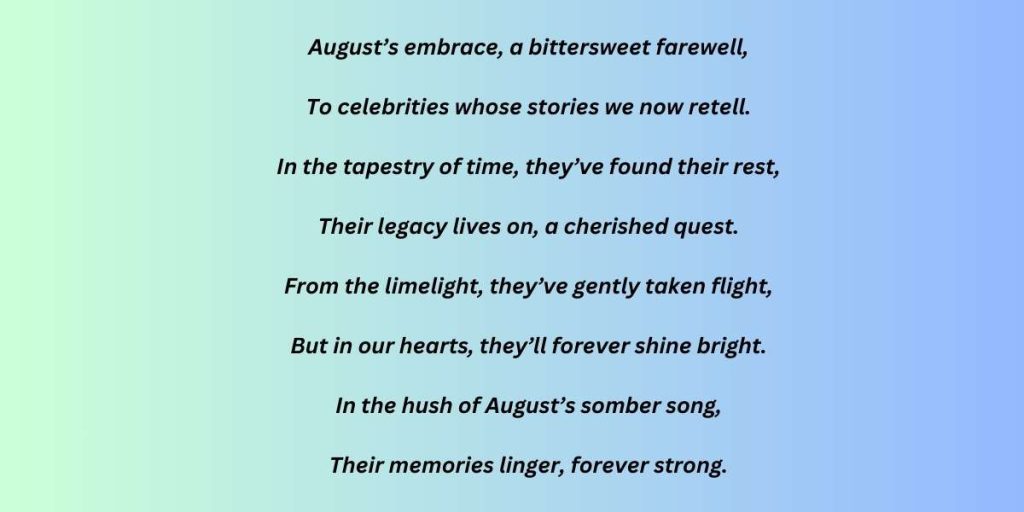 As a last measure and in honoring the memory of those who have passed away, we come together during this challenging period with a firm commitment to uphold and pass on their legacy. Let's find inspiration in the affection that unites us. May the recollection of those who left us in August 2023 remain vivid in our hearts, and may the influence of these multifaceted celebrities endure within us.
August's embrace, a bittersweet farewell,
To celebrities whose stories we now retell.
In the tapestry of time, they've found their rest,
Their legacy lives on, a cherished quest.
From the limelight, they've gently taken flight,
But in our hearts, they'll forever shine bright.
In the hush of August's somber song,
Their memories linger, forever strong.