Just like the catfish, walleye is a fish in the valley, You can find this fish in the Rivers, Lakes, and the Forest Pond. But in the initial levels, isn't it tough to go on fishing? Because without experience, these mini-games can be very sophisticated as in the early stages a player gets nothing but a bamboo rod. Due to the lack of resources and experience, Stardew Valley Walleye has been bewildering and angering all those players who find difficulties to catch it due to its high difficulty level.
Now the question arises where to find the Stardew Valley Walleye and how to catch it? Let's read further to find out the answers.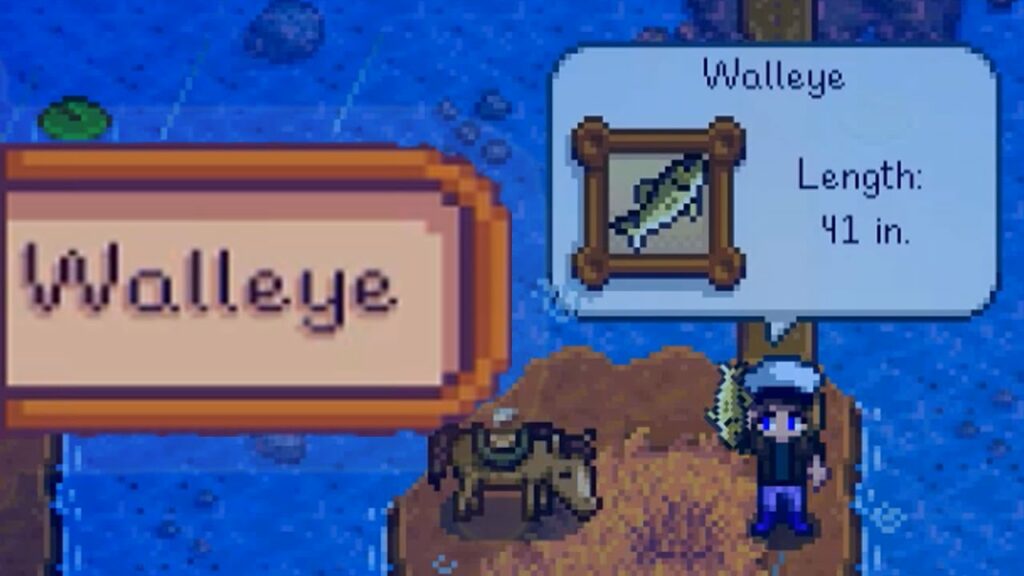 Where and How to Catch Stardew Valley Walleye?
You can find the walleye in the rivers of Pelican Town or Cindersap Forest. The Mountain Lake, and the Cindersap Forest pond during the Fall or Winter when it is raining in the valley. To go fishing in winter, you'll need rain totem to make it rain in the winter season. Furthermore, during the winters, you can also find it in the garbage cans. Else it may randomly appear in the travel cart for 315 – 1000 gold coins.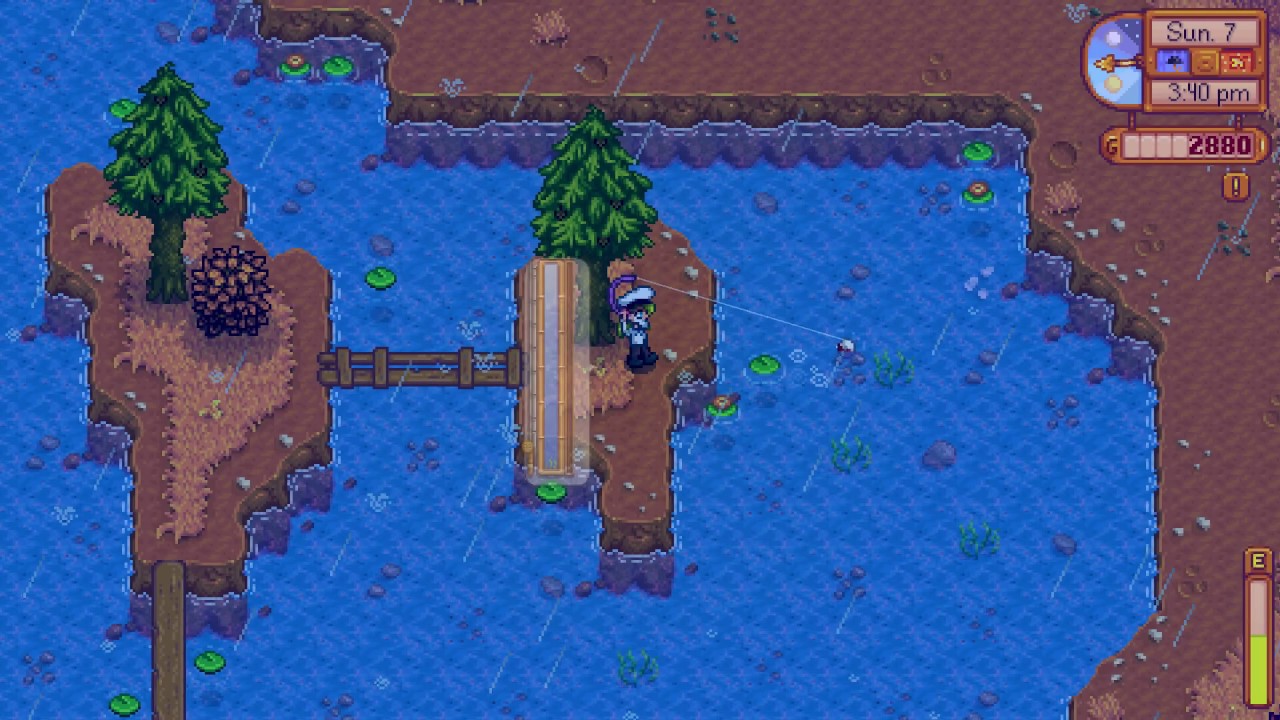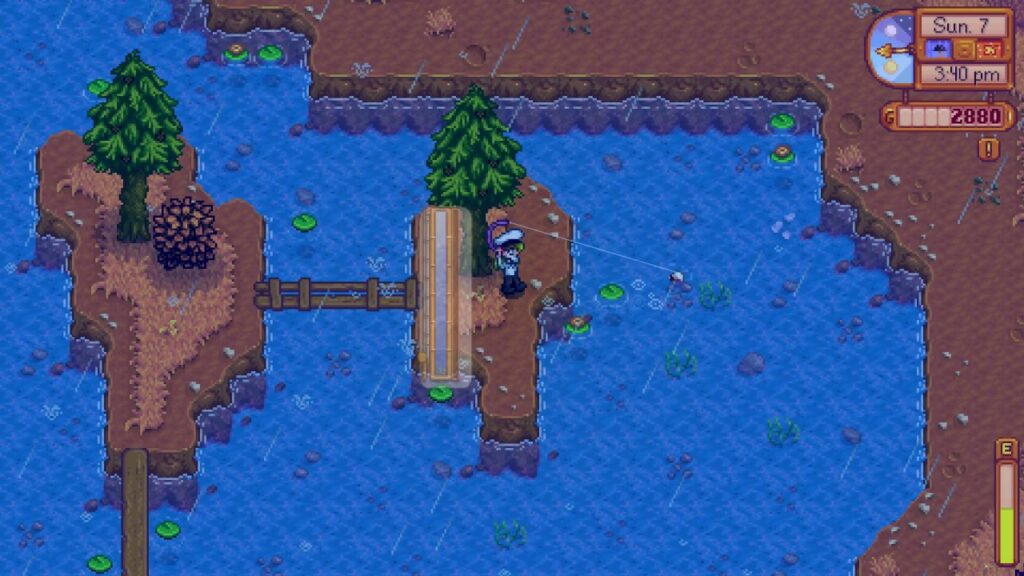 The Stardew Valley Walleye is a freshwater fish; you can catch it from any freshwater body except the beach. To capture this fish, you should try your luck between 12 pm and 2 am.
Tip:- As a player, if you choose the forest farm, then you can catch the walleye in your farm pond.
Where to Find Walleye on Stardew Valley Map?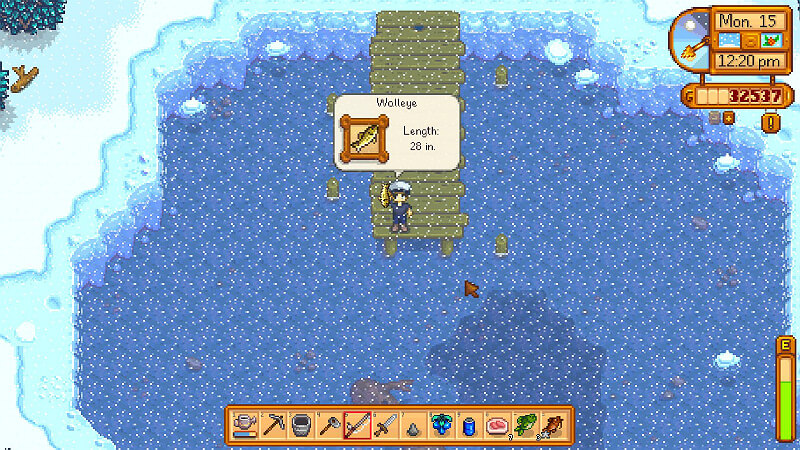 During the fall you can find walleye in the river, mountain lake, and forest pond when it is raining.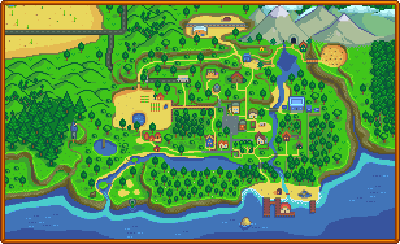 Does Stardew Valley Walleye Make a Good Gift?
In short, you can use this fish for gifting purpose; we don't recommend you to do this. Because most of the villagers of the valley just dislike or hate it and a few of them have a neutral reaction for walleye. However, it is useful in Night Fishing Bundle in the Fish Tank.
What Recipes is it Used in?
This fish doesn't have any particular recipe to itself. In the Stardew Valley, you can use walleye in the following recipes.
Maki Roll:- To cook Maki Roll, you will need one fish, one Rice, and one Seaweed. After consuming this food, you can increase your health by 45 health points, and 100 points will boost your energy. If you don't know the Maki Roll recipe, then you can learn it by watching Queen of Sauce on the 21st of summer. If you have enough gold in the game, then you can buy it directly from Stardrop Saloon for 1,500 gold.
Quality Fertilizer:- To craft a quality fertiliser for your crops, you need one fish and two saps.
Sashimi:- No doubt sashimi is a delicious dish, and to cook it, you just need nothing except a fish. To know the recipe, you just need to reach three hearts with Linus, and he'll send you the recipe right in your mailbox. After consuming a Sashimi, your energy and health will be increased by 75 and 33 points, respectively.
Is It Required For Any Quest?
Occasionally the Stardew Valley villagers may raise a request on the "Help Wanted" board for walleye. After completing the offer, you'll get a reward of 315 gold along with 150 friendship points. So, if you fulfil the request, then it's a win-win situation for both.
As mentioned earlier, you will need this fish to finish the tasks given by the juminos in the Nightfish Bundle at the Community Center.
What to Do with Stardew Valley Walleye: Save it or Sell?
It all depends on you, as you will need some space in your inventory to keep it stored. If you want, then you can sell it somewhere between 105 gold to 157 gold coins.
In the starting of the game, if you choose to be a fisherman, then walleye will give you 25% extra price (somewhere between 131-196 gold). However, you can get 157-236 gold coins, if you are an Angler. But bear the fact in mind that higher the quality higher the price you get.