There are a lot of activities to do in RPG game Stardew Valley. You can woo the Sebastian, Abigail, Emily and many other characters before proposing for marriage. Apart from these activities, you can go on fishing to earn some extra coins in the game. But which is the best fish in the valley that you can use in different ways? The answer is Stardew Valley Catfish. It is the fish which you can use for several purposes. For instance, making maki roll, sashimi, you can use it as a gift for Willy, River Fish and Fishtank bundles.
So, what is the best location to find Stardew valley catfish? And which is the best season to catch it? Let's read further to find the answer to all these questions.
Where to find and Catch Catfish in Stardew Valley?
There are several locations where you can find the catfish, as this fish keep on changing its position throughout the year. During the Fall, Spring and Rainy weather, you can discover Stardew Valley Catfish in the rivers of pelican town Cindersap forest and secret woods.
You can also catch catfish at Riverlands Farm or Hill-top Farm during rainy weather. In the summers, heads towards the Secret Woods or Witch's Swamp to start capturing it. Moreover, you can also find it in the garbage cans during the spring and fall.
Quick Tip:- If you have rain totem in your inventory, then you can also catch catfish in the winter season.
Stardew Valley Catfish Location on Map
When it's raining you can find this fish in the Secret Woods pond.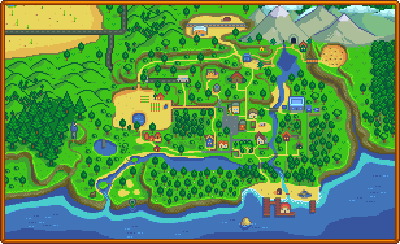 What Are the Uses of Catfish?
Though catfish fish isn't good when it comes to using it for gifting purpose, because in the whole valley, Willy is the only character who loves catfish, and all other villagers just hate, dislike or have a neutral reaction for it. Upon catching, it will only give you 50 energy and 22 health and at it's best it, 90 energy and 40 health. However, you can sell it for 200 golds; When you decide to use angler skill, then it can be worth 450 gold coins, which isn't so bad.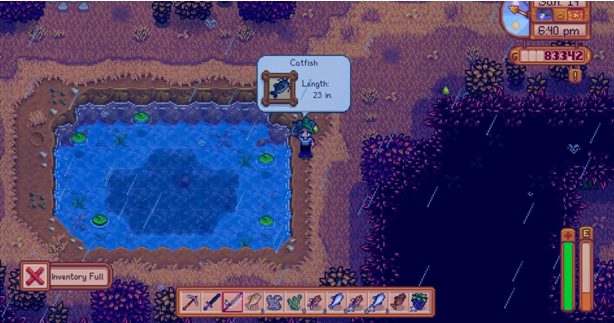 If you put a request of catfish on help wanted board, then the fish will net you 600 gold coins along with 150 friendship points with the villager who complete your request. If Willy requested a catfish, then he'll give 200 gold coins as a reward for each fish and you can also keep the catch to sell at a bonus.