When it comes to earning money in Stardew Valley, the game provides you with endless opportunities. It doesn't matter whether you are getting gold coins after selling largemouth bass, berries, sprinklers etc., the opportunities are limitless. However, if you are looking to earn some easy money, then Stardew Valley Blue Chicken may be the most basic farm animal that can help you. You may know how to get white, brown, or perhaps void chickens in the game, but how to catch those elusive blue chickens? Let's continue reading to solve the mystery before that know some basic facts about them.
It's bitter but true; you can't find Stardew Valley blue chickens in the field during the rainy days, winters not even if you leave the coop's door wide open. To check their status or love just hit the right-click button on chickens once a day (this will also make the Marie happier). Hay or fresh grass are the only items that you can use to feed them. The feeding tension can be avoided by providing enough grass around the coop, and you can purchase it from Pierre's shop.
The chickens won't die whenever you forget to put the grass on the ground. Yet they will become unhappy, and level of relationship with you will decrease with the time.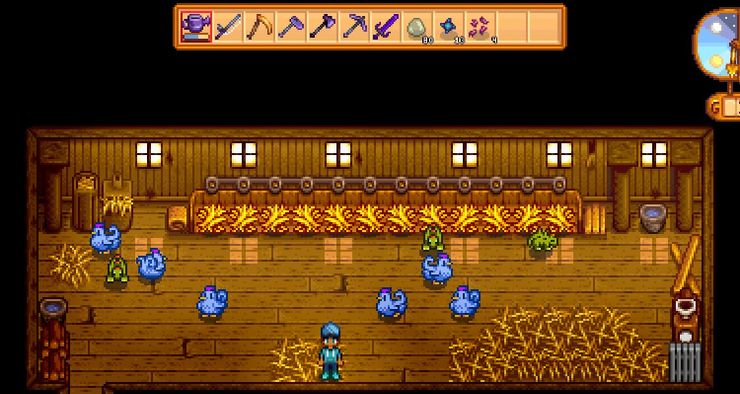 How to Get Blue Chickens in Stardew Valley?
All the players are required to build a coop before owning or raising chickens. For building a standard coop, you'll need 4,000 gold, 300 wood, and 100 stone. After fulfilling the requirement, you will need to head to Robin's shop at the northern part of the map, upon reaching, she'll ask you the farm's location to build it. The construction process will take three days. Once she finishes, you can instantly put the White and brown chickens inside the coop after purchasing them from Marie's shop.
Befriending Shane
The relation between Shane's friendship and chicken may sound irrelevant to you. Nevertheless, it is one of the requirements which players need to satisfy to unlock blue chickens. Blue chickens will instantly become available after triggering Shane's 8 heart event. The easiest and quickest way to uplift the level of his affection is gifting beer. Beers are easily available at Gus saloon.
Apart from the beer, you can gift him other items such as pizza, hot peppers, or pepper poppers. He loves all these four items, and somewhat if you are running low on gold, you can also send him any fruits and any eggs beside dinosaur eggs and void eggs.
How to Start Shane's Heart Events?
Below is the specific time and location to trigger Shane's Heart Events. Have a look.
Two Hearts:- You need to enter the forest's south between 8:00 PM to 12: AM.
Four Hearts:- Head to Marie's ranch. The day and time don't matter.
Six Hearts:- Again go to the south of the forest, but this time makes it sure that it's raining and time should remain between 9:00 am and 8:00 pm.
Seven Hearts (Part 1): After the six heart events, go to Marie's ranch when Shane is at home.
Seven Hearts (Part 2):– On a sunny day, go to the town between 10:00 am and 4:00 pm. Also bear the fact in your mind that you must have already two hearts Clint and Emily before starting it.
Eight Hearts:- Enter Marnie's Ranch whenever Shane is home.
Getting Blue Chickens in Stardew Valley
On completing all the heart events of share, these blue chickens will be officially available for you in the game. At this moment, every chicken you purchase from marine or every chick hatched from a white or brown egg will have an increased chance of 25% of being blue. The prime way of getting Stardew valley blue chicken is to buy the chicken from Marie. Whenever she asks you to name the newly bought chicken, you'll see a notice on the top of your screen. The note will also tell you the colour of the chicken that is being named. You can continue to cancel the transaction until you it declares that chicken is blue.
The selling price of Stardew Valley Blue Chicken
Like white and brown chickens, you can also sell out the blue ones, and the selling price always depends on your relationship (hearts) with the animal. The maximum gold which you can acquire by selling a maximum-heart Chicken is 
1,040g.
Verdict
Except for colour, there isn't any major difference between blue and white chicken; they don't even lay blue eggs. They were introduced for all the players who love to show off or want to have something unique on their farm. Hence they look more flashy compared to white and brown species. The obvious rival of a Stardew valley blue chicken may be an ostrich, but this biggest bird in the world isn't available for the console players at the time of writing.