In Stardew Valley, there are several things which you can do to woo Haley, Sam and Abigail. To win their heart, you can either gift them their favourite item or cook their favourite dish. But collecting items for a dish isn't easy; you always need to make efforts to find the right item. However, these efforts are justified because it always isn't easy to win anyone's heart. In the list of favourite items, Stardew Valley Largemouth Bass fish is a common item.
Doesn't matter, whether you are catching it for Fish Tank in the Community Center or trying to catch it sell, this fish is always useful.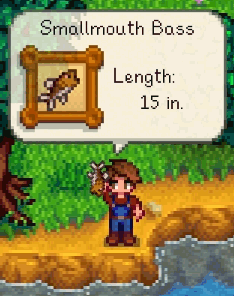 Where and How to Catch Stardew Valley Largemouth Bass?
This fish has a moderate difficulty level. Fortunately, you can also find it during any season of the valley. The best time to find Stardew Valley Largemouth Bass in the mountain lake (situated at the northeast corner of the map) by the mines from 6 AM to 7 PM. Else, players can also catch it from their own farms, if they choose "Wilderness Farm" at the start of the game.
The spawning chances of this fish depend on the season. During the Spring and Fall seasons, 20% chance of appearing, while in winters and summers, only 15% of chances to appear.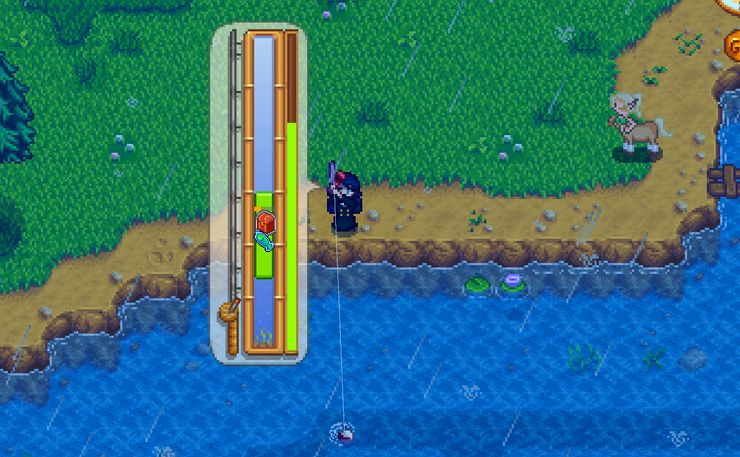 Quick Tip:- To catch largemouth bass, always try to cast the line farther from shore, as shown in the image above.
Largemouth Bass Uses in the Game
Like all other fishes of the valley, it can also be used to cook different recipes such as Maki Roll, Quality Fertilizer, Sashimi, and Crispy Bass. You can't sell it at high price unless you are Fisher or Angler. Additionally, it can also make Roe in a farm pond, although it is not beneficial as it has a selling price of only 80 gold.
Moreover, largemouth plays an essential role in completing the Community Center bundles. Throughout the gameplay, it appears in the Lake Fish Bundle of the Fish Tank. Upon successful completion, it removes the glittering boulder to the left of the mines near the mountain lake.
This is everything which you must know to catch and cook largemouth bass in Stardew Valley, get out there and start fishing.