Does the name "Aaron Carter" ring a bell to you? It sure does. Even just the surname is enough to remember whose family we are talking about.
Money doesn't come overnight. One works day and night diligently through thick and thin to reach the desired life stage. However, Carter had been associated with the entertainment industry for several years and produced iconic melodies. Over the years of working in the entertainment industry, Carter successfully earned a King's ransom.
 You have probably heard of the House of Carters (previously known as The Carters), an American documentary/reality television show on E! That, more or less, deals with the lives of Backstreet Boy Nick Carter and his four siblings reuniting in Los Angeles. Starring; Nick Carter, Bobbie Jean Carter, Leslie Carter, Angel Carter and, of course, Aaron Carter. The said show allowed the siblings to have a family bonding time while they were subsequently trying to revive their careers. Sadly, the show did not help develop a bond between the siblings. Because it has been reported countless times that they are not on good terms with each other.
Especially the Carter brothers almost always had a rift between them that did not seem to close at any time. These family conflicts did affect Aaron and his life decisions. That, consequently, influenced his career. And unfortunately enough, it did not affect Aaron Carter's net worth in a good way either.
Curious about his career and net worth? Here are all the details that you need to know about him!
What is Aaron Carter Net Worth as of 2023?
According to the estimate before his death, Aaron Carter net worth was 400,000 USD Dollars. Which s relatively low, isn't it? Seeing that he started off his career on a good note: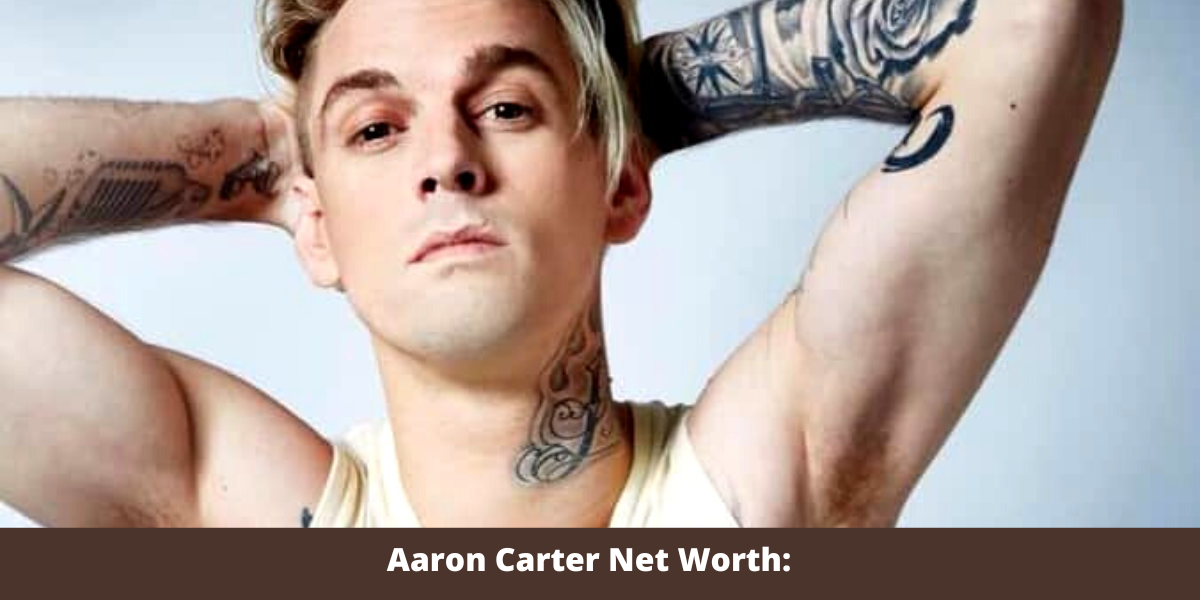 He was the singing lead for the band 

"Dead End"

 for two years at age seven.

His solo act was opening for the Backstreet Boys in Berlin in March 1997.

The said performance was also followed by a contract. 

Resulting in the release of his first single, "Crush On You," in the fall of 1997. Which went gold in Australia.

He also recorded a duet with his elder brother, Nick.

He made his television debut in 1998 in Nickelodeon's "Figure It Out."

Guest-starred on the Disney Channel's "Lizzie McGuire" and ABC's "Sabrina, the Teenage Witch" in 2001.

And, of course, he had his own family show in 2006 on the E!; "House of Carters."

He also appeared in several films. Such as; "Fat Albert" (2004), "Ella Enchanted" (2004), "Popstar" (2005), and "I Want Someone to Eat Cheese With" (2006).
Carter was doing pretty great in the start and was earning very well as a child star. He was successful to the point that he might have outdone his brother.
He validated this fact himself on Oprah: Where Are They Now — Extra:
"No disrespect to my brother, but when Nick was 18 years old, and I was ten years old, I was just kind of starting to make lots of money. I made over $200 million in my career before I even turned 18 years old".
Heir of Aaron Carter's Money
At 34, Aaron Carter left behind parents, two siblings and a son. Although children inherit automatically from the wealth of deceased parents, it is unclear whether he made his son an undisputed heir of his wealth or not. In addition, at the time of Carter's ascend from this world to another, the mother of Carter's son did not claim to have custody of her child. More importantly, Carter was not married to the mother of his child, which surely amplified complications in the distribution of assets rather than resolving it.
Jamie Lee Curtis Net Worth: Everything We Know
What was Aaron Carter's Source of Income?
Aaron Carter was a prominent part of the music industry, and he became successful in making $560 thousand over the years working as a music enthusiast. Music bestowed him with fame and money altogether. He made this money mainly from music and acting.
A significant source of income for Carter was releasing his albums and doing live performances. He would charge a lot of money from the music companies for his performances. His first song was an arrant success, and millions of copies were sold!
How Did Aaron Carter Lose His Income?
Aaron Carter, later in his life, dropped out of the limelight and lost $100 million. It was reported that he was dealing with some mental issues owing to the loss of his income, and people wondered where this massive chunk of his net worth went. Furthermore, initially, in his early years of life, he took music seriously and produced some great pieces of art in the form of music, but later on, he faced troubles and got arrested in a drug-related scandal. People started to detach themselves from their hero. The drug-related scandal tainted his reputation, and his professional life suffered.
Carter Family Drama:
The singer-actor has been pretty vocal about his family's behaviour and how he was burdened with looking after his family at a very young age. He revealed in an interview with GQ that:
"When I turned 18, I got $2 million in trust-fund money, and I got $4 million in taxes my parents didn't pay when I was 11 and 12 years old. I worked really hard for that money. My whole life. Up until I was 18. Doing thousands and thousands of shows, working and providing for my family."
He further added that in contrast to him:
"When my brother was 18 years old, he was out of the house. Didn't take care of the family. I started when I was seven years old, and I was a provider for my family, too. If I could set people straight, I wouldn't want anyone to feel sorry for me. Like, get your facts straight. Like, actually get your facts straight".
Moreover, 
He has also accused his late sister, Leslie, of molestation. He was under her abuse from the age of 10, and that continued till he was 13. 

This reportedly happened when she stopped taking medicine for bipolar disorder.

He also shared in a tweet that Nick was an abusive brother as well:
He tweeted: "LEAVE ME ALONE. FOR THE REST OF MY LIFE. I'M BEGGING YOU. PLEASE. — I haven't even seen you guys, and nick, you bullied me my whole life. And tortured me as a child. And everyone knows it. IT'S BEEN PUBLIC., and now you're scared of the truth."
Was Aaron Carter Facing Legal Issues?
Getting popular at such a young age does mess with people's minds. The same happened to him as well. That, subsequently, decreased his net worth. Considering his claims, his family was apparently not a great role model for him. So it did not come as a surprise when things started to go downhill for him. As he got into a lot of trouble and had quite a few runs with the law:
Seeing that, he got arrested for having a small amount of marijuana in his vehicle when he was stopped by the police for speeding in 2008.

He was also charged with DUI and marijuana possession in 2017. 

His siblings, Nick and Angel Carter, obtained restraining orders against Aaron in 2019. 

This resulted from Aaron's confession to his twin sister Angel that he had been diagnosed with bipolar disorder and schizophrenia and had "thoughts of killing babies" – including Nick's pregnant wife at that time.
Derek Carr Net Worth: How much does Derek Carr make a year?
Aaron Carter Net Worth: Going Bankrupt?
That was not it for him. His list of problems kept increasing. Seeing that his situation got even worse with time:
He filed for bankruptcy in Florida, citing that he had a debt of $3.5 million in November 2013.

Moreover, he listed in his bankruptcy filing that his total assets are just $8,232.16.

The majority of his liability was from his 

Besides that, he owed $1.368 million to the IRS alone. 

He further listed that his average monthly income is $2,000, and his average monthly expenses are $2,005. 

He also revealed that he was living with a relative at the time of the filing.

And claimed that he only had a $500 television, two MacBook computers, a Louis Vuitton backpack, and a $3,500 Breitling watch as his valuable physical assets.
All these factors ultimately led to Aaron Carter losing his 100 million USD dollars net worth.
A Blatant Lie to Fake Realities
Back in the year 2019, Carter left his fans stunned when he sent out a plea for money; the headbanger even initiated a 'GoFundMe' campaign where he explained that he was trying to raise $100,000 so he could leave California. He pictured a fake lavish lifestyle. On Twitter, Carter elaborated, "I created this 'GoFundMe' campaign to get myself a new home and out of California". Aaron died in November 2022, and at the time of his passing, $400 thousand estimated was Aaron Carter net worth.