The annual Game Awards of 2022 have excited lovers of video games by announcing the release of Crime Boss Rockay City. The event always confirms the release of various games along with new trailers. One of the most startling reveals of last year's Game Awards came from Epic Games and 505 Games. Crime Boss Rockay City is a star-studded joint venture of '90s action films with massive support from Grand Theft Auto. Let's discuss everything about "Crime Boss: Rockay City."
When Will Crime Boss Rockay City Arrive? 
Towards the end of this year, the brand new game, Crime Boss Rockay City, will be launched on console. The date of the full release has yet to be confirmed. However, on March 28, 2023, Crime Boss Rockay City will be exclusively released for PC. It will land on the Epic Games store.
According to trusted sources, the full release of Crime Boss is divided into three distinguished modes. The first mode contains Michael Madsen's single-player campaign; the second mode has Travis Baker's Battle, a quick pick-up, a play co-op expedition called Crime Time, and the enduring "story-led" theft of Urban Legends.
Trailer of Crime Boss: Rockay City 
Crime Boss: Rockay City was revealed with a trailer during the 2022 Game Awards. Long before the full reveal of Crime Boss, the teaser was shared on Twitter by 505 games during the Game Awards with a cryptic trailer starring Free Willy and Donnie Brasco actor—Michael Madsen. However, the QR code in the trailer directed fans' attention to a website called "Visit Rockaway City" with a countdown to the Game Awards.
Story of Crime Boss Rockay City 
The character of Travis Baker (Michael Madsen) is central to the story. After the demise of the former crime boss, Travis Baker endeavors to possess the underworld throne of Rockay City through a series of acrimonious disputes, crazy secondary stories, and thefts.
As the game is set in the '90s, every actor's graphic recreation of a character seems similar to how they looked during VHS prime. However, their careworn voices depict another story. Michael Madsen sounds like he is conveying his dialogue while masticating shingles. Further, the actor of Suicide Squad, Michael Rook, emits positive energy and breathes life with his chirpy voice into various segments of this heart-breaking tale.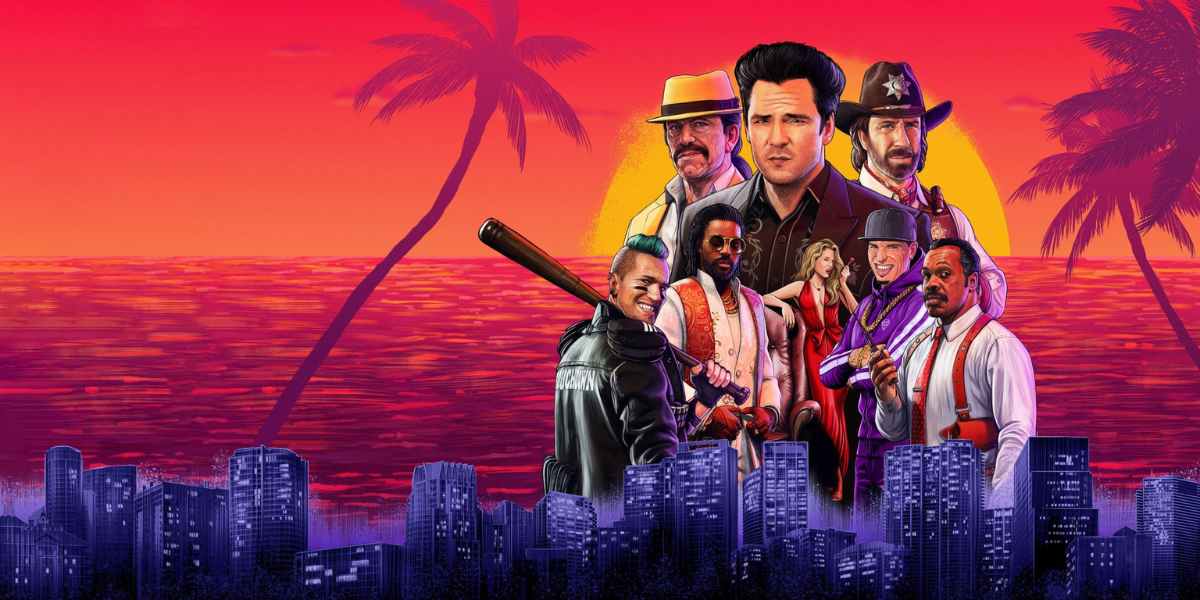 Moreover, the role of Chuck Norris and the other cast members in the single-player tale is promising. In the era of Game Pass and free-to-play titles, this single-player mode will have to impress significantly to stand out and get a familiar feeling of being widely accepted. Crime Boss Rockay City is built for people of this age, despite being set in the 1990s.
PSVR 2 Release Date, Games, Price, Specs: Everything You Must Know
What Are the Characters in Crime Boss Rockay City? 
We have yet to learn much about the characters appearing in Crime Boss Rockay City. Still, a few confirmed legendary actors will be featured in the brand-new game. The cast includes top-rated rappers and iconic celebrities of the present. The star-studded cast consists of some renowned names, such as:
Chuck Norris

Kim Basinger

Danny Trejo

Michael Rooker

Vanilla Ice

Danny Glover

Damion Poiter
Furthermore, Neil Ralley, the president of 505, shared his thoughts in a press release and praised the sheer volume of talent involved, both in front of and behind the camera. He said the team was thrilled to bring this remarkably organized crime game to the gaming fraternity.
Interestingly, gamers will organize this acclaimed gang of ne'er-do-wells to pull off remarkable burglaries.
Crime Boss Rockay City: Gameplay 
505 Games described Crime Boss Rockay City as a co-op organized crime FPS. Through the single-player campaign of this game, players will be allowed to choose their crew members based on their skills on the journey. Further, in player versus environment (PVE) co-op multiplayer, one can carry out thrilling hits and steals with a maximum of four players. Gamers will be left empty-handed if they fail in the task. Howbeit, success will grant rewards as the city slowly falls under your control.
Crime Boss Rockay City will be played similarly to frames per second grand theft auto in the single-player campaign. On the contrary, the co-op multiplayer may have some aspects of GTA's online theft combined with the significant swindles of the Payday series.
5 Key Factors for Successful Video Game Porting: Insights from Industry Experts