In this pandemic situation of COVID-10 Corona Virus, the T-mobile wireless network providing company is joining hands with many other wireless service providers. With this new initiative, the motive of the company is to provide relief to customers throughout the pandemic. With many other comforts, the company is offering an option to upgrade MetroPCS phones during Covid-19.
But How and When You Can Upgrade MetroPCS Phones?
Why Upgrade MetroPCS Phones?
The T-Mobile owned company, Metro offers many best monthly rental plans. All the plans include unlimited calls, texts, and data. Before upgrading, you must check your requirements. Additionally, you can always add get some additional features available in the Metro PCS plans, which are affordable and still active.
In 2015 MetroPCS merged with T-Mobile, and all the metro PCS phones users were migrated to the company's LTE network. The merger affected the old handset users whose metro PCS phones were not able to connect with the latest wireless LTE band. As a result, it became necessary for old users to upgrade Metro.
How to Upgrade MetroPCS Phones?
How to Upgrade MetroPCS phones? The up-gradation process isn't so hard, and it also won't take so long to complete the process. T-Mobile, release and add many new features for it's old and new users. The existing subscribers can avail some of the latest MetroPCS upgrade phones very easily. But if you aren't Metro Phone user, then you can still grab the deal by purchasing a new MetroPCS phone.
Recently MetroPCS by T-Mobile rolled out many offers for its users along with many new smartphones and huge discounts on other available MetroPCS Phones.
What is the Eligibility Criteria to Upgrade MetroPCS Phones?
Once you buy any MetroPCS phones, you automatically get eligible to upgrade every 90 days after activating the phone, up to four times a year.
If you still want to upgrade your phone before 90 days, then you need to pay the full cost of the selected handset. It can be done at any time but only through the My Metro App application.
How Metro by T-Mobile Is Responding to Coronavirus?
We all know about the pandemic of COVID-19 is affecting the lives of everyone. But the company has provided some relief by providing many offers such as unlimited international calls, Unlimited data, extra hotspot data for the next two months. Doesn't it sound exciting and give some relief in this tough situation? Let's read further and find out what exactly they are offering.
HotSpot Data:- Any T-mobile wireless plan which includes mobile HotSpot Mobile data are eligible to receive an extra 10GB of hotspot data per month for the next two months.
International Calling:– The company is providing free calling all over the globe but that is just limited to some selected mobile and landline numbers.
Mobile Data:- Customers whose plan included limited data will now get unlimited data for the next 60 days.
Metro Retail Stores:- All the authorised metro stores are temporarily closed situated within the inside malls. Other stores or authorised dealers situated in remote areas are having limited hours of operation or be closed entirely until further notice.
Pros and Cons of Upgrading MetroPCS Phones
There are always some pros and cons of upgrading mobile phones as you can use them easily and very quickly because of your user habits. But when you get a new phone, you always try to be extra careful while handling. Let's read and find out what positive and negative perks you get as a user.
If you are an iPhone lover, then you can choose T-Mobile services with closed eyes, because they offer all iPhones from the iPhone 6s to one of the most recent iPhones, the 11 Pro Max. It is indubitable that Apple offers iPhone models with internal storage which goes up to 512GB. But Metro just only sells iPhones with a max of 64GB storage.
Definitely, you need more space to store data. But the fact is iPhones with less memory are cheaper as compared to 128GB, 256GB and 512GB, ultimately T-Mobile is helping you to save more money.
In case you run out of storage and you really want some more space then you can always buy a cheap iPhone to USB memory drives which are easily available in the market. Which will allow you to have as much storage as you want for a fraction of the cost.
Just like iPhones, Metro by T-Mobile also gives its users an option to choose their favourite Android smartphone. You can buy the expensive Galaxy S10+, or you can buy the much cheaper Alcatel 7 it's all up to your choice. You have multiple high-end, mid-range, and budget Android phone options in stock make the chances high to find the right Android smartphone of your choice.
If you are one of those people who think spending $$$ on smartphones is just a waste of money because mostly we use phones for calling and texting. But you always end up paying too much amount because of misguidance by salesperson then T-mobile makes it easy for you to decide. T-Mobile doesn't just offer cheap plans as compared to AT&T, Sprint, and Verizon, but the company also provides a choice of more than fifteen phones under $200.
The 15 cheap smartphones include older models like the Apple iPhone 6s Plus and newer ones, including the 2018 Samsung Galaxy A6.
Whenever you upgrade MetroPCS phone, you won't get any trade-in credits for a discount, and you'll also have to pay an up-gradation fee along with the full price of the phone which you choose.
However, if there is an ongoing promotion on the phone which you select to upgrade to, then you will qualify for the discount and trade-in credit for it as long as it's been 90 days since your last MetroPCS phone purchase. It makes it an excellent step about upgrading at Metro by T-Mobile because existing subscribers are on high priority to get promotions and deals, while other wireless providers reserve this kind of offers to attract new customers only.
If you are happy with your mobile phone and don't want to spend money on a new one, then you have the option to join T-Mobile (Which is known as Bring Your Device) without buying a new phone. But, before taking it to T-Mobile always make sure that your mobile is compatible with their mobile networks or not.
For switching to T-Mobile without buying a new mobile, it is essential to have the Wireless Number Portability. By which you hang on to use your same old phone number when moving to Metro PC.
You can check compatibility by finding your IMEI number or serial number and inputting it in their database. You can find IMEI number in three ways:
Dial *#06# on your cell phone.
If your handset has a removable battery, then you can find it printed at the label under your battery.
Look through your phone's settings about phone menu.
Once you've found IMEI number, type it into Metro by T-Mobile's database. That will tell you if your phone is compatible or if you need to buy a new one.
If you got a deactivated or locked metro phone, you get three options to unlock or activate;
In-store, meaning you opt to visit a Metro PCS phone store near you.
Online Activate MetroPCS phones or unlock MetroPCS phones, meaning you will get help from the Metro PCS phone expert over their official website.
On a phone call, where you contact the customer care support team on the numbers which are available on their official website.
If you want to upgrade MetroPCS phones online, then you just need to follow the rules as mentioned earlier and terms and condition of upgrading Metropcs phone.
How to Upgrade MetroPCS Phones?
Go to MetroPCS.com and login to your account by using your phone number as login id then enter the password.
Click on "upgrade device."
Now choose a handset which you like the most then add the same to your cart.
Now you'll be asked to select a plan (Always select plans as per your requirements). MetroPCS offers a 2-year plan or No annual contract after selecting click "Add to cart."
Before checking out, you will be asked to add a protection plan, add that and click "Continue to next step."
Review available accessories you might like and click "Continue to next step."
Review your order and selections you have made and click "Submit."
At the last point, you have to check out and choose delivery options then click "Submit". Woohoo! You should be all set now!
Metro by T-Mobile Cell Phone Deals May 2020
Deal #1
Family Plan Deal: 4 Lines for $100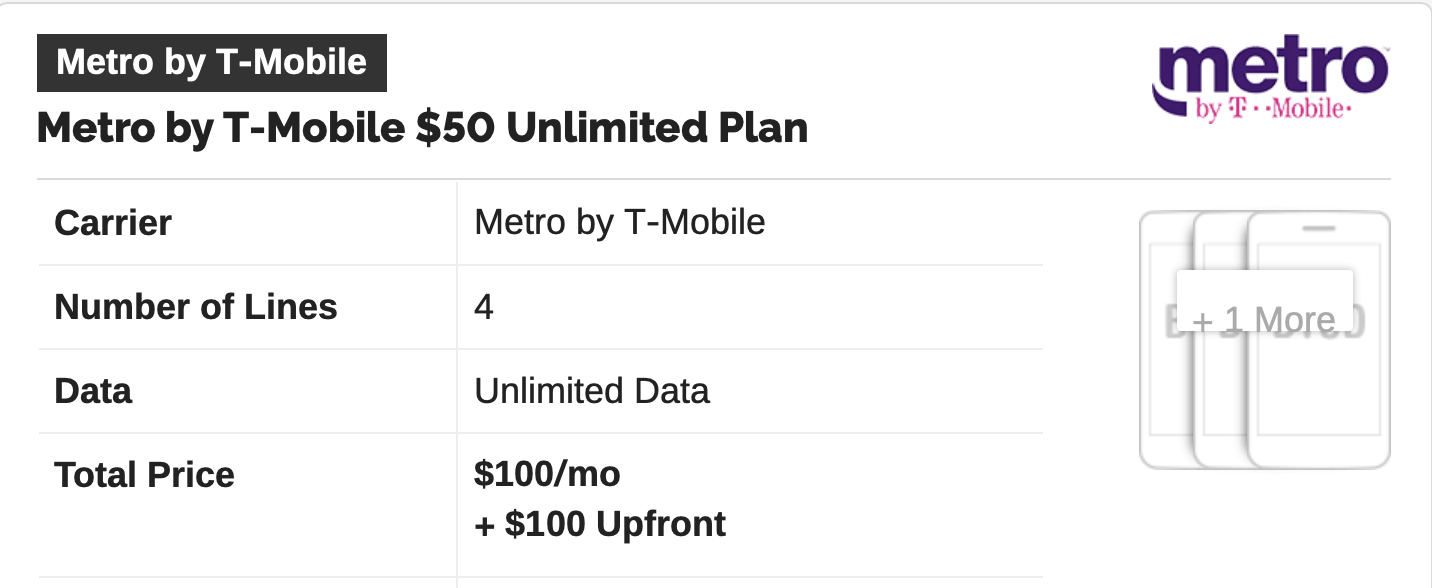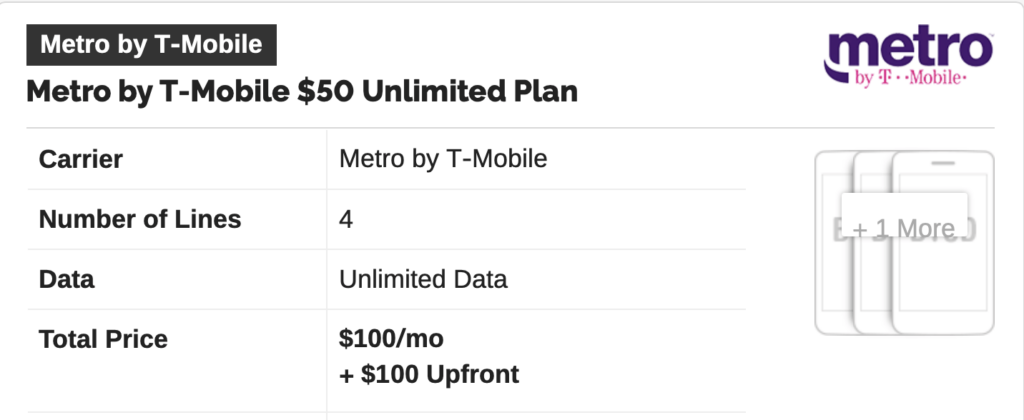 If you are in sudden need of a Family plan that should include everything, then don't miss this great deal. This deal provides four lines of unlimited data, talk and text for just $100/month. Moreover, each family member will get 5GB of hotspot data per month and 100GB of Google One cloud storage. This is an in-store offer, but still, you can save 100$ every month if you choose this plan.
Deal #2
Free Samsung Galaxy A20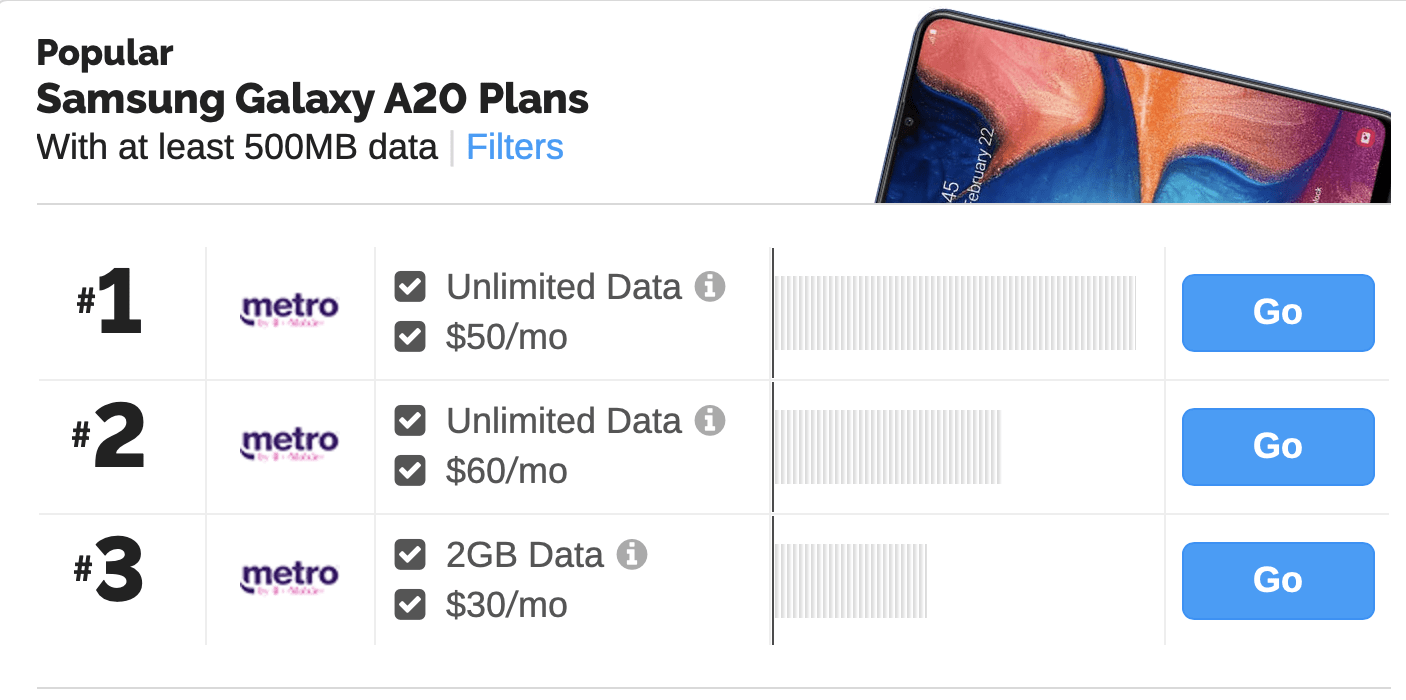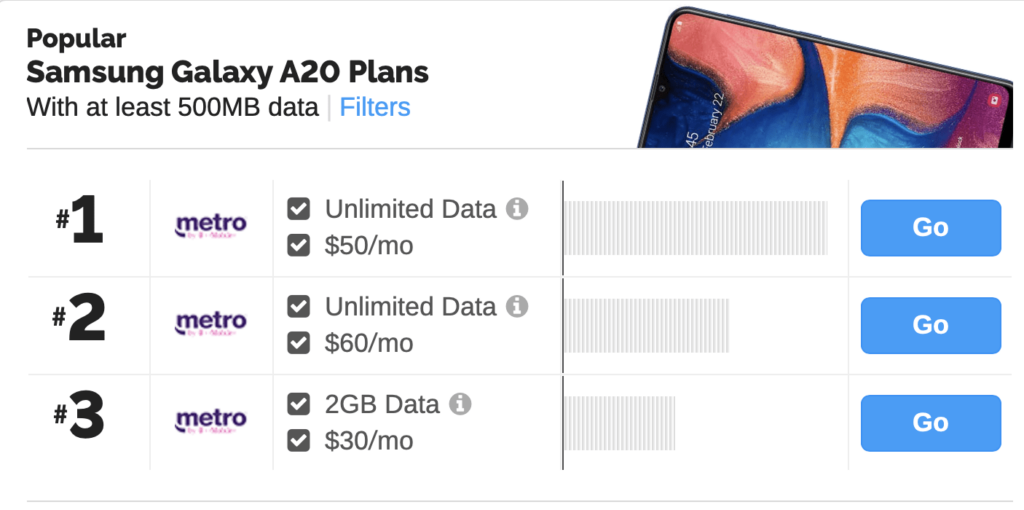 To grab this deal, you need to switch to T-Mobile from your current wireless carrier and instantly after joining you will get a free Free Samsung Galaxy A20 smartphone. Galaxy A20 offers a marvellous 13 megapixels camera and all of its great features especially because you don't need to pay a single penny to get this smartphone and you can save 239.99$
Deal #3
Free LG Stylo 5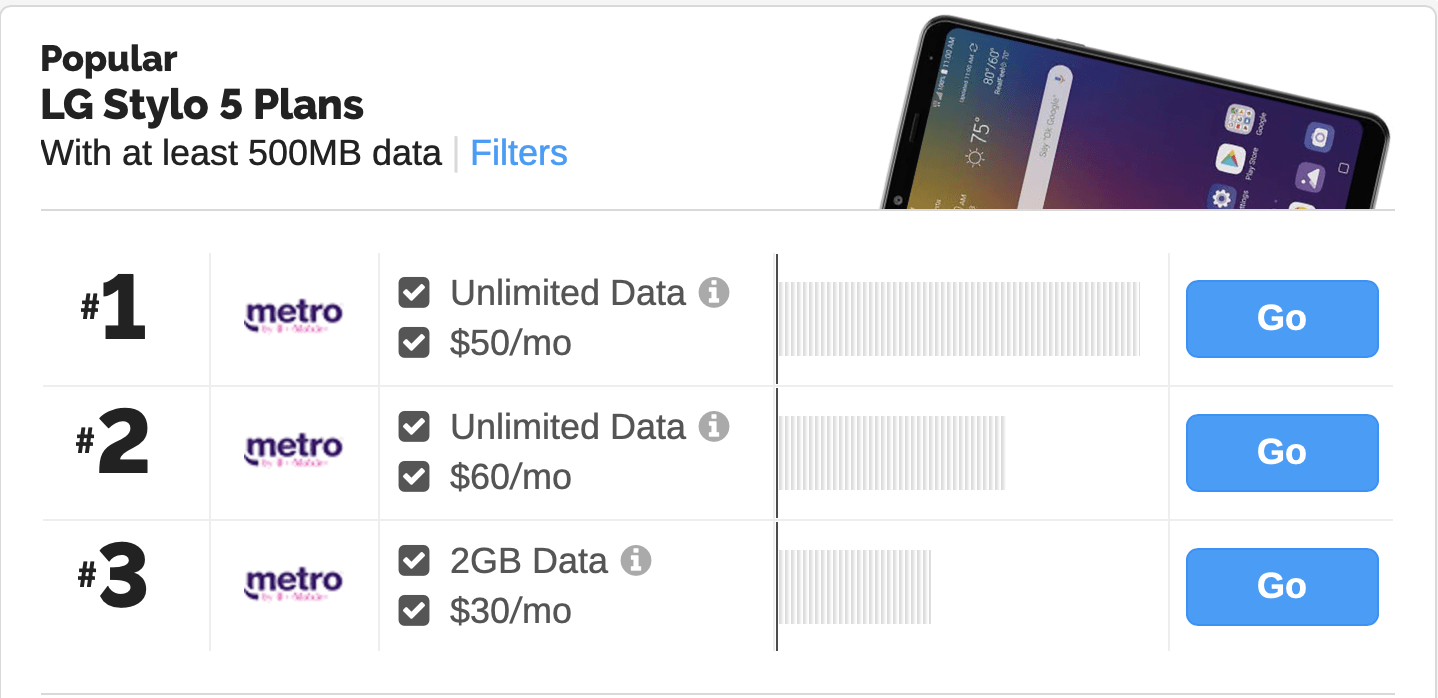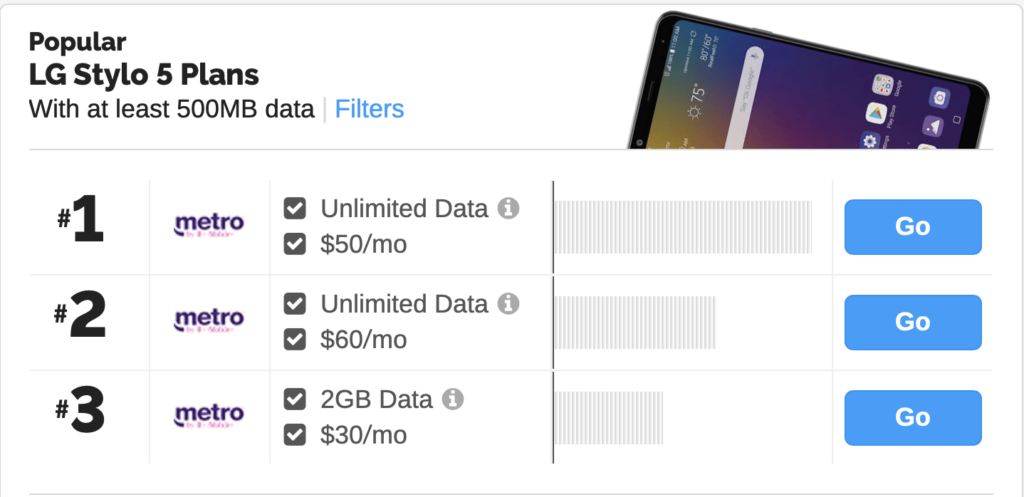 If you love the tech concepts of LG mobiles then you can switch to Metro by T-Mobile to get one for free! To switch to T-Mobile you just need to do the formal paperwork and pay the applicable taxes and your account activation fee, then this awesome phone will be yours!
Special Note:- Existing T-Mobile subscribers aren't eligible for this deal.
Deal #4
iPhone 7 for just $29.99
Yup, you read it exactly what it is written. You can get a brand new iPhone 7 when you drop your current service provider and join T-Mobile. To claim this deal, you need to visit an authorised MetroPCS store. This deal totally worth it if you don't want to pay full price but badly in love with Apple phone as you can save $350 because the regular price of iPhone 7 is $399.99.
Deal #5
$120/month for 4 Lines of Unlimited + Amazon Prime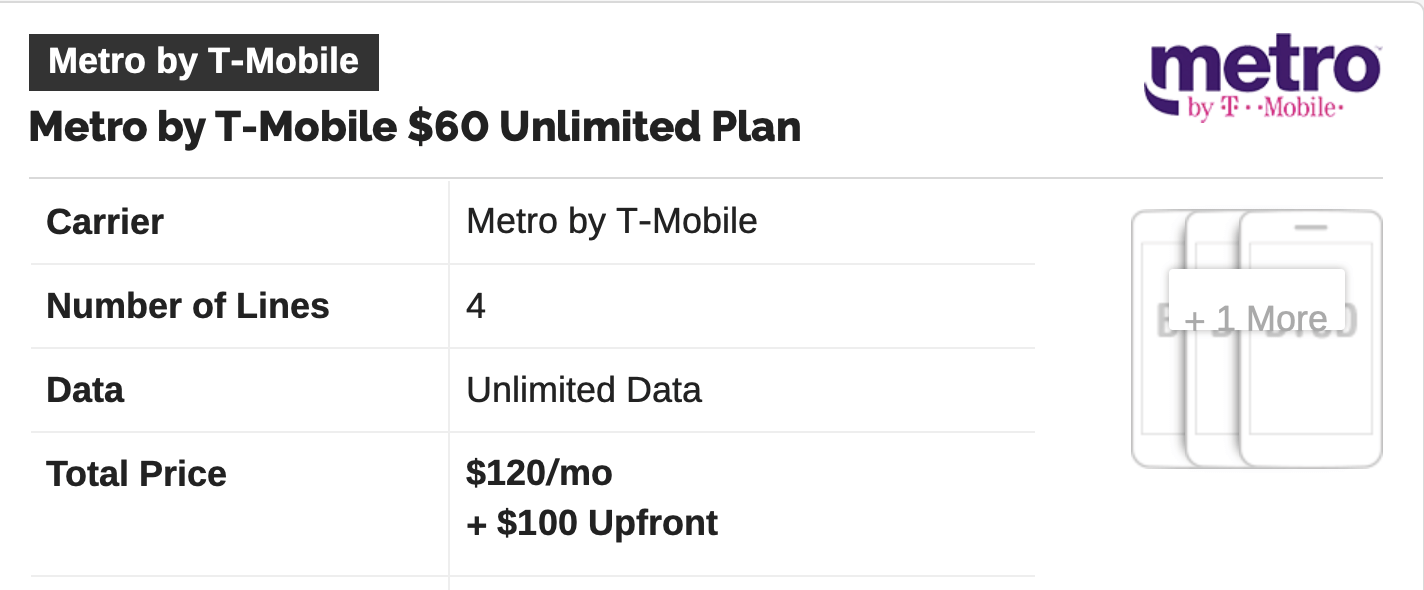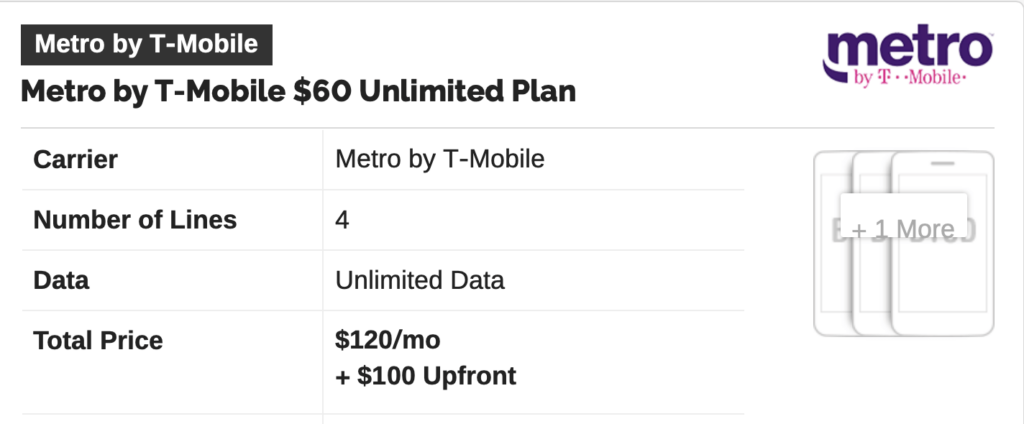 Doesn't this deal sound too good to be believed? But it is true. To grab this fantastic deal, you need to switch to T-Mobile and get four lines of unlimited data for just $30/line! Isn't it cool? Let suppose if you have a group of four friends and you always love to be in touch with each other.
The original price of this plan is $60 and it also includes Amazon Prime Membership for all members. Other features of this plan include 15GB hotspot, high 35GB data deprioritization threshold.