A royal player deserves a royal weapon, which is exactly what Royal Greatsword is in Genshin Impact. Genshin Impact Royal Greatsword holds a history of being passed down for generations. The secret behind its still great look and amazing usage are the premium materials crafted with by a master craftsman. According to the game, just like royal bow it was once owned and used by a noble who ruled over Mondstadt and passed down.
How to get Genshin Impact Royal Greatsword?
You can get Genshin Impact Royal Greatsword by purchasing it from the Paimon's Bargains. Open the Paimon Menu and click shop icon. In the shop, you will find Paimon's Bargains. However, all the items here can be brought via Stardust or Starglitter only. In fact, the royal greatsword costs 24 Starglitter.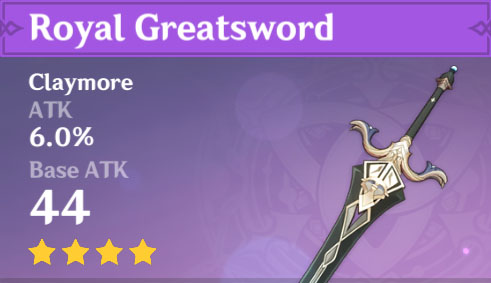 Star glitter is a special form of currency in the game that a player can obtain through pulling a character or weapon via the wish system. Although, collecting star glitter is a time-consuming process which requires effort, getting the magnificent royal greatsword and using it makes the whole process worthwhile.
There is another catch when shopping from Paimon's Bargains as well. The items here keep changing every month, so you have to be on the lookout to know when your desired weapon is available for purchase.
What are the advantages of Royal Greatsword?
It is a claymore weapon with a refinement mora cost of 500. The royal weapon is great for increasing the crit rate by 8%, 10%, 12%, 14% and finally 16% for every damage given to an opponent as there can be a maximum of 5 stacks. The crit rate will eventually wipe out all stacks.
Moreover, this weapon is quite rare (4 stars). It has a base ATK of 44% and Base secondary ATK of 6%.