Apex Legends is a highly competitive game in which legendary competitors fight to achieve fame, fortune, and glory. You get to choose your legend from a wide variety of outlaws, misanthropes, misfits, and soldiers with their own unique set of abilities. This highly challenging game requires you to be quick on your feet and make lightning-fast decisions to win battles and survive. One of the most popular Legends in Apex Legends is Fuse- a bombastic mercenary. Apex Legends Fuse is all about getting his hands on the most violent explosives and blowing things up. If you want to spice things up and make your game more exciting, this Apex Legend is a must-play. 
Who is Fuse in Apex Legends?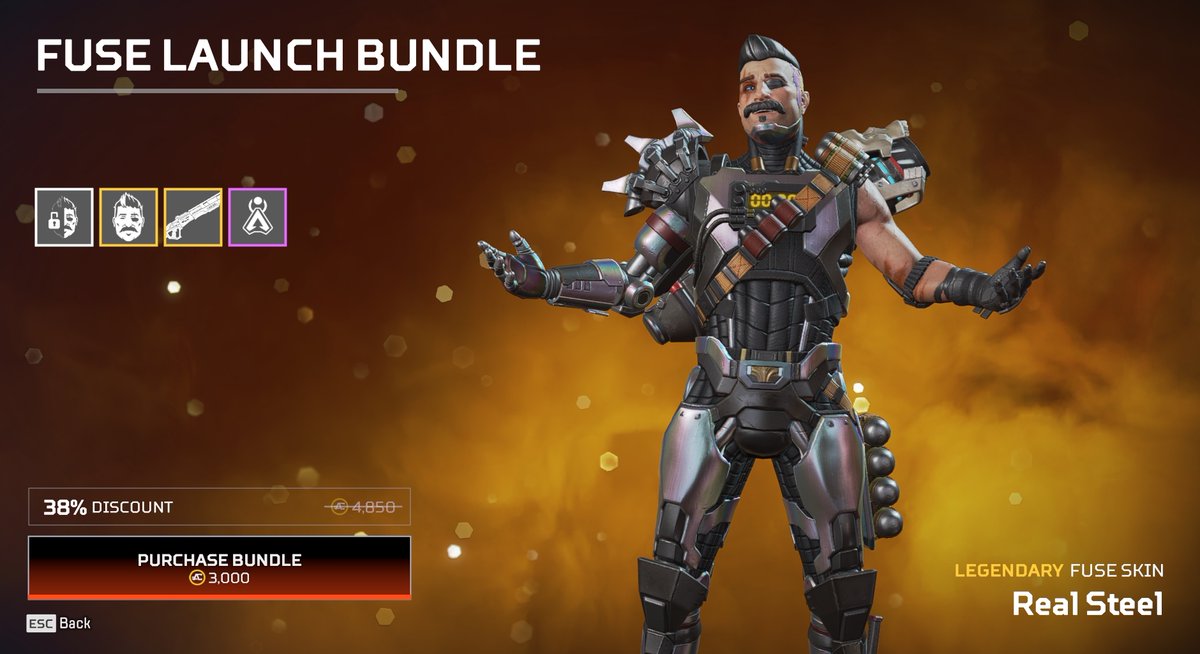 Apex Legends Fuse is the 16th legend to be added to the game. He grew up on the planet of Salvo, which was full of crime and war. This provided him with the perfect opportunity to pick up on battle skills. These skills help you to become the powerful badass that can take down any enemy. 
How to win using Fuse?
Apart from being good at using guns, you should also know how to make use of Fuse's remarkable abilities to make the most out of him. If you play your weapons right, defeating even the mightiest of enemies is going to be a piece of cake for you. 
Fuse has tactical, passive, and ultimate abilities just like all other Legends in the game. Mentioned below are all of his special abilities and how to make appropriate use of them.
1. Tactical Ability: Knuckle Cluster- The Knuckle Cluster Grenade is one of Fuse's most lethal abilities that set off several bombs. This ability allows you to launch several bombs wherever you want. There is a 25-second cool-down period after using this superpower. You can aim it at surfaces as well as enemies. You can also stick them to enemies or surfaces, but this will yield less damage. They are a great way to give yourself an edge. Because even if you do not hit an opponent, you can still throw them off their balance by launching the cluster bombs. Especially if you are stuck in a corner and unable to get the angle you need. Here you can use this tactical power to give yourself the edge to win the game.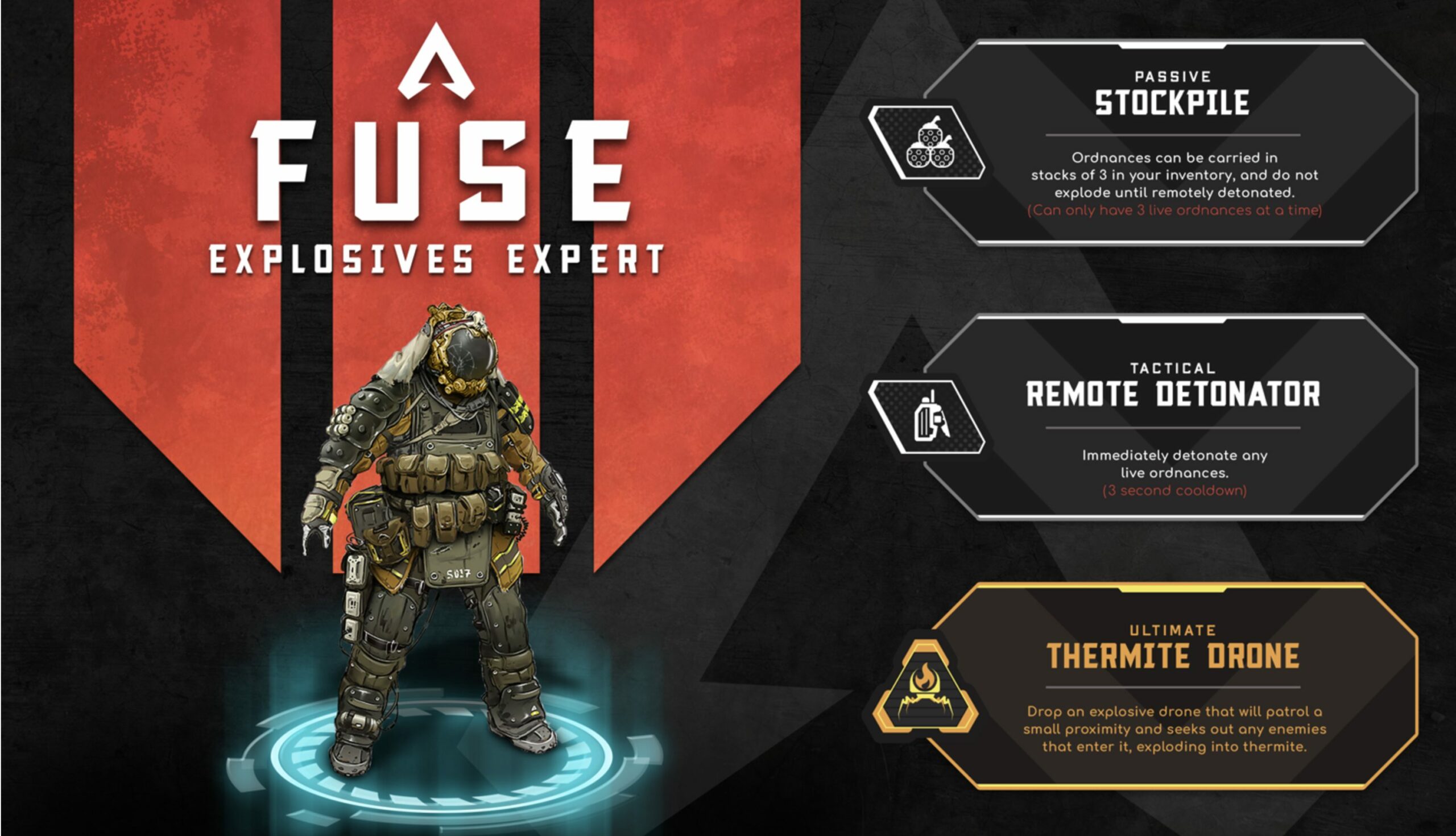 2. Passive Ability: Grenadier- This ability is probably his greatest strength. It gives him the ability to stack two explosives in each inventory slot instead of one. This means that Fuse will always have twice as many grenades(thermite grenades, frag grenades, and arc stars) as any other Legend. You should make a few alterations to your gaming strategy when using this ability; you should opt for guns that require less ammo, like the Wingman or P2020 pistol or the G-7 Scout non-automatic rifle.
This will allow you to save up on slots and fill them with more and more bombs. You can also make use of a purple backpack to pack low ammo weapons. Then, fill your inventory with as many as 20 grenades and still have room for shields and meds. Keep in mind that you can use Fuse's arm launcher to throw grenades at a greater distance and with more force. You can also use arc stars (they can go the furthest) and thermite bombs (for closer enemies). There is also a glitch in the game that allows you to hold an infinite number of grenades per slot. To do this, select Fuse as your legend, fill your inventory fully with grenades, change legends, drop one grenade and change back to Fuse. Then, fill your inventory again. Now you should be able to hold numerous grenades in a single slot.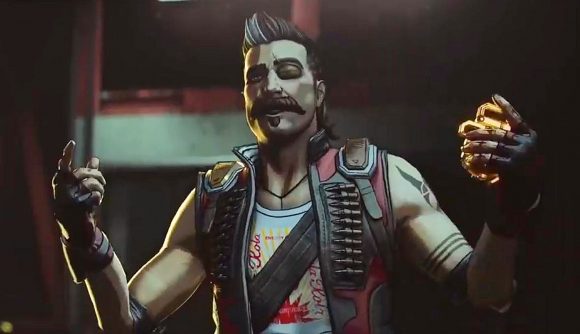 3. Ultimate Ability: The Motherlode- Fuse's Ultimate ability is a weaker version of Banglore's and Gibraltar. He wears his heavy cannon named Wally on his back and fires a piece of the heavy ordnance into the air. The target reticle will show you where it will land, and once it lands, it will rain down a ring of fire. Anyone who will pass through the fire ring will take up immense damage- as much as 75. Keep in mind that this can damage Fuse himself, so be sure to stay away from this ring of Fire. It will not harm your teammates, so you can use it to corral them in when they are pinned down. 
How to unlock Fuse?
Fuse can be unlocked using digital currency using 12000 Legend Tokens (you get these when you level up) or 750 Apex Coins (you can get them only by purchasing them using real-world money).