Born on 26th March, Animal Crossing Fauna is a friendly deer introduced in Animal Crossing New Leaf. Since then, she has become a player's favorite and a part of many other Animal Crossing series, i.e., Animal Crossing New Horizons and Pocket Camp.
Animal Crossing Fauna's Appearance
Fauna's appearance fits the perfect definition of simple yet beautiful. She is brown in color. Her cheeks are ruddy, and she has a small black nose. She has pointed brown ears that are pink from the inside. Her round black eyes are white from the center, and she has two eyelashes protruding from her lower lash line. Besides this, she has bright brown spots at the back of her, which resemble a deer a lot. She also has yellow-colored hooves.
In New Leaf, Animal Crossing Fauna wears a Shearling Coat, and in New Horizons, she wears a beautiful Bohemian Tunic Dress. Whenever it rains, she carries a leaf umbrella. Overall, she likes cute and simple dressing.
Fauna's Personality
Fauna has a friendly and non-political personality. She almost always acts nice with others. She also asks players how they are doing and enjoys having a little chat with them, making her a super pleasant villager to have around.
In fact, in animal crossing, she fits the definition of a normal personality, meaning she gets along with snooty, peppy, snug, lazy, and normal villagers. On the other hand, she does have a hard time getting along with sisterly and cranky villagers. In addition to this, she wakes up early in the morning, around 6 a.m., and is always ready to help out. She is also a bit shy. One of the great things about Fauna is her obsession with cleanliness, especially when a player visits her house. Even though her house is pretty clean, players will always find her apologizing in embarrassment while referring to her house as unclean.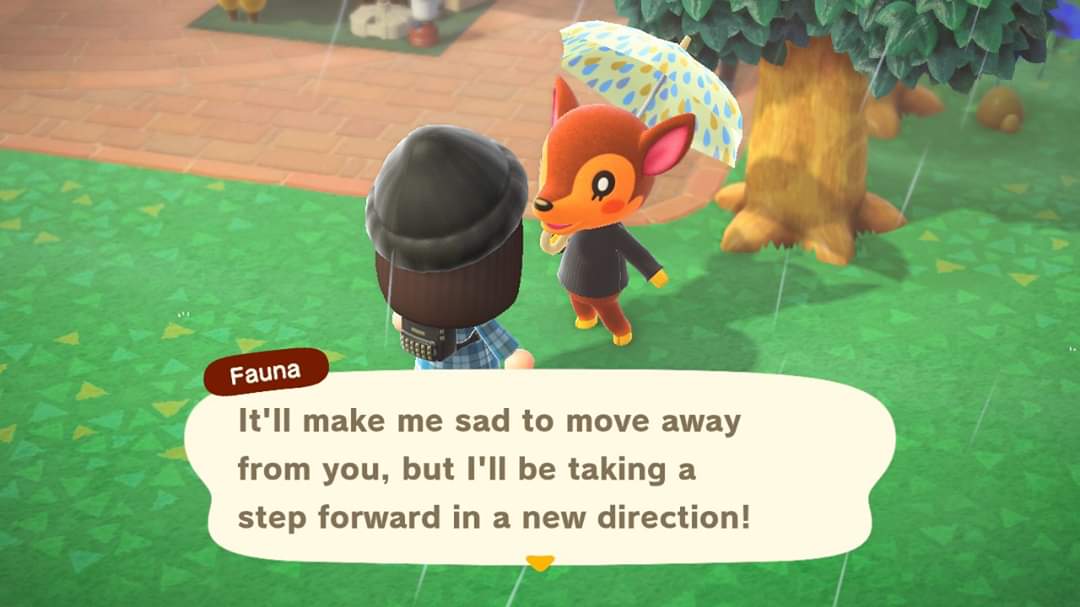 Fauna's Hobbies
This villager has a nature hobby. She enjoys reading books whose names she will often tell you about. Fauna also has an interest in writing and getting letters. She is great at mental maths and hopes to become a teacher one day. She is a great addition to any island as she helps players by watering flowers during day time.
Gifts for Animal Crossing Fauna Villager
If a player plans to gift something to Fauna, try and get it in her favorite colors, i.e., beige and white. She likes receiving simple and cute dresses.
Animal Crossing Fauna's Catch Phrase
Dearie.
Animal Crossing Fauna's House
Fauna's house in New Horizons is simple yet elegant. The main colors of her house are red and brown. The flooring is of mint dot type. Most items in her house belong to the wooden series. One corner of her house (upper right corner) is a wooden block bed above whose head is book stands. In another corner (upper left corner) is her kitchen, a gas range, a red mini-fridge, a pot rack, and a cutting board.
On the center of her back red brick wall is a Cuckoo clock hanging. Moreover, in the center of her house is a wooden block table and wooden block chair. Opposite her bed in another corner of the house is a wooden block chest with a portable record player on top of it. Thus, players will find the music K.K. Stroll playing in Fauna's house. Finally, opposite the kitchen on another side of the room lies the Vintage TV tray and a wooden Block Shelf.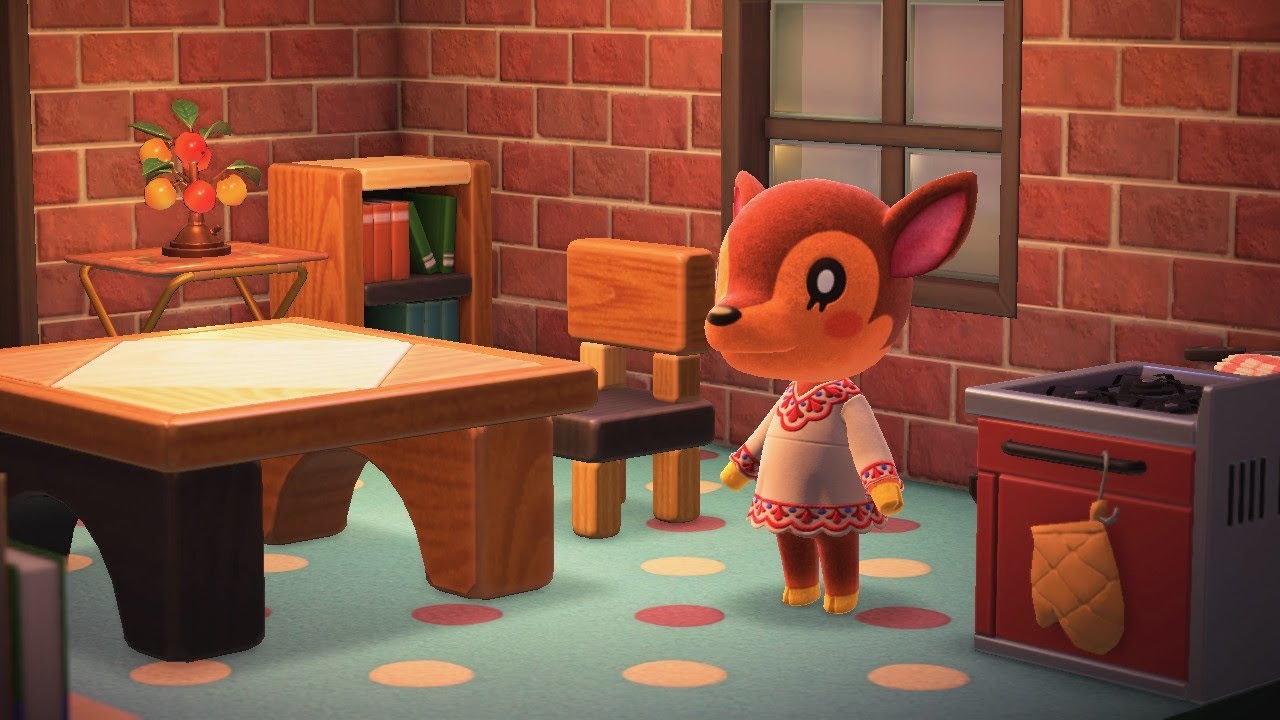 Fauna's house in New Leaf is much more colorful and follows the retro theme. She has a parlor wall wallpaper and a pastel dot rug, which brings her house together. There is a large alpine table in the upper left corner with a tea set and dandelions on it. There is also a modern wood chest and a modern wood stool in her house. In another corner, i.e., the upper right corner is an old sewing machine. In front of this machine is Fauna's classic bed.
There is a radiator in front of the bed. Towards the bottom right corner, players will find a dapper tee placed in her house. There is also a modern wood clock available on top of the window on the left side of her house. In the center of the house, there is an aloe plant beside a retro stereo, often playing the song K.K. Stroll. In the bottom left corner of her house, players can spot a modern wood sofa.
Animal Crossing Fauna's Rewards
Getting your friendship level up with Fauna will help you as a player get many gifts. All of them are listed below:
Upon reaching a friendship level of 7 with Fauna, he will get a shearling coat and one sparkle stone by her.
At a friendship level of 9 with Fauna, you'll get one sparkle stone by her.
When a player reaches a friendship level of 15 with Fauna, he is gifted with an ebony piano.
When a player reaches a friendship level of 20, 25, 30, 35, 40, 45 and 50 with Fauna,he is gifted one sparkle stone each time by her.
Animal Crossing Fauna's Amiibo Card
Fauna is a number 19 in the Amiibo card series 1 with a dice value of 5. Her hand sign is rock.
Fauna's Poster
To get a poster of Fauna, go to Nook Shopping. From there, click on the poster tab of special good sections. Don't forget to invite Fauna to photopia for a picture so that they can make a poster. She can be invited via an amiibo card or directly if she lives at the player's island. The poster costs 1000 bells and can be sold for 250 bells.