When you hear the name of Alexandra Anna Daddario, does Percy Jackson ring a bell? The American actress had her breakthrough in her career by portraying Annabeth Chase in the Percy Jackson films but she found her "most formidable love" amidst CoronaVirus pandemic.
Though her ardent admirers are happy that she found her soulmate, many fans are curious as to how she met her husband and who he is.
Are you Curious to know too? Well, fear not! Here are all the details that you need to know about Alexandra Daddario's husband and how they met.
Just keep on reading the article to find answers to all of your burning questions down below!
Who is Alexandra Daddario's Husband?
Andrew Form, who is a successful film and TV producer, is Alexandra Daddario's husband. Some of his best known works includes films and series like:
Friday the 13th

Teenage Mutant Ninja Turtles

The Purge

A Quiet Place

A Quiet Place Part II

The Texas Chainsaw Massacre

Tom Clancy's Jack Ryan etc.
Not only that, he is also the co-founder of the production company called "Platinum Dunes" which he founded along with Michael Bay and Brad Fuller.
However, not much is known about the fifty three year old producer's personal life. Since he not only works behind the scenes but also opts to keep his life very private. However, Alexandra Daddario's Husband Andrew Form Net Worth is 30$ Million.
Thus, there are no details regarding who are his parents, where is his homeland, does he have siblings or not and what is his educational background etc.
Was Alexandra Daddario's Husband Previously Married?
Even though there is little no information about Alex Form's private life, we do know that he was previously married to American Brazilian actress Jordana Brewster.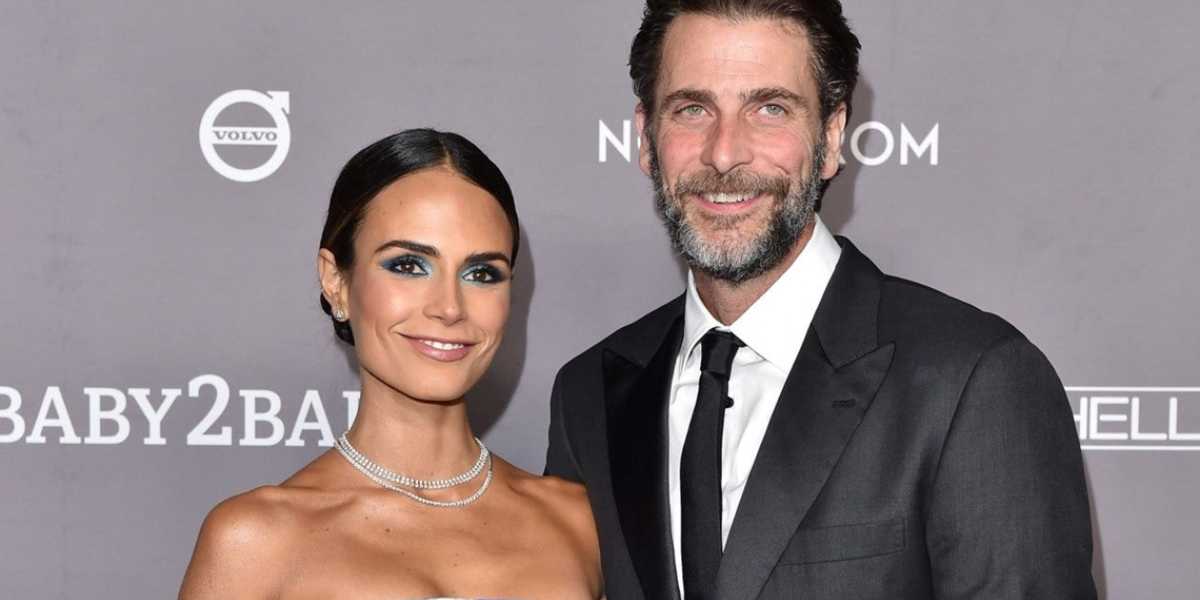 He was married to The Fast and Furious star for thirteen years but the two got divorced in June, 2021.
The duo met each other on the set of The Texas Chainsaw Massacre: The Beginning. Jordona Brewster starred in the movie while Andrew Form produced it. 
They tied the knot in a private ceremony held on Nevis Island in May, 2017 and share two children together; Rowan (born in 2016) and Julian (born in 2013).
View this post on Instagram
How did Alexandra Daddario meet her Husband Andrew Form?
Alexandra Daddario and Andrew Form met each other by chance in New York City during the COVID-19 pandemic. Apparently, the White Lotus star and Andrew Form were both on a walk when they "passed each other downtown." 
Before they knew it, he "turned back and said 'hi' just as [she] was turning around to glance back at him."
Though she gleefully responded back to him, it was obvious that the two were attracted to each other as they immediately hit it off.
With that little exchange of hellos, the pair then laughed at how they "were the only two people on what is normally an incredibly busy street."
One thing led to another, the famous producer did not wait a second and asked her out for dinner even though he had a connecting flight the next morning.
And of course, she said YES!
When did Alexandra Daddario and Andrew Form begin Dating?
Alexandra Daddario made their relationship official via an Instagram post made on May 13, 2021.
View this post on Instagram
The two can be seen posing in a cute black-and-white photo where the actress is wrapped up in her soul mate's arms.
When did they make their Red Carpet Debut as a Couple?
The pair made their first red carpet appearance as an official couple at the California premiere of the HBO series The White Lotus in July 2021.
When did Alexandra Daddario and Andrew Form get engaged?
After dating for almost a year, the pair announced that they were engaged on the 2nd of December, 2021.
When did Alexandra Daddario and Andrew Form get Married?
Alexandra Daddario and Andrew Form got married to each other in New Orleans in June, 2022.
She revealed that Form proposed to her when she visited him while he was working on the series Jack Ryan, filming in Athens. 
Alexandra Daddario and Andrew Form Shares a Multimillion Dollar Home:
The two bought their first home together in Los Angeles' Hancock Park neighbourhood for $7.3 million dollars in September 2021.
The said mansion in question has a total of four bedrooms and five bathrooms, which was previously owned by John Wess, the creator of TV shows like Shameless and ER.
Their house was described as "French Mediterranean" in style and is "reminiscent of the French countryside."
Wrap Up:
I hope this article answers all of your queries regarding who is Alexandra Daddario's husband is and how they met. We will update you once we get our hands on further information about Alexandra Daddario and Andrew Form's relationship Till then, stay tuned and feel free to visit our website to read more of such articles to tame your thirst to know more!