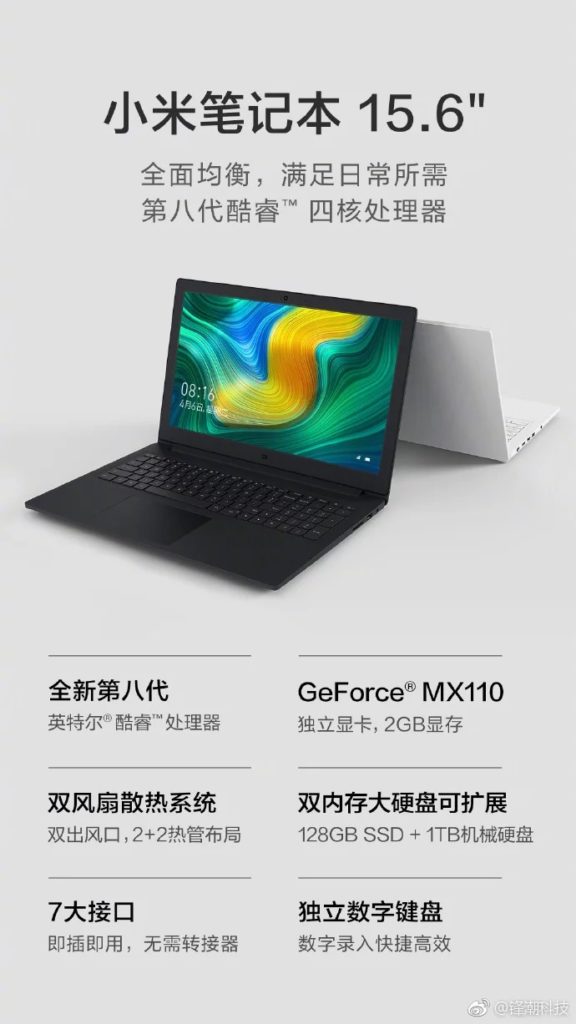 Xiaomi has released a new version of Mi Notebook PC that comes with Intel 8th generation processors, an NVIDIA graphics card, and a full-size keyboard.
The new Mi Notebook has a 15.6-inch FHD screen and is powered by Intel's 8th generation processors. Depending on the model, you also get a Core i5 or Core i7 processor. The variant with the Core i5 will be available in versions of 4 GB of RAM and 8 GB of RAM. Regardless of the model, you get 128 GB of SSD storage paired with 1 TB of disk. It also highlights the integration of the NVIDIA GeForce MX110 graphics card with 2GB RAM.
The new processor offers a 40% increase in performance over 7th generation models. At the same time, the GeForce MX110 graphics card is an excellent choice for processing images and online games. Xiaomi says users can add up to 32 GB of memory for even better performance.
For everything to run smoothly, Mi Notebook has a dual-vent design with 2 + 2 cooling tubes to help with heat dissipation.
Another of the points of sale of the new laptop is its dedicated numeric keypad, which has dedicated keys for calculator, browser and scroll lock.
At the connectivity level, two left-hand USB 3.0 ports, an HDMI port, a 3.5 mm input / output, and an Ethernet port stand out.
On the right is an SD card slot, a single USB 2.0 port and the charging port. Unfortunately, there is no USB-C port, but it is not something that is missing. Also, note the presence of an LED power light between the USB 2.0 port and the DC port.
Xaiomi states that Mi Notebook has two 3W speakers and Dolby Audio surround sound technology. Comes with Microsoft Office and the Xiaomi sync wizard.
The price of Mi Notebook starts at CNY3999 for the Core i5 4GB RAM + 128GB + 1TB. The price can go up to CNY4499 if you want 4GB more RAM. The Core i7 model with 8 GB of RAM and the same storage and graphics card configuration costs about CNY4999.
It is already available for pre-order and will come in black and white.