Every Stardew Valley lover knows the importance of having a friendship with Alex. Alex loves sports and hangs out at the beach along with his best friend, Haley. You can woo Alex in the game by sending him gifts twice in a week and an additional present on his birthday, i.e. on 13 on every summer. You almost know everything about the sports enthusiastic bachelor of the valley, and I am sure that you must be making every efforts to create a soft corner in his heart. Try your luck by sending him gifts which he like then you can trigger Stardew Valley Alex Heart Events after collecting a certain amount of friendship points.
So, how to unlock these special heart event with Alex in Stardew valley game? Let's read further know every detail about the Stardew Valley Alex Heart Event.
How to Start Stardew Valley Alex Heart Events
This Stardew valley Alex heart events can be only triggered in the sequence of two, four, five, six, eight and ten. Let's know how to activate each event to win Alex's heart.
Alex's Two Heart Event in Stardew Valley
Go to the beach on a sunny summer day when you find Alex alone at the beach. In the starting of the event, you will see Alex with his grid-ball. He will greet you and will try to toss you the grid ball. You would fail to catch the ball, and, he will start laughing at you and says it was a nice try. Further, he will begin bragging by saying that he's sure one day he's going to become the first professional grid-ball player from Stardew Valley. Later he will ask you what you think his chances are.
To his question, you can give a reply as per your choice. Because none of your answers will leave any impact on your friendship.
If you choose to say "I believe in you!" (No effect on friendship.) Alex will thank you for showing your support towards his dream, and further he'll say that he'll remember you and your words.
If you select "Wow, you're arrogant." (won't make any adverse effect on your friendship.) Alex will say you're just a little jealous with his talent and leave the beach. Upon leaving, the Stardew Valley Alex Heart Event will also end.
Alex's Four Hearts Event
To trigger the four hearts event, go to the pelican town between 9:00 am and 4:00 pm. In the city, you'll find Alex next to his Dusty's (his dog) pen near his house. When you meet him, he will comment that both he and his dog have been through a lot and suddenly he sees you that give him a feeling of misunderstanding. You come out from behind the Saloon, and Alex asks if you heard any of that.
Again you can reply to him as per your mood. As it won't be making any issues on your friendship.
"Yes, I heard everything."
"Not really… why?"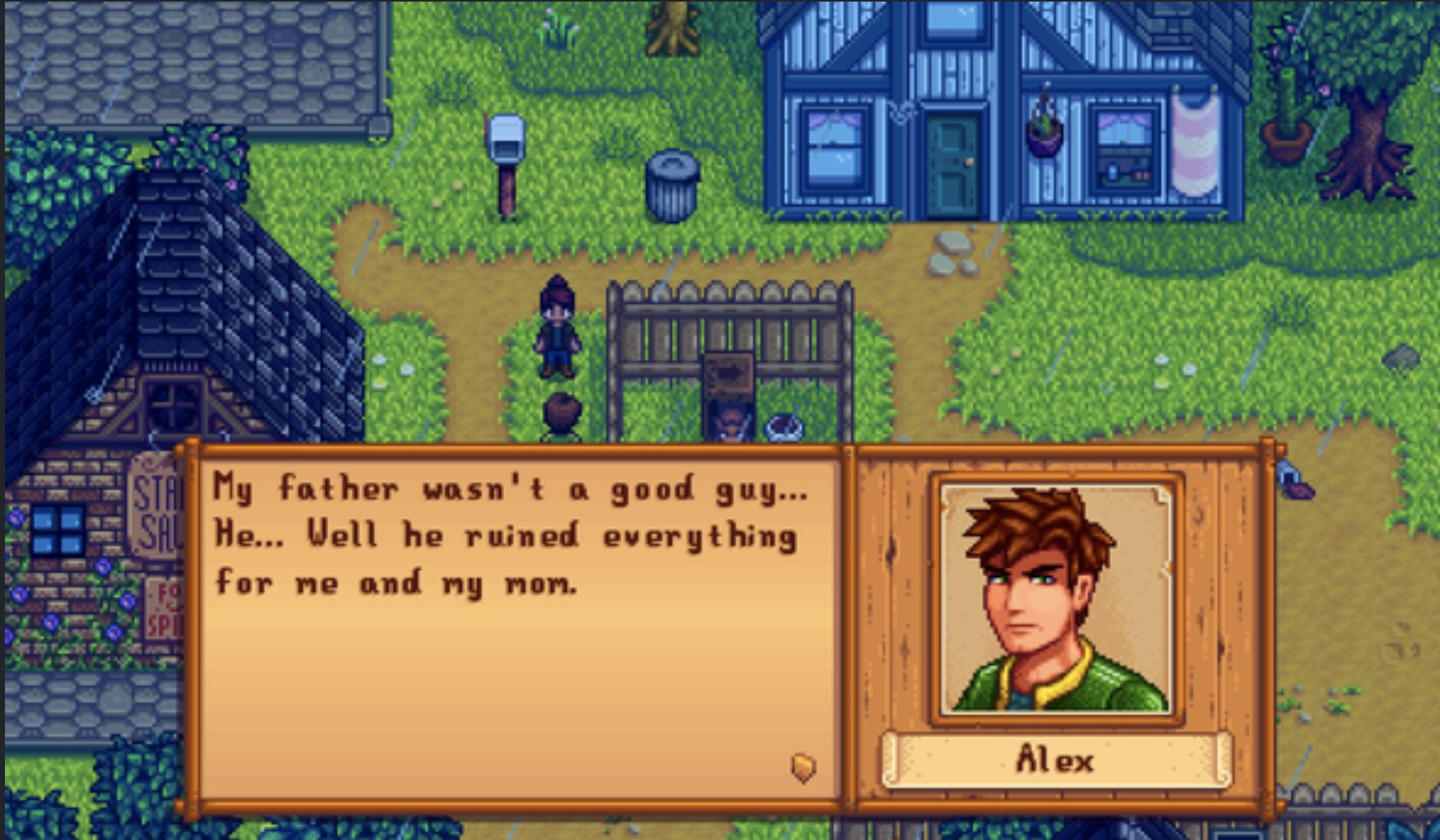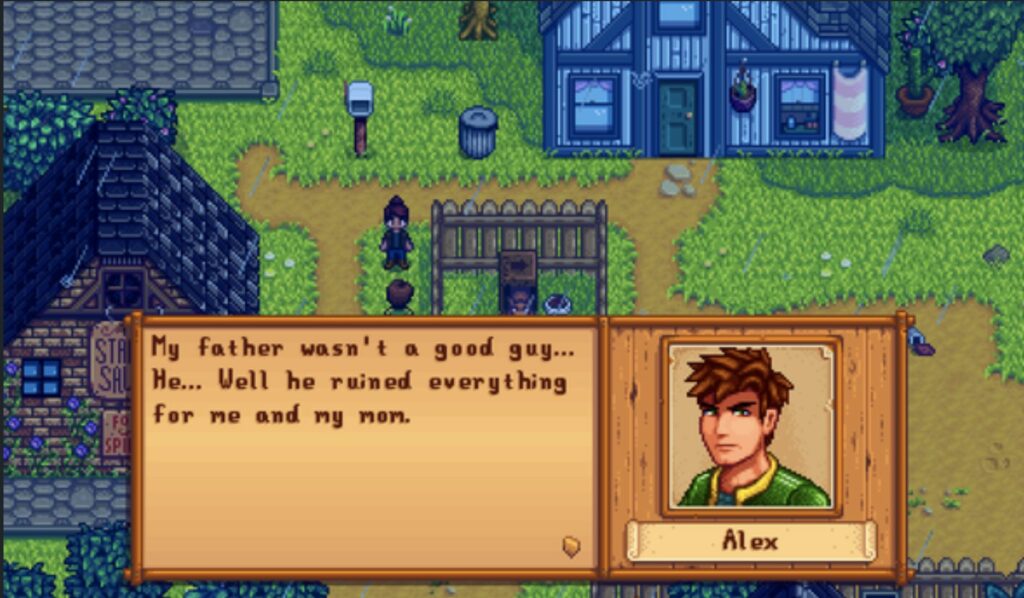 Either way, he'll try to clear the misunderstanding by saying, he lives at his grandparents' house because of his father. As his father is an alcoholic and most of the time he verbally abuses Alex, by calling him a "worthless" child. So, because of his father's nature, he left him and shortly after that his mother got sick and passed away.
Alex continues to explain that he shouldn't dwell on it and doesn't need anyone's sympathy. After all this, he tries to ease the situation by offering you the opportunity to see what Dusty will do for a barbecued steak.
Alex's Five Heart Events
To activate this event, you need to enter Alex's house and approach towards him when you seem him staring at the bookshelf and wail the fact that he hasn't read a single book in it.
After this, he'll share his problem with you that he won't get anywhere in life without being knowledgeable, and he feels worthless in the valley. But you can motivate him by the below-mentioned answers. Moreover, you can also earn some friendship points.
"That's crazy. You're a genius!" (Won't affect the friendship.)
"We all have our strengths and weaknesses." (Will give you +50 friendship points.)
"Worthless? Yeah, that about sums it up." (We don't recommend you to use this answer as it will cost you 50 friendship points.)
After your advice, he will decide to work hard to accomplish something in his life. Later he'll invite you on dinner to discuss philosophy.
Stardew Valley Six Hearts Event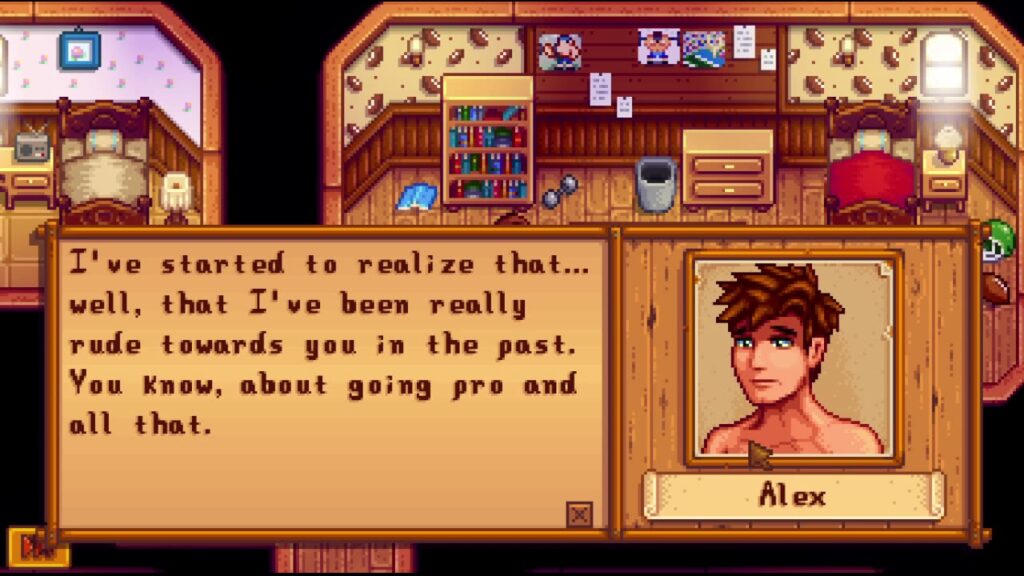 Enter his house, when Alex is at home. Upon meeting, he'll show his doubts to you about being able to go pro as a gridball player. Though he'll also apologise for being rude and arrogant with you and he will also appreciate you for being always on his side.
During the event, you'll encourage him (no choice is necessary), and Alex will return to his strength workout with renewed vigour.
Stardew Valley Alex Eight Heart Events
On any sunny summer day, head to the beach when Alex is there. Remember the fact that you can't trigger this event after getting married to Alex, since he no longer visits the beach.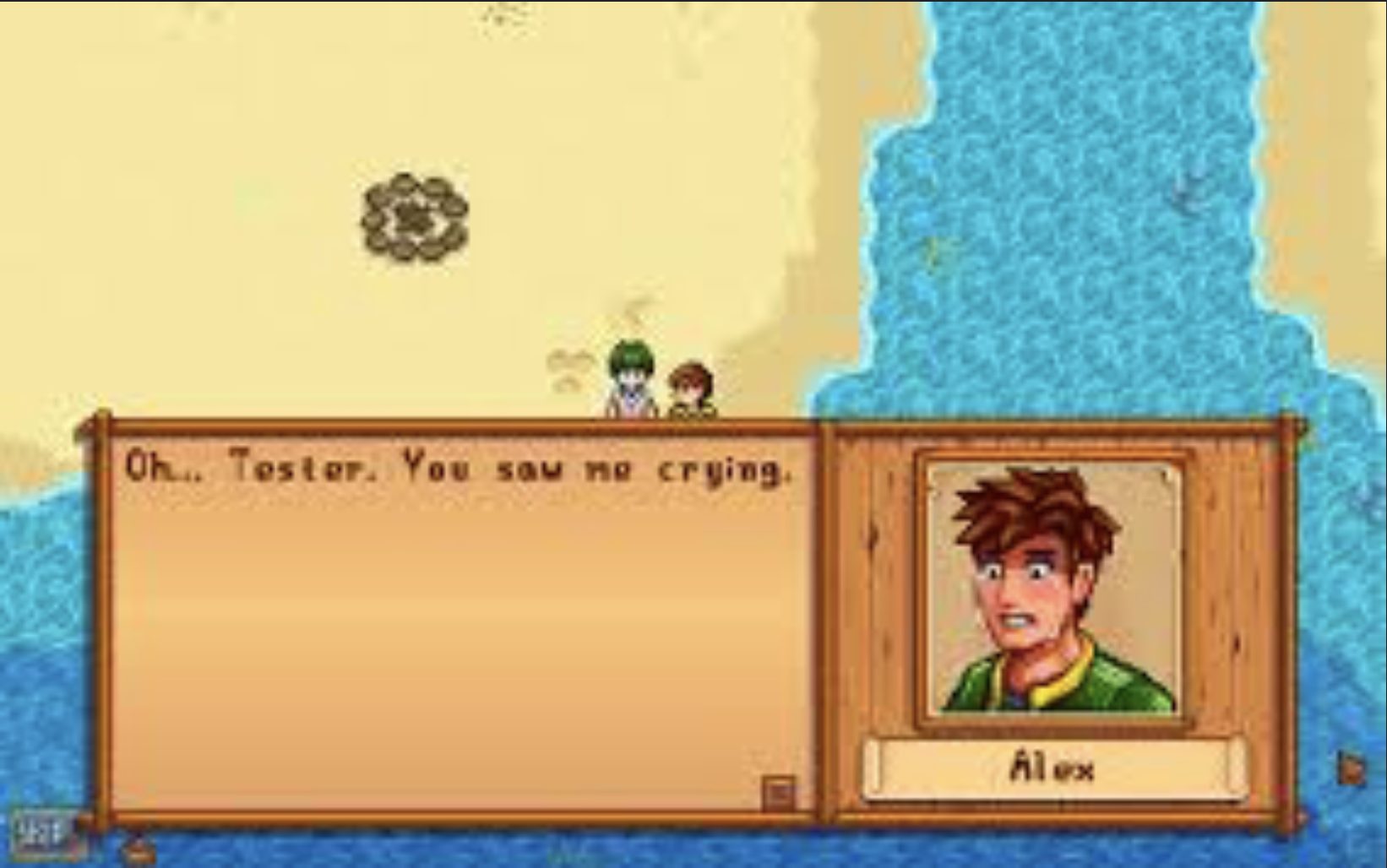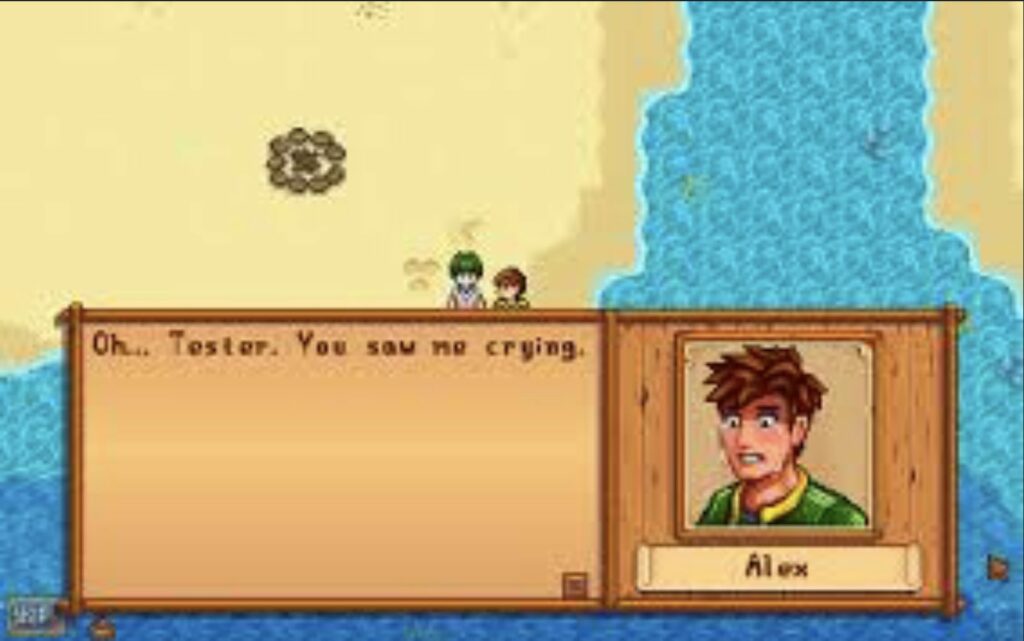 Arriving at the beach, you'll see that Alex is crying. You approach him and sit just next to him. When you ask what happen why are you crying, he'll say, "today was the day when my mother died 12 years ago". He regrets not being able to thank his mother for taking care of him when he was a child. As a memory, he just has his mother's music box. Alex opens it and plays it for the both of you.
As the music plays, you see a blur vision of Alex's mother happily cradling baby Alex in her arms. As the music fades, he asks what you're thinking. To his question, you can choose any answer as none of your responses will affect your friendship points.
The Eight Heart Event Answers Are as Follow;
"Honor your mother's memory by always doing your best." (No effect on friendship.) Alex agrees with you by saying that's why he's always working so hard to be a professional grid-ball player of Stardew Valley.
"You shouldn't dwell in the past." (Again no effect on friendship.)
"I'll always be here for you if you get lonely." (Won't make any change on your friendship.) Alex will thank you and bashfully says you're his best friend in the whole Pelican town. If you are a male character in the game then, he will say "You (Player's name) are different from all other guys. You are just more sensitive. I'm glad. you are my friend."
"Get over it. Life is hard for everyone." (Won't affect the friendship.)
At the end of the event, he will say that we both should head to the town now. Before you leave, he will nervously ask you not to tell anybody that you saw him crying. After completing his sentence, you start laughing and walk off while he hurriedly tries to chase you.
Stardew Valley Alex Ten Heart Event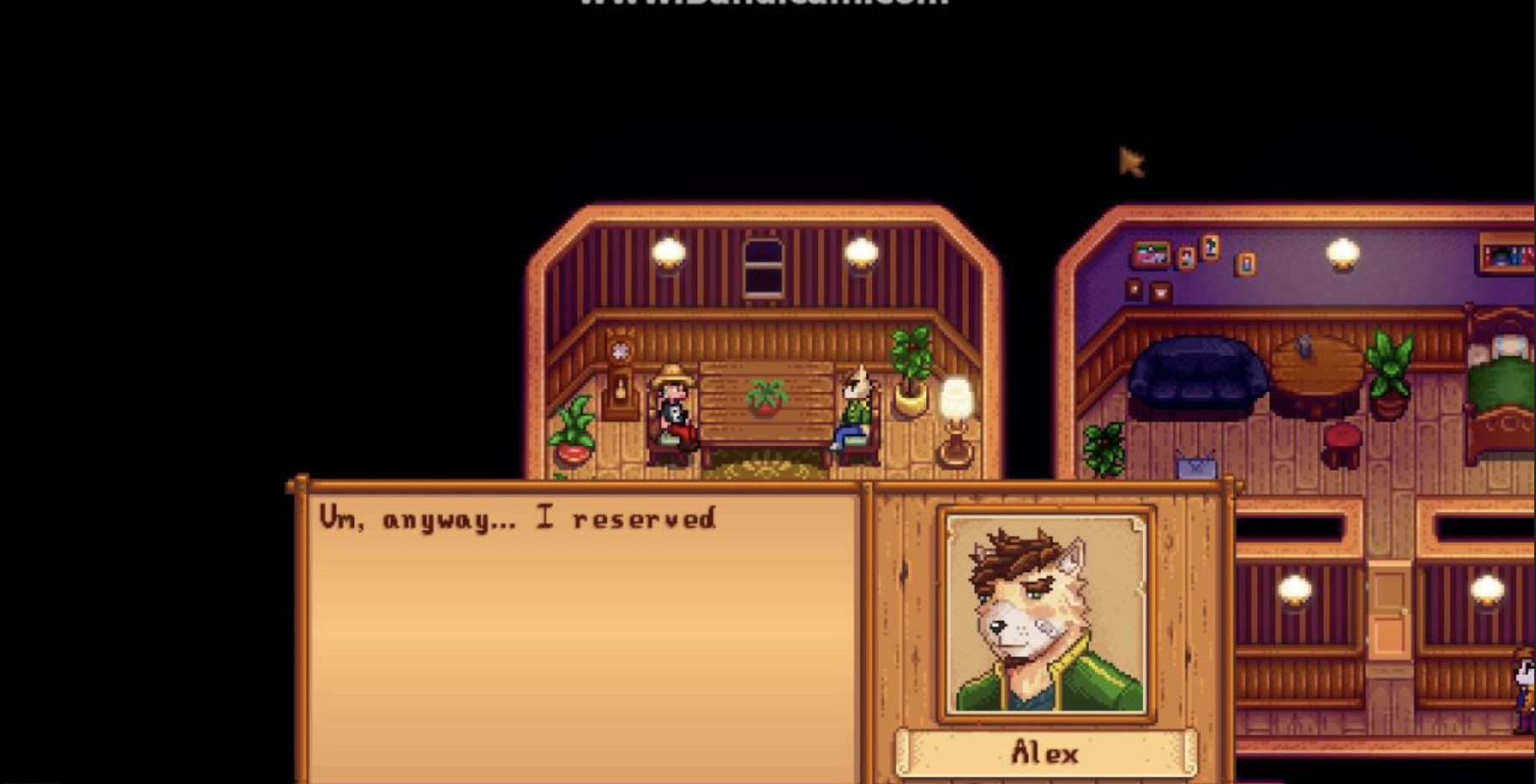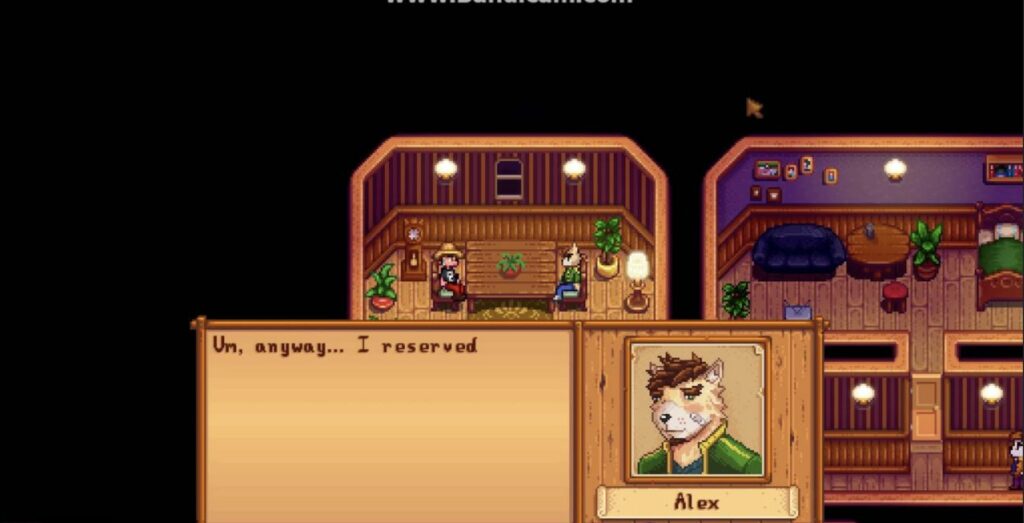 This Stardew Valley Alex Heart Events is divided into two parts, in the first part, he'll send you a letter to meet him at the Saloon when it's dark. So, after receiving his letter, you should meet him at the saloon between 7:00 pm and 10:00 pm.
After reaching saloon, you'll see that Alex has booked a separate room for dinner. You'll notice that Gus is also there and playing the violin for you two Emily will bring in your food.
If you are playing the game as a female character, then after the dinner, Alex will confess his feelings to you by saying that he had a crush on you since after your first meeting. He will also say that all his crushes in the past faded away quickly, but his feelings for you were kept growing.
If you are playing as a male character, then he'll say that he has a crush on you since the two of you first met; although he always kept on denying these feelings now he's has decided to follow his heart instead of his mind.
In this situation, you get two answers, but the choice of your answers doesn't matter as it won't make any negative or positive effect on your friendship level.
Stardew Valley Alex Ten Heart Event Answers are as Follows;
"I feel the same way." (As mention, it make no effect on friendship.) After hearing this answer, Alex is thrilled to know that both of you have the same feelings and were finally able to accept each other. After this, he happily digs into his steak. Suddenly Dusty bursts through the window of his room, salivating at the smell of food. Alex laughs.
"I'm sorry… I don't feel that way about you." (No negative or positive effect on friendship.) After hearing the truth, Alex is broken, and he apologises for everything which he did to make you feel uncomfortable. He loses his appetite.
Stardew Valley Alex Ten Heart Event
In the second part of the Stardew Valley Alex Heart Event, if you are unmarried but has already given a bouquet to all available bachelors of Stardew valley and also raised your friendship level with each bachelor to 10 hearts. And also seen every bachelor's ten hearts event, then you can trigger a cutscene by entering Stardrop saloon.
Note:- This event can be only triggered only a single time per save file. You won't be able to trigger the event if you are already married in the game or have already given a Wilted Bouquet or Mermaid's Pendant to any bachelor of the valley.
Stardew Valley Alex Fourteen Hearts Event
Just like other characters of the valley, Alex also has fourteen heart event, but his fourteen hearts event is divided into three parts. You can only activate after completing ten hearts event with him. Although you also don't need to be married to him to start or finish the activity.
To trigger the Stardew Valley Alex Heart events, you must have 5,000 gold coins in your game wallet. If you have enough coins, then exit from your farm in year 2+ between 5:00 am, and 8:20 am on any day but other than Sunday. Alex will stop you and ask for 5,000 gold coins which he needs to complete a secret project.
If you accept his offer to give him 5,000 gold coins, then he'll tell you that his project will be ready to be seen on Sunday.
To trigger the second part of the event, you need to enter the pelican town on Sunday.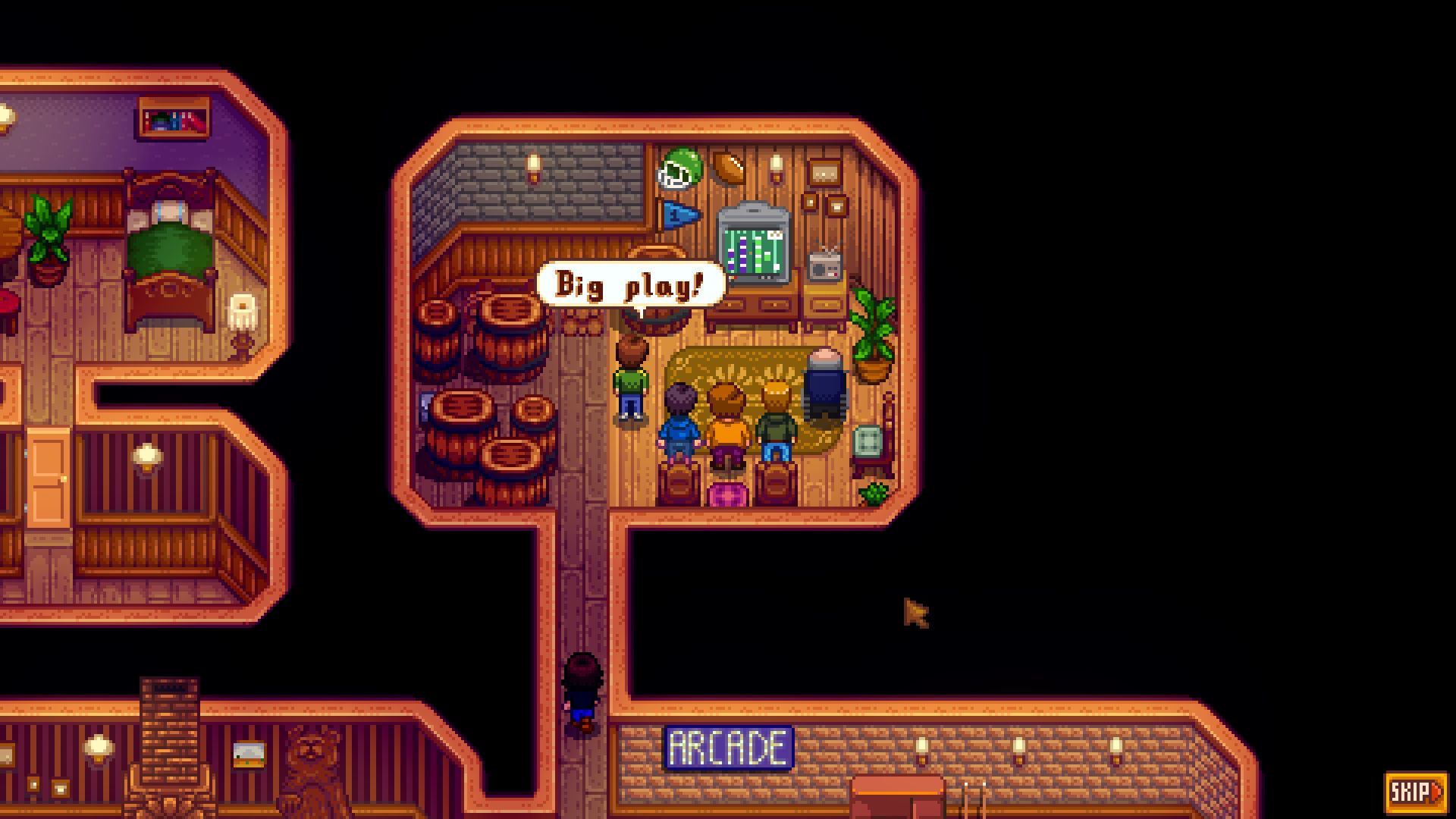 In the last and third part, when you enter the Saloon, you will see Alex, Kent, Shane, and Gus are watching grid-ball match on TV in the back room of the saloon which has been decorated with grid-ball memorabilia.
During the scene, a farmer walks in and Alex tells him that his childhood dream of becoming a pro gridball player may not have been realised but it is a very small way of realising it. Later Kent joins the conversation and says it takes his mind off things, and Shane agrees with him.
Gus also tells him that nowadays watching a game is also beneficial for business. The cutscene ends when the farmer says the young boys have their new tradition now and the 5,000 gold coins were well spent.