In 2018, Chinese manufacturer Xiaomi released their last tablet. Since then they never talked or tipped any indication on their plans of launching a note. These days rumors mill is spinning at its full power. If rumors are spread to be believed then on 27th April. We all will be witnessing another tablet dubbed as Redmi Pad 5G from its standalone brand-Redmi.
The rumors are just sound too good to be true. But we are not sure whether we should believe them or just ignore as our crush does. 😛
At present, it seems that Redmi is capable to cash the opportunity to return and hit the tablet market. Because of the current market situation where Apple iPads are gaining popularity and on the other hand, the Android tablet market is shrinking day by day. Although it is another fact that Lenovo and Samsung are still trying their luck by introducing tablets at regular intervals.
The Redmi Pad 5G is yet to launch in China on 27th April. Let's read and find out what key features Redmi Pad 5G highlights.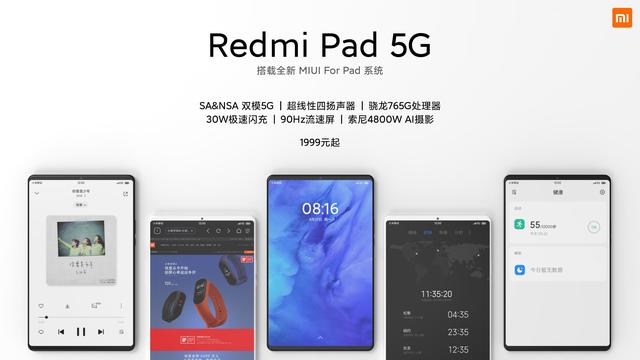 Redmi Pad 5G Features
As per the rumors, it will have Snapdragon 765G processing chipset, that will be making it one of the first 5G tablet. Those are still pretty rare and there are none in the CNY 2,000 range – that's the alleged price of this tablet and it works out to $285/€260.
The Redmi Pad 5G will offer a display of unknown size and pixels but it will offer a 90Hz refreshing screen. This 90Hz screen fact is again hard to believe at the quoted price.
Moreover, the tab is said to be equipped with a 48-megapixels Sony sensor on the backside. And it also would be the highest resolution camera sensor in any tablet so far.
From all those leaked specifications of Redmi Pad 5G, 30W fast charging support sounds quite good. Again there is no mention of the battery capacity. The teaser also mentions four speakers plus the specs above and that's about it. But the info about size and Dolby effects are unknown.
So far Xiaomi didn't make any official statement or teased its fans about the tablet. But recently a Xiaomi executive commented on Weibo, that the company isn't going to give up on the tablets. Although, it doesn't mean much his comment is more than enough to assume that we will surely be going to our hands dirty with a Xiaomi tab in the future.
The rumored Redmi Pad 5g is expected to unveiled on 27th April along with Mi 10 Youth Edition. Which is also promised to offer periscope zoom camera, 5G network support at an affordable price slab. Even is we don't witness the launch of a new Redmi Pad 5G, the next Monday will be pretty exciting for the users who are looking to update their current smartphones.