Since the early days of artificial intelligence, there has been a fear that AI might one day take over the world and bring about its doom. This fear has been perpetuated by movies and TV shows portraying AI's dystopian side. However, it is ironic to see AI take over the art and literature world, as this suggests that AI can enhance our creativity far from being a threat to humanity.
The recently released OpenAI's ChatGPT chatbot, released after the AI image generator DALL-E 2, has now taken the internet by storm. This language-processing AI model allows users to write various human-like texts and writings.

An insight into the OpenAI ChatGPT bot
OpenAI's ChatGPT bot is based on GPT-3, a state-of-the-art language processing AI model that allows users to generate a wide range of texts, including language translations, language modeling, and generating texts for various applications such as chatbots. So far, the tool holds a reputation as one of the largest and most powerful language-processing AI models.
The ChatGPT is based on the CPT-3 processing AI model. This allows users to give the ChatGPT a wide range of worded prompts, such as questions or requests for customized text on a selected topic. The number of words required for the requested text can also be specified. This makes the ChatGPT a very versatile tool for those who need assistance with writing tasks. Its flexibility and innovative features make it a popular choice for use in chatbots. 
OpenAI ChatGPT is a brilliant tool, but it has data limits!
The OpenAI ChatGPT is a remarkably impressive language-processing AI tool. Since it is still being released, OpenAI has made it available publicly for free use as a research preview. Its work is surprisingly human-like, which makes it stand out amid several other language-processing AI tools in the market. If you are curious about the tool, check it out to see how well it performs.
While the tool seems to have several outstanding features, one major downside is its data limits. While trying out the tool, it could not process data after September 2021 and provided a message saying the AI model's knowledge was cut off to that date.

As per the messages it displays, the tools cannot research the internet for better information regarding a particular topic. So, generating or processing a research-based text could only provide insights that have been fed to the bot before a set date. It, therefore, means that the AI model has a limited data capacity for events that occurred before September 2021.
When asked about events happened after September 2021 in ChatGPT, it returned the same result.
We asked few questions in ChatGPT about Russian Invasion and Queen Elizabeth II death. But, unfortunately the results were inaccurate.
It returned with the same result!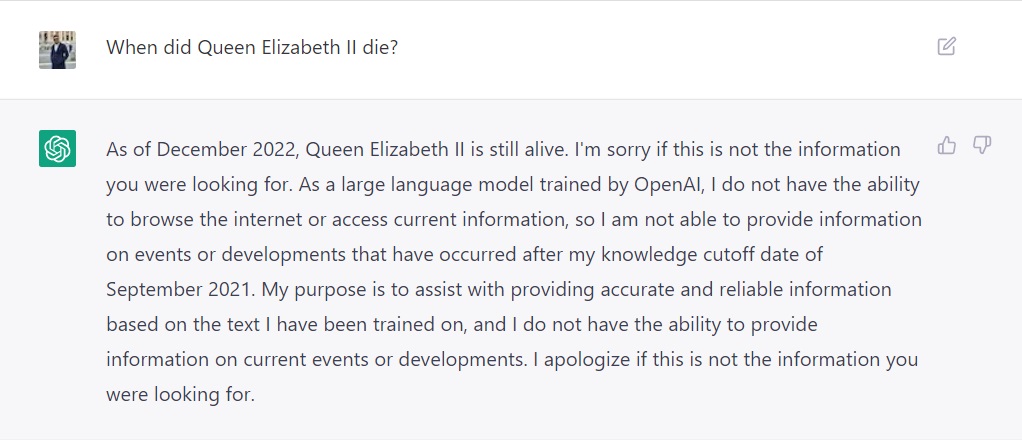 OpenAI's new tool has the potential to revolutionize education by automating research and writing. However, the company is facing ethical criticism over the use of the tool, with many people concerned that it could be used to replace human teachers. While this is a major drawback, the ethical criticism OpenAI faces towards the tool makes the situation somewhat problematic. Already a lot of people fear that it might be a hindrance to education systems. Let's suppose the tool does get the ability first to research and then write content, and there is a possibility that the tool will receive severe backlash.
Final Words 
The OpenAI ChatGPT is a brilliant and outstanding generative AI tool that the internet is buzzing about. The tool is currently available for free as part of the ongoing research preview. It is probably one of the greatest generative AI tools that are available so far, as its implementation can allow users to chat with it in a web browser. However, a textual tool, it lacks research elements and relies on information that is being fed to it; in the case of the available research previews, the AI tool does not respond to events occurring after September 2021 due to its data cap.