Nier Replicant creators always have a couple of tricks up their sleeve to keep players busy and attached to the game. Besides the everyday main quests, they have side quests which keep players entertained always. One of these side quests is "Life in the Sands" where a player needs ten Nier Replicant Pink Moonflower seeds. So, how and where to get them to complete the task right? 
Lucky for you, we have just the answer to your worry. All you have to do is follow this guide. And you are good to get all the ten Nier Replicant Pink Moonflower Seeds.
Step # 1 Have enough garden space
To complete this task, you need to have enough garden space since you can't just buy Nier replicant pink moonflower seeds from any shop and will have to crossbreed to get your hands on them.
To get the extra garden space, you will have to complete another side quest in the first half of your game, A Return to Shopping. However, if you somehow managed to miss out on this quest and have entered the second phase of this game. Then do not worry because you can even purchase this extra space by buying Cultivator's Handbook from none other than the Village Florist.
Step # 2 Time to make Nier Replicant Indigo Moonflower Seeds
Once you have gotten your hands on the extra garden space, it is time to go shopping for seeds. Visit the Florist found in The Aerie and buy 8 Blue Moonflower seeds and 7 Gold Moonflower seeds (a total of 15 moonflower seeds). Furthermore, add Bounty Fertiliser to your garden so that the farm yield increases and you can get a maximum number of the rare indigo moonflower seeds.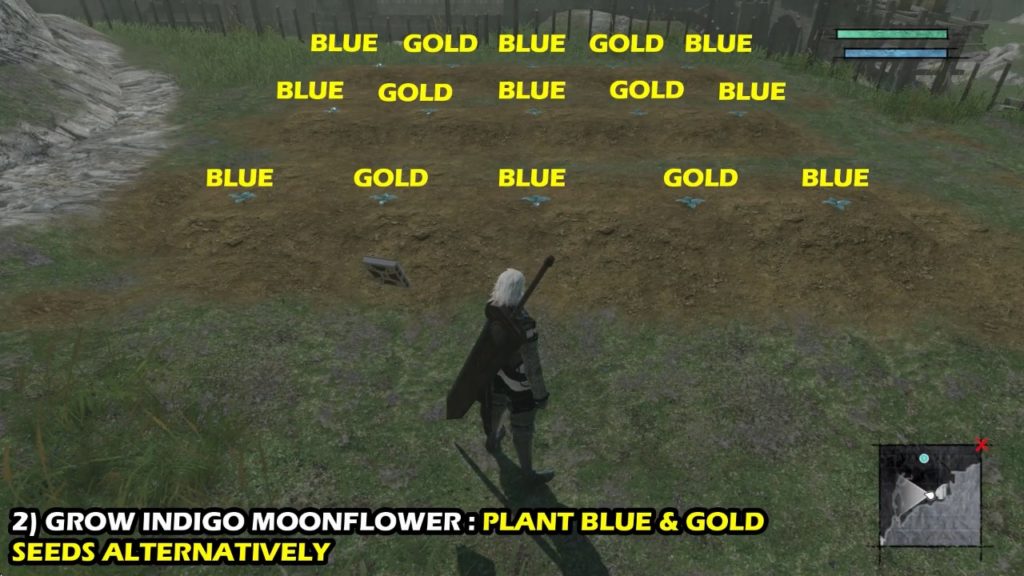 Then, you can start planting the seeds you had previously bought in a specific pattern (alternating order) so that crossbreeding can occur. Remember that 5 seeds can come in a single row (meaning you will be using three rows). Plant blue moonflower seed, gold moonflower seed, then again blue moonflower seed, gold moonflower seed, and finally one more blue moonflower seed in the first row. Moving on to the second row, begin by first planting gold moonflower seed. Then blue moonflower seed, then once again gold moonflower seed, after which you will be planting blue moonflower seed. And finally one more gold moonflower seed. Finally, for the third row, repeat the same process as the first row, i.e., plant blue moonflower seed, gold moonflower seed, blue moonflower seed, gold moonflower seed, and one last blue moonflower seed. Now, water all the seeds and wait for them to grow.
The harvesting process for these seeds will take up to 48 hours. Since in the first 24 hours, the seeds will sprout, and in the next 24 hours, the plants will die, giving you the indigo moonflower seeds you needed for the next step. However, there is an alternative for those who are impatient and do not want to wait for 48 hours. Become offline from the game and change your system's clock to 48 hours (2 days) ahead. Remember that using the Bounty Fertiliser is essential as it helps increase the number of seeds and makes them sufficient for you to move towards the next step.
Step # 3 Time to make Nier Replicant Pink Moonflower Seeds
Although you already have the indigo moonflower seeds. You still need to buy the red moonflower seeds from the florist in Aerie. Remember that you should have a total of 15 seeds. So, that you can plant them in an alternating order like you did in the previous step. If you follow the steps correctly, you'll get blue and gold moonflower seeds.
Add the Bounty Fertiliser to the soil before you begin planting. So, that you can get the maximum number of rare pink moonflower seeds and finish the quest.
Once the fertilizer has been added. It's time to put on your farming hat and alternatively plant red and indigo moonflower seeds in the three rows. Then, water the seeds, and you wait for 48 hours to harvest the seeds. But, of course, you can always opt to make the game offline and skip the 48 hours by adjusting your system's clock to two days ahead.
Once the 48 hours are over, you will see that the plants have wilted, and you can collect the seeds. However, not all the seeds collected will be pink moonflower seeds. Luckily, with even a few of these seeds, you can get 10 pink moonflower seeds. To get them, you need to plant the ones you got before (after adding Bounty Fertiliser). Now, wait another 48 hours to collect them. This time all the seeds will be pink moonflower seeds. And your side quest "Life in the Sands" will have been completed.