Games don't make people violent, but lag does. This statement is a quintessential example of the people who want to enjoy the Minecraft multiplayer sessions to refresh their mind. But they can't because the lags have already ruined everything. And now the condition is even worse. Though why shouldn't we create our own Minecraft realms to enjoy lag-free, customised and optimised multiplayer gaming sessions.
But what are these Minecraft Realms and are they worth it? Let's read further to find out answers to all these questions.
What are Minecraft Realms?
If you are passionate about Minecraft, then you must have a clue about realms. If you don't then let me clear the mystery, these realms are private servers. On which you and up to your ten friends can join multiplayer sessions safely and unfussed by the rest of the internet.
The best thing about these Minecraft realms is that a member can sign in to the server whenever he/she want. And in these worlds, it doesn't matter if the creator is online or not. So, you can always log in to these realms and complete building or start creating stuff, or work towards a common goal at any time.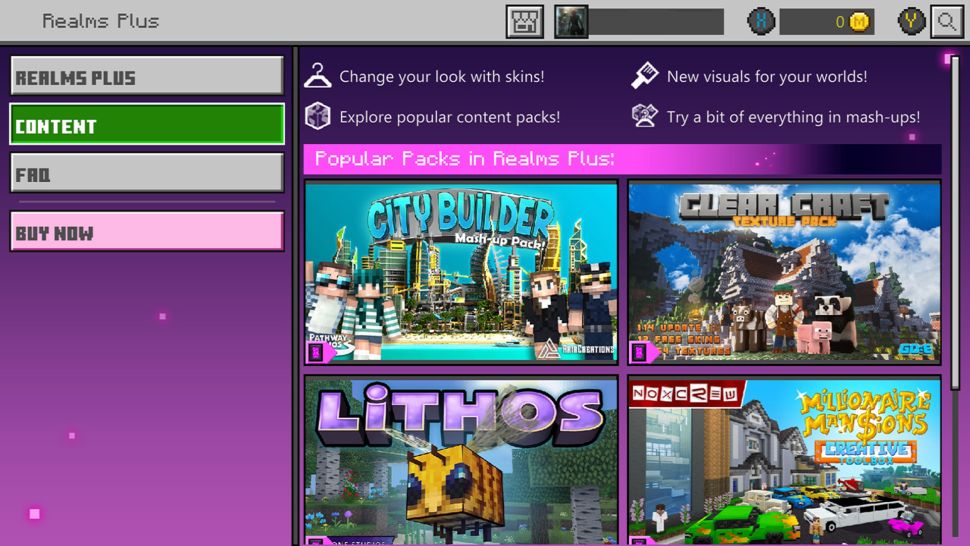 After creating a personal multiplayer server, you can either start with a game else you can add your existing world. As your realm will remain online 24/7, but you will have a full hold over who can enter and play in your Realm. From the parent point of view, it is the safest space for all immature gamers to play their favourite game with friends. That is also even without getting a thought about who they may be interacting with.
Let's continue reading to know on which platforms these realms work, cost, and how to invite friends in Minecraft reals.
Platforms on Which Realms are Available
Currently, these private servers are available for almost every platform. For example, PC, Xbox One, Nintendo Switch, and various mobile operating systems. If you want to invite your friends, then it can be done with the help of crossplay. No matter on which platform they are playing the game.
Before sending the invitations, you just need to bear in mind which version of the game you have installed. For instance, if you are playing it on PC, then you'll face difficulties in sending invitations because the Java edition isn't compatible with most of the mobile devices and consoles.
Furthermore, if you like to mod your servers, then realms aren't your piece of cake. Because right now the Minecraft realms aren't mod-friendly, except the bundles that are specially built for the Realms Plus subscription.
What is the Price of Minecraft Realms?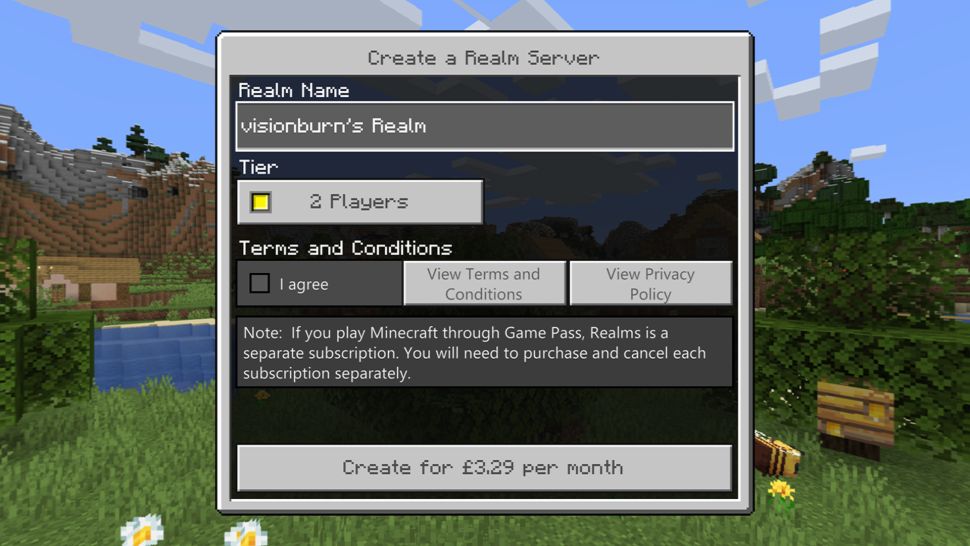 The developers offer two different services with different perks, i.e., realms and realms plus. The realms Plus monthly subscription comes with a price tag of $7.99/£6.69. With this plan, you can add up to ten friends to set up your private multiplayer server. This plan offers you the perks mentioned below.
A private and 24/7 active multiplayer server.
Access to over 50 Marketplace packs which offers you maps, mini-games, and different character skins.
Suppose you have never heard and used the realms and want to give it a try before making a payment. Then you can sign up to enjoy a 30 days free trial.
Alternatively, if you don't find it useful and need a cheap subscription with fewer perks, then you can subscribe for two players subscription at $3.99/£3.29 each month. This subscription will give you the same benefits, such as always online in-game. But it will not let you access the marketplace content. However, you can cancel it later if you find less or not useful as per your choice.
How to Set up Realms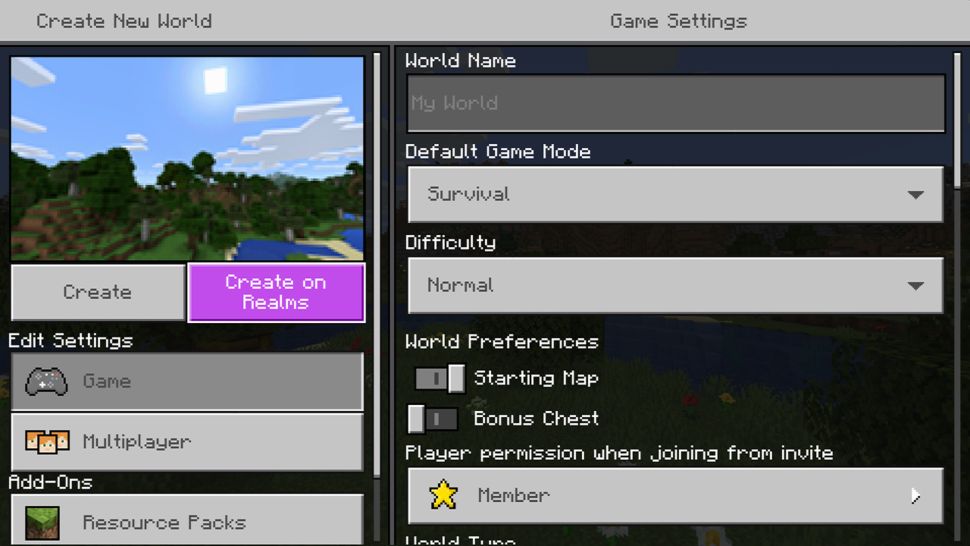 The procedure to set up a realm is straightforward. All you just need to do is, follow a few steps if you are planning to start from scratch. You can begin designing the realm by setting it up as per your imagination along with difficulty mode, i.e., Survival and Creative. Once you are satisfied with item placements and settings, just hit the 'Create on Realms' button, which you can easily find on the right side of the default 'Create' option.
After completing the setup, the realm will give you an option to add a 10-player Realm or a 2-player Realm. After adding your friends in the kingdom, you will just have to tick the Terms and Conditions box and finalised the transaction.
How to Invite Friends to Your Minecraft Realm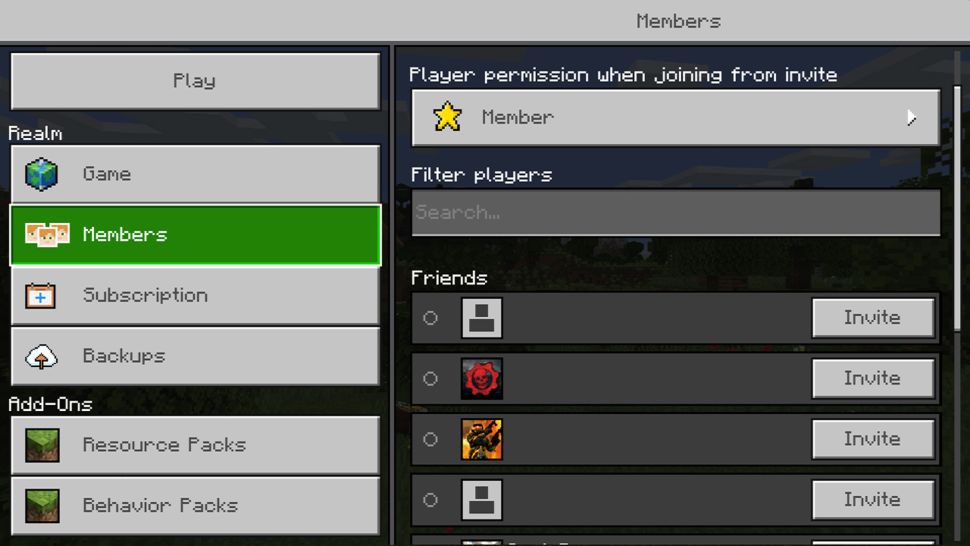 The beautiful thing about these reals is that your friends (which you want to invite) don't need to have an active subscription to join your multiplayer sessions.
To start sending the invitations, you just need to hit the edit button, which is only placed next to your Realm world, then select the 'Members' which you want to invite.
During the process, you will be able to see a list of friends to whom you have already sent the invitations. And still, you'll have the option to send more invitations. It means that you can send endless invitations, yet the number of players that can join your realm simultaneously depends on the type of active subscription.
Suggestion:- By following the same steps, you can also 'uninvite' the players who haven't logged in the game for a long time.
How to Change Minecraft Realm Settings
You can change your kingdom's settings whenever you want. To do this, you just need to click on the edit button which is placed next to your realm's name. Under this option, you can edit game mode, difficulty, add cheat codes and change the name of the world.
How to Back-up or Replace Your World in Minecraft Realms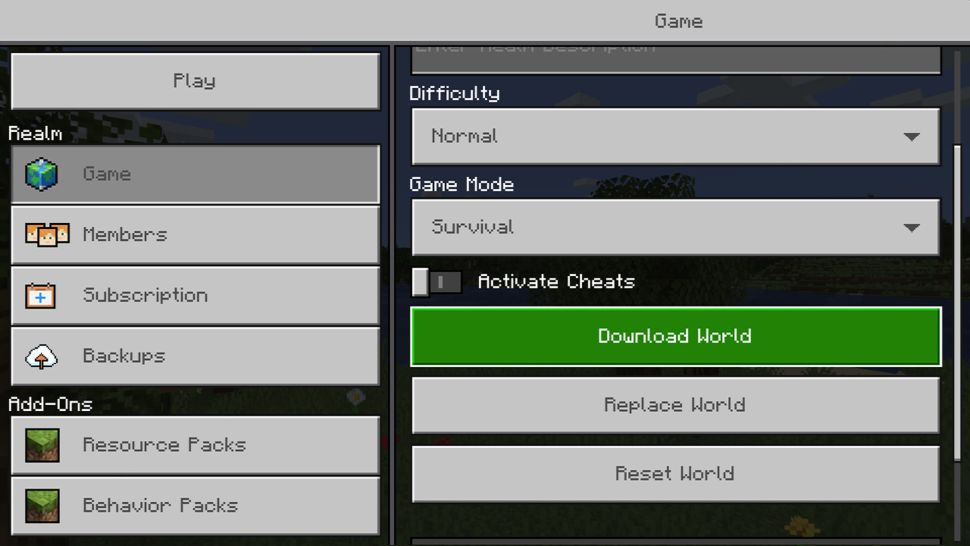 To initiate the back-up process, click on the edit button, then tap on the "download button". By performing these steps, you'll save the progress of your game in your device. After downloading you can use it to play locally or choose to re-upload it again on the servers.
At any occasion, you can replace your current world on Minecraft Realms. To do this, click on the "edit button" again then select 'Replace World'. Upon performing these steps, you will be asked to confirm the actions before showing you a list of all open worlds to replace with it. Once you approve the changes, a new world will be uploaded, and you'll be ready to enjoy the game.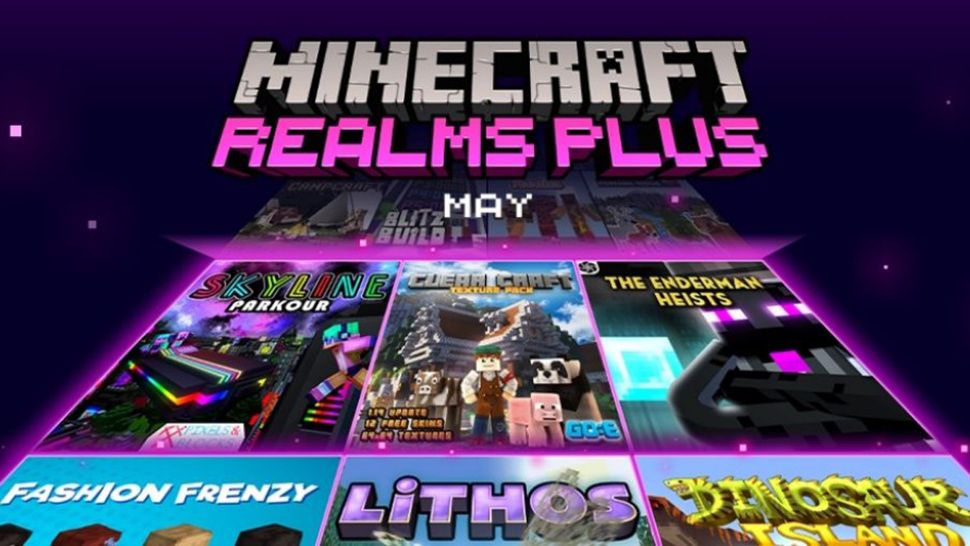 If you have subscribed for the realms plus subscription, then we advise you always check the official website for monthly updates. In these monthly updates, you will get new maps, character skins, and mini-games with paying a single penny.
Minecraft Realms Security
These multiplayer, private servers are safest on the internet. For instance, if you are reluctant to start your remote server because you think that an uninvited player may ruin your world. Then you shouldn't be afraid. Because when you decide to host your server on these Minecraft reals, only the player which you invite can join your server. Furthermore, for the safety reasons, these servers automatically generate backups of your game progress.
Conclusion
If you are looking for a simple gaming experience, then Realms are worthwhile. Because these hosting platforms provide you with a user-friendly option to those third-party server hosts where you feel unsafe.
Even so, if you are the one who likes to mod, then, unfortunately, Minecraft Realms aren't for you. Under these circumstances, we suggest you to continue using the hosts that don't bound you to make these adjustments.