Huawei is set to announce it's triple sensor device at a Press Conference Event on March 27 and surprisingly not at MWC 2018. Set to be in Paris, this media event is going to be showstopper. As the picture depicts, Eiffel Tower is overlapped by three big "O's". Some leaked renders and reports suggest a Huawei P20 Lite might be announced alongside other devices. Although the name of the smartphone isn't confirmed at the moment. Huawei is expected to announce AI technology in its flagship smartphones.
According to Spanish site, ComputerHoy, Huawei P20 Lite will mount a double rear camera in a vertical position in the upper left corner. And, just below the LED Flash there is an inscription saying "Hybrid Zoom", a feature that already included the Huawei camera P10. Hybrid Zoom, that gives users more versatility, allowing them to zoom in while still retaining super-high sharpness.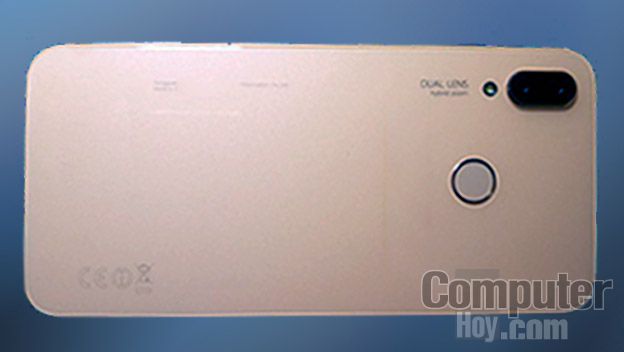 On the back of the Huawei P20 Lite,  a fingerprint sensor is organized in centered position, suggest leak. This fingerprint sensor synchronizes with the frontal identifier, being able to unlock the display just by looking at it or putting your finger on the fingerprint sensor. In both cases, the unlocking of the mobile occurs immediately.
P20 Lite's edges reveal a USB Type C connector on the bottom which includes fast charging. Although, we could not confirm the battery capacity. In any case, everything indicates that we are facing a very well optimized terminal that would not penalize incorporating a large screen. Next to the USB C connector a beautiful 3.5 mm audio jack can be viewed alongside speaker slots, so you can breathe easy those who feared the disappearance of the headphone jack. Somewhat we confirm that headphone jack will be lost in higher models.
The side edges have a metallic finish and a rounded design that facilitates grip. On the right side we find the volume and power buttons. The left side includes tray for two SIM cards or a SIM card and a micro SD card. Huawei P20 Lite insists to have 5.8-inch display and 18:9 aspect ratio. The device presumed to embedded with Kirin 970 SoC for low power consumption. P20 Lite might arrive with 4 GB of RAM and 32 GB ROM rolled with EMUI 8.0 (an operating system based on Android).
P20 Lite will carry a distinct resemblance to iPhoneX. There is no specific confirmation of this data and it is possible that the final model has versions with greater storage capacity and memory. All reports and expectations shall must be true and faithful at the event so customers shall gratify for the future.