Sometimes "happily ever after" seems like a fantastic idea when you see people falling out of love with the person they thought they would spend the rest of their life with. The same was the case with the sensational celebrity couple; Heidi Klum and Seal Samuel.
Who made us swoon over them with their immense love and affection for one another and left everyone in awe and respectful with their romantic gestures for their significant other. Yet their relationship still could not survive in the very end. It was no less than a shock when the couple suddenly announced their split in 2012 after seven years of blissful marriage. However, the reason behind the singer/songwriter Seal Samuel and supermodel Heidi Klum's divorce are still not apparent to the ardent fans as the duo has been tight-lipped about the matter at hand since then.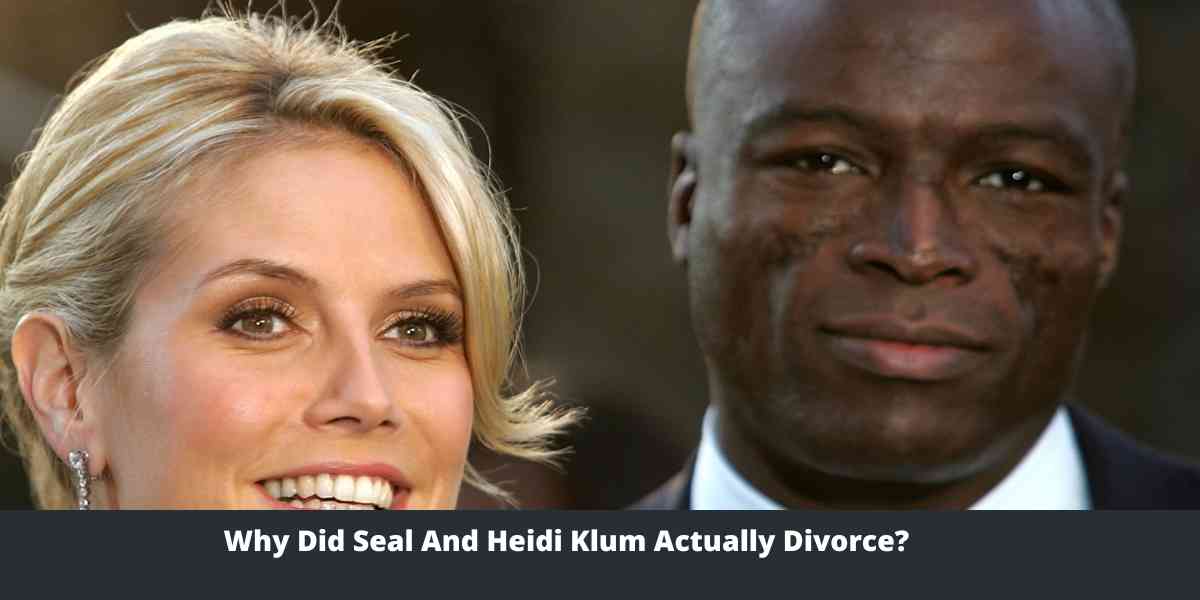 Well, do not worry! Find out why Seal and Heidi Klum divorced and why their unique love story hit rock bottom below.
Why Did Seal And Heidi Klum Actually Divorce?
One prominent reason that came to the surface behind Heidi Klum's divorce from Seal was his "inability to control his anger."
Though Heidi Klum's divorce from the British singer was initially thought to have ended on amicable terms, their joint statement highlights that they have just grown apart but still love and respect one another. It was later revealed that Seal's alleged anger issues significantly impacted their separation.
As per some reliable sources back in the day, the former hottest couple's relationship demise was inevitable and has been long due, as the famous singer's anger problems were negatively affecting the children who were constantly exposed to it at home.
While Heidi, on the other hand, made it quite clear that she does not want to talk "positively or negatively" about the "ups and downs" of her seven-year-long marriage with Seal Samuel. It has been reported that there has always been trouble in paradise because of her former husband's aggressive nature, which made it difficult for Heidi to continue their marriage and ultimately prompted her to file for divorce.
It is understandable, as any mother would not hesitate to do anything for their children's peace of mind.
But, as far as Seal is concerned, he disagrees with her allegations regarding his temper and deems it an exaggeration.
Did Heidi Klum Divorce Seal because of Infidelity?
Even though the pair have clarified that they separated because of the growing distance between them, not because of infidelity, it was not long before the fans began to question that Seal Samuel and Heidi Klum's divorce was not as simple as it seems to appear on the outside.
Many fans were assuming that Heidi cheated on her former husband with her current husband, Tom Kaulitz – a Tokio Hotel guitarist who was also the duo's bodyguard long ago. 
The rumors all began when her ex-husband showed his displeasure over her decision to fornicate with the said bodyguard when they were still legally married. His statement ultimately triggered an uproar on the internet, with global fans furious over Heidi for cheating on her then-husband with Tom Kaulitz.
However, Seal's representative came to the rescue and stated that the singer was not accusing his ex-wife of cheating (as the two already went their separate ways when Heidi Klum finally began seeing her current husband).
But she only highlighted that their divorce was not finalized when she got involved with Tom Kaulitz.
Meaning that even though they were not together, they were still legally husband and wife when she got into a new relationship. 
Thus, he expected her to at least be respectful enough to wait till then to commit to another man.
Heidi Klum Divorce with Seal Samuel: Did their Career come between them?
Another one of the reasons why the two became distant from one another was their hectic schedules which made it impossible for them to create a balance between their personal and professional lives.
It has been reported that Heidi Klum often felt alone during her marriage with her ex-hubby. At the same time, the singer has also revealed that the two never had the best teamwork as parents, as the supermodel made co-parenting quite challenging for him.
Though he mentioned that she is a great mother many times, it does not mean that it would be enough for them to be happy together.
With that being said, it does not come as a surprise that the duo eventually decided to split as they could not solve the problems in their marriage, and their relationship was getting hollow with time.