Let us have a look at Olivia Rodrigo Dating. You are already familiar with Olivia Rodrigo at this point. You know, the Disney princess who got her driver's license and lit up the charts with her breakthrough breakup song about it and the album SOUR that featured the music?
Olivia, who is 19 years old, is the main character in the show with the most cumbersome title in the history of Disney programming: High School Musical: The Musical: The Series. When she posted a TikTok video featuring "All I Want," a song from HSMTMTS in which her character wrote about her love interest, she was the first to make waves in the breakup song space.
A few months later, Olivia dropped "driver's license," which became the breakup anthem of the moment for Olivia's Taylor Swift-esque lyrics and vocal talents. It also speculated interest in Olivia Rodrigo Dating life. 
In January 2021, after the song had been remastered, it was made available to the public for the first time, just in time for the great Kimye split. When Kim Kardashian posts an emotional reaction to your most recent song on her Instagram story, you know you're on to something big.
The world of music agrees.
This article will discuss Olivia Rodrigo Dating history and her meteoric rise to fame.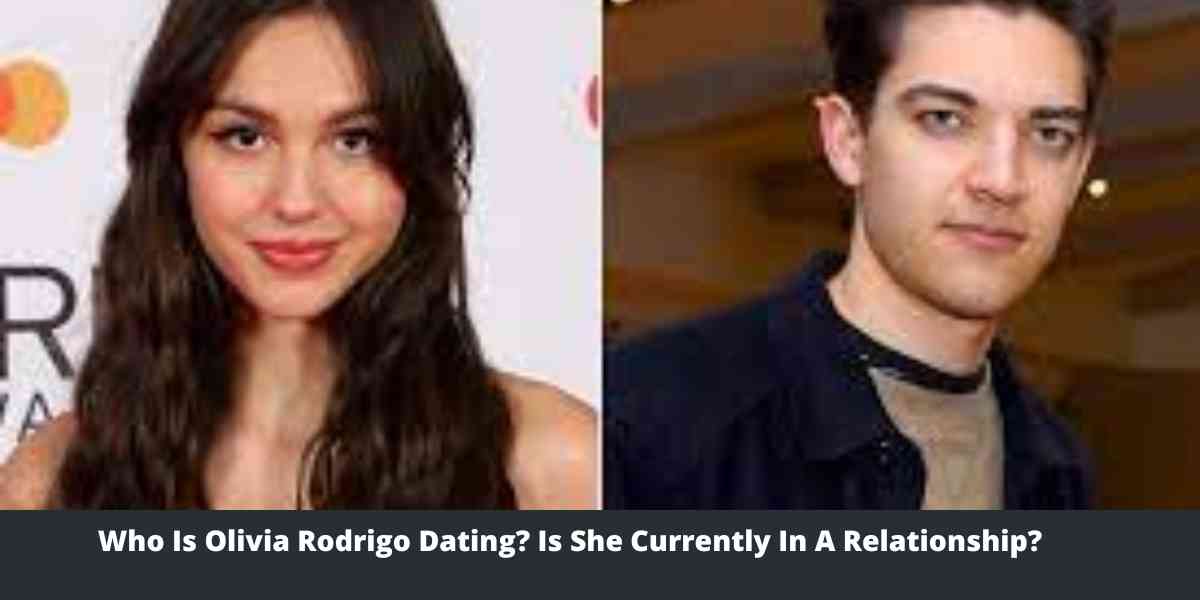 Ethan Wacker (2018): The First Of Olivia Rodrigo's Dating History
From what I've been able to piece together using the internet, Olivia's first love was Ethan. According to Hollywood Life, Olivia Rodrigo Dating Ethan surfaced in July of 2018 after meeting on the show Bizaardvark, which airs on the Disney Channel.
They had seen each other for approximately a year up until August 2019, when both of them deleted each other's Instagram posts—clearly indicating that they had broken up. The rumors that Driver's License was about Ethan were quickly dispelled by him when they were brought up.
Joshua Bassett (2020)
In the aforementioned HSMTMTS, Olivia and Joshua played the roles of two characters with romantic feelings for one another. Joshua's character was the focus of the song "All I Want," discussed earlier. Fans with keen eyesight could determine that the two were dating, even though they never publicly acknowledged their relationship. And it is thought that Joshua broke up with Olivia to date another Disney Channel star, Sabrina Carpenter, which was referenced in the single "drivers license."
Adam Faze (2021)
In July 2021, Olivia announced that her relationship with producer Adam Faze was official after the two were caught on camera sharing a passionate kiss in Los Angeles. However, interested parties first noticed the couple together one month earlier at the premiere of Space Jam 2, which took place in Los Angeles. How wonderful it must have been to be young and in love in Hollywood. By the end of the year, Page Six reported that Adam had relocated from Los Angeles to New York, and they observed that Olivia had stopped following him.
Olivia Rodrigo Dating Dating Zack?
Olivia currently has a new romantic interest in her life. As of the 21st of June, People magazine acknowledged the ship as an official publication. (As you know, the couple still needs to confirm the news independently.)
Zack is a music executive, DJ, and co-owner of Delilah, a restaurant and hotspot in the Los Angeles area. He is 26 years old. He is also a phantom on the internet, so little information is available about him. According to People, Olivia and Zack Bia, a music executive who is 26 years old, dated six months after they were first seen together at a Super Bowl afterparty in February.
About a month after Olivia Rodrigo Dating ended with producer Adam Faze, she and her new boyfriend began seeing each other, according to a source who spoke to E! News. Zack had invited her to the Super Bowl parties that he was DJing that weekend, and she attended to show her support for him.
In April, the 19-year-old star was in New York City for her Sour Tour, during which she performed two headline concerts. Zack supported her from the crowds. And the two of them even managed to squeeze in a date between her performances.
Olivia Rodrigo Dating Life Is Back To Square One
A source told Us Weekly that Olivia and Zack's relationship "kind of fizzled out" in August, leading to the subsequent conclusion that the two should no longer be together. They had a relationship that was more on the side. But hasn't seen each other in a while now. So, Olivia Rodrigo Dating life is back to zero again.