Being a part of a discord server is not an easy task. In fact, if you are engaged in long-term discussions, commissions, and ceaseless gaming, you will get tedious. Instead of this, a music bot like Groovy bot with your discord server will make your work frolic and exciting.
While Discord is a standalone program or app that excess the sort of combination of community base chat rooms, voice rooms, video calls, etc., that are useful for several reasons, it's originally for the gaming community, however by the time it has grown significantly in its popularity ranging from appealing to some different subcultures, groups, hobbies, interests, etc. These communities add bots to their Discord server for fun.
There are various bots, but music bots are exciting among all. Discord supports several music bots, e.g., Rhythm, Groovy bot, and Fred Boat. Here, I will give you a complete guide to the Groovy bot.
What is Discord Groovy Bot?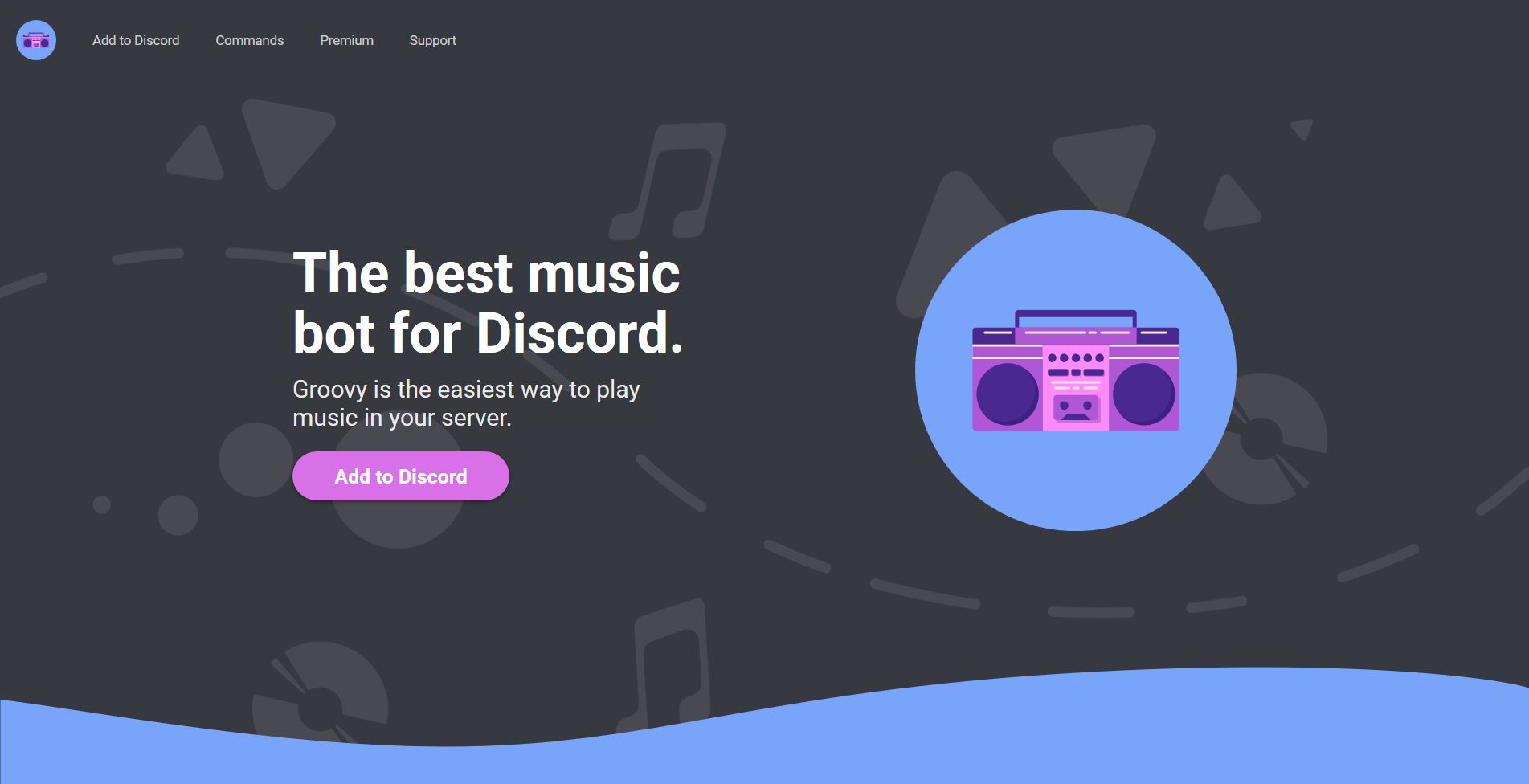 The Groovy bot is most popular among all other bots due to its wonderful qualities. It is used to play music on your discord server from Spotify, YouTube, and Sound Cloud. It has different commands for different functions that are easy to use, a speedy system that never lags, and it also gives you a 24/7 support system. Another admirable benefit that makes it different from other bots is its premium package.
But what are the features of the groovy bot? Let's see.
Features and Benefits of the Discord Groovy Bot:
Groovy bot possesses many unique features that make it exciting and joyful for everyone. Here I will discuss those features. But before playing music, you should install the Groovy bot in your voice channel.
Here are some features of the free version:
       

Play music from your favorite sites like YouTube, Spotify, and Sound Cloud.

       

Add your favorite music in queues as a playlist.

       

Pause, resume, skip and change track with access to the lyrics.
Groovy premium comes up with the powerful features like
       

Volume control:

You will get full control on output volume, background listening, and it also customizes the sound for softer songs.

       

Audio Effects:

You can impress your friends by using different audio modes like bass boost, vaporwave, granular speed, and pitch control.

       

24/7:

It will allow you to a 24/7 radio station.

       

Auto Play:

It will pick the best songs for you automatically according to your listening history.

       

Saved Queues:

It makes your work easy by saving your queues.

 
All Commands of Groovy:
The Groovy bot has various commands from which you can customize your track as you want.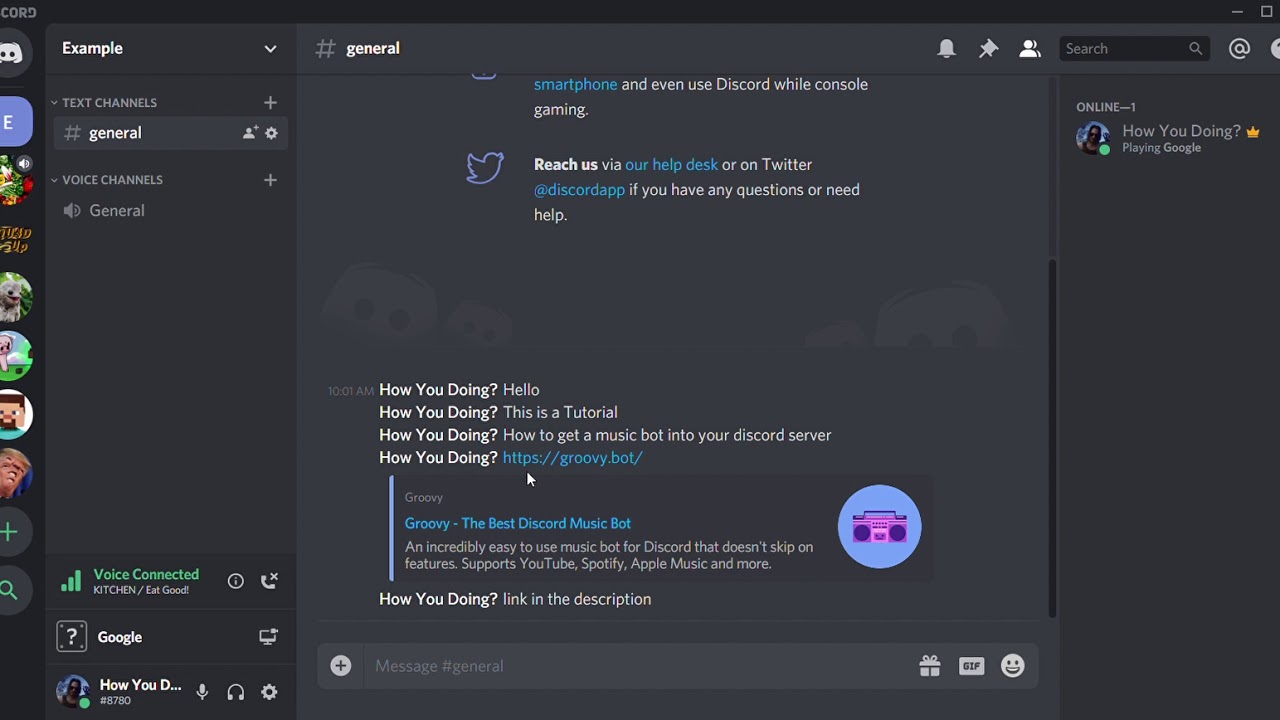 Let's see some main commands:
       

Play-:

By play command, you can play your favorite songs by just using the "-play" command. In addition, you can add the name of the songs or links with the play command. E.g. "-play Blinding lights" or 

"-play

 any youtube video's link.

"
       

-queue:

If one song is playing, then by using this command, you can add another song into the queue, which will play after your current song.

       

-join:

By this command, you can add groovy in your voice channel.

       

-disconnect: W

ill disconnect groovy from your voice channel.

       

-next:

It will skip the current song and play next.

       

-previous:

It is opposite to the next command and will play the previous song in queue.

       

-pause:

You can stop or pause your playing song.

       

-resume:

users can find it opposite to pause and will resume the song in queue.

       

-clear:

By using this command, you can remove all songs from the queue.

       

-lyrics:

This feature will display the lyrics.
Now moves toward installing it so.
How to Install Groovy on your Discord Server?
Setting up the Groovy bot on your server is painless and simple. Just follow the steps, and you will end up installing it.
Step 1: Go to the official website groovy.bot
Step 2: Click on the pink button "Add to Discord"
Step 3: After that, it will ask to sign in. You probably already sign in. If not, then do it.
Step 4: Then select the server. It will automatically select administrator access. Change it if you want to; otherwise, carry on with that. Then select the Authorize button, and you are good to go.
By following all of the above steps, the Groovy bot has successfully been installed on your server.
Now, you can get access to its fleet-footed and beneficial features and commands through which your discussions, gaming, or any work become productive and exciting. Moreover, its premium version will provide you extra effects and extra control over your beat.