Brian Kelly's divorce became global news after the LSU head football coach filed for divorce from his wife, Francisca Craig Kelly, after 28 years of marriage. The Brian Kelly divorce proceedings happened earlier this week and were further shared in the media. After spending nearly three decades with each other, what went so wrong that such a decision was taken?
But then again, there was contradicting news suggesting that things might have been fixed between them. More details are coming forward, and the Brian Kelly divorce is getting messy. So, here is a comprehensive follow-up on what is going on in the life of the coach and more updates on Brian Kelly's divorce.
Brian Kelly Divorce With Wife Francisca Craig Kelly After 28 Years
Brian Kelly's divorce was filed on 6th February 2023 in East Baton Rouge Parish Family Court. The 61-year-old coach was the "Petitioner," as stated on the petition, whereas the 57-year-old Craig was the "Defendant." On 9th February 2023 Thursday, they were physically separated. The divorce petition further states that the soon-to-be former couple will be now living apart without any reconciliation.
As a matter of fact, after Brian Kelly's divorce, the coach got a restraining order from the court against her. It was made without Francisca's knowledge. His main intention is to protect the assets from his wife as he doubts that she might sell the assets and cause irreparable injury. It was only the beginning of the chaos that Brian Kelly's divorce had led to.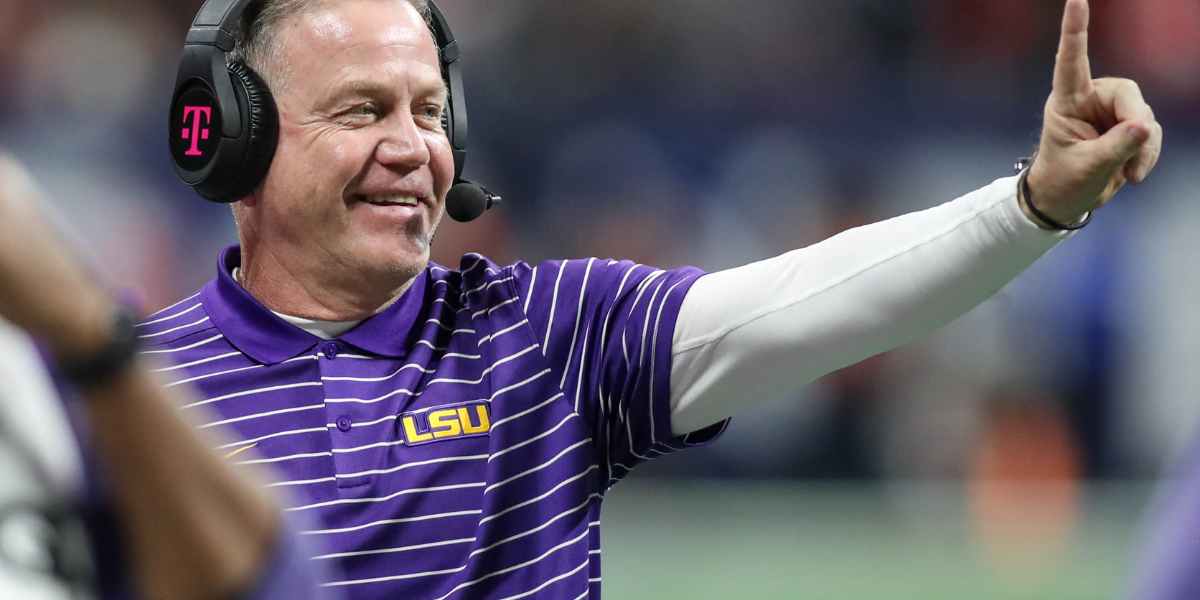 Did Brian and Francisca Have A Covenant Marriage? Details About The Petition
Brian Kelly's divorce petition has shed more light on the marriage of the decades-long couple. On 2nd July 1994, the coach married Francisca, and they had three beautiful children. They are all grown-ups now. As per the petition, the couple didn't have a covenant marriage. For those who didn't know, a covenant marriage is more of an arrangement that the spouses take at the time of marriage. It means they are bound to stay together for life, and divorce is granted only in a limited number of instances. Thus, Brian Kelly's divorce case won't face any problems.
The petition further states that the divorce citing is based on Article 102 and Article 103.1 of the Louisiana Civil Code. As the Brian Kelly divorce will proceed further, the couple must stay apart at different houses. This must be in place for a matter of 180 days. Since they have no minor children, they do not have to stay together for 365 days. So, Brian Kelly divorce from Craig will be finalized after that. Moreover, Brian is hoping to seek exclusive rights to use his Baton Rouge on Lakeshore Drive and have an occupancy of the same.
Just before Brian Kelly's divorce became breaking news, the coach had his first season at LSU as a football coach. He had won a 10-year guaranteed contract having a $100 million figure. So, it will be interesting to see how much will be awarded to the coach's wife as spousal support after Brian Kelly's divorce.
J Prince Net Worth: Uncovering His Net Worth, Career, and Assets
The Kelly Children Are Denying The Divorce Claims
Recently, the Brian Kelly divorce news was reported to be having a conclusion. The couple has allegedly "reconciled" their differences, and Brian will withdraw the petition from the courts. To address the Brian Kelly divorce news, the couple's children have taken to social media to clear any doubts publicly. Patrick Kelly, the couple's son, posted a photo on Twitter. It shows Brian and Francisca wrapping their arms around each other. He captioned the photo "fake news."
Later, Grace Kelly, their daughter, uploaded another photo. It had the caption "Things look fine to me" to dismiss all Brian Kelly divorce claims. Their third child Kenzel Kelly retweeted one of the posts stating, "Two of Brian Kelly's children are now publicly disputing the divorce report from WBRZ," and added three to it. The Kellys were savage in handling this moment of crisis.
It is safe to say that Brian Kelly's divorce news may not be entirely accurate. It is nothing new that celebrities become victims of fake news, and maybe, Brian and Francisca Kelly divorce is one of them. The divorce news is dead now, and we only wish the best for a happy family.
Robert Glasper Net Worth: The Financial Success of Grammy-Winning Jazz Musician Robert Glasper: An In-Depth Look at His Net Worth