Even though the greatest quarterback of all time had a difficult time last year, the new year will be more promising for Thomas Edward Patrick Brady Jr!
The newly single athlete is again making headlines after his devastating divorce from his ex-wife Gisele Bündchen. Still, this time, it is because he has perhaps found another love. He ultimately led fans to question who Tom Brady's new girlfriend is and whether he has finally moved on.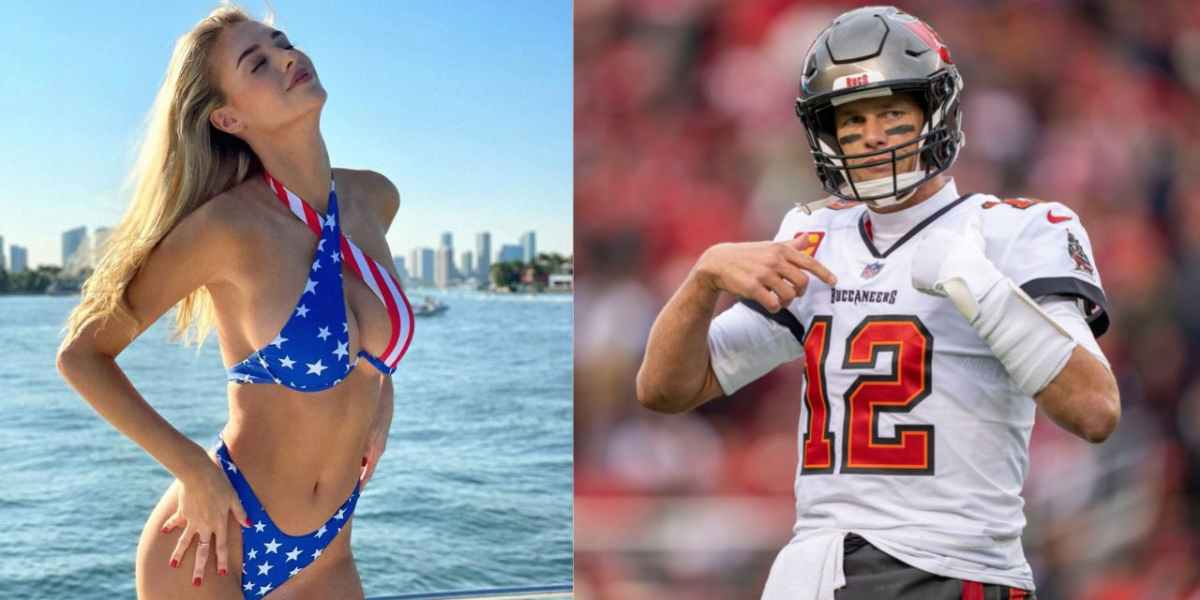 Curious to know more? Here are all the details you need to know about Tom Brady's new girlfriend.
Check them out now to tame your hunger to know more!
Who is Tom Brady's New Girlfriend?
Veronika Rajek is the rumored new girlfriend of Tampa Bay Buccaneers quarterback, Tom Brady.
She is a twenty-six-year-old model and social media influencer with about 3.5 million followers.
However, she happens to be a big fan of Tom Brady and has attended many of his games. However, fans do not look at it the same way and think there is more to this than it appears, which led to the dating rumors.
How did the Dating Rumors about Tom Brady and Veronika Rajek begin? 
The Slovakian beauty and FashionNova ambassador went to the star player's recent game, where she witnessed his victory in the 23rd NFL season that helped Tampa Bay Buccaneers win 17-6.
Veronika Rajek did not waste a minute and went to her Instagram handle to praise his win against the New Orleans Saints on Monday, 5th of December.
In her Instagram post, she was seen wearing a Bucs jersey and confidence enough to shower him with great words in the caption. 
She is even going as far as to say that it would not be a lie to say that she loves him to her core!
Though she made that comment to highlight that whether it happens to be Tom Brady's supporters or haters, no one can help but love and appreciate him for his talent as he is the GOAT (Greatest of all time) and an excellent football player.
On the other hand, many thought the famous internet personality was going after a "single father" and hitting on him after the living legend's divorce.
Thus, it was not long after her Instagram post was bombarded with comments criticizing her profession of love for the quarterback, as they thought that she appeared to be looking for a sugar daddy rather than just being a sports fan.
Did Tom Brady and Veronika Rajek Confirm the Dating Rumors?
No, they have not! Veronika Rajek and Tom Brady have not commented on the dating speculations circulating around the internet for quite some time. 
However, their silence on the said matter at hand is not helping the situation at the very least. 
They are taking in the fact that both of their die-hard fans are already predicting their future together. Some even go as far as to congratulate the twenty-six-year-old for presenting herself as the potential candidate for being his future wife. In contrast, others are just happy that the star quarterback has found love again after his divorce (even though there are nineteen years of the age difference between the two).
Veronika Rajek's representative came to the rescue and revealed that she was "supportive" of Tom Brady and wanted him to do his best in future games.
Nonetheless, the larger audience is hell-bent on their views regarding their relationship status, and they probably would not stop fantasizing till one of the two speaks up on this topic.
So, are Tom Brady and Veronika Rajek Dating each other?
No, they are probably not dating each other, as Veronika Rajek has made it clear that she is just one of Tom Brady's fans, and that is it.
And if something happens between the two, we will have to wait until either of them confirms that they are dating each other.
So, it is better to avoid assuming when neither of the parties has shed light on their relationship status.
Wrap Up:
All the details we have covered in this article hint at only one thing: Veronika Rajek is not Tom Brady's new girlfriend.
She is just a sports enthusiast who was as excited for the win as any other supporter of the Tampa Bay Buccaneers would be.
That is why she even thanked him for the fantasy football show at the end of her popular post; people just took a different turn from it.