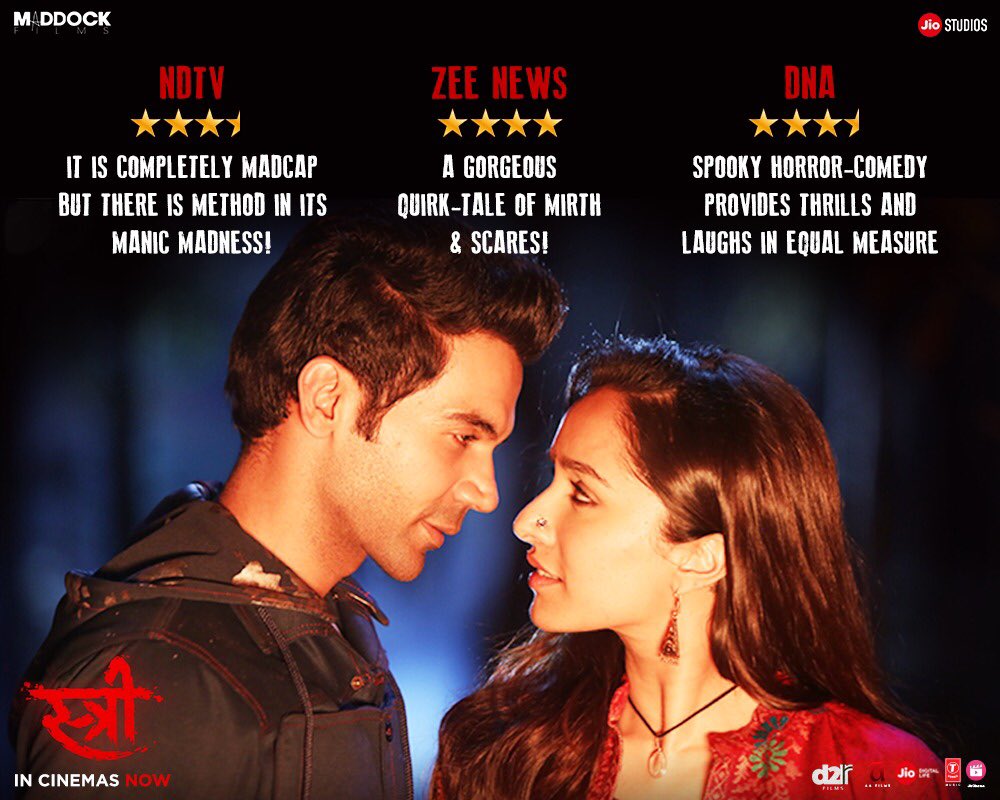 Directed by Amar Kaushik, Stree was released on 31 August which matches the date of Rajkumar Rao's birthday. Yes, Rajkumar who is the main lead in the movie along with Shraddha Kapoor. The movie is a mix of Horror and Comedy. As per the Bollywood Business, the film has collected a total of ₹31.26 cr till Sunday.
The film is inspired by a downtown legend of Bengaluru. It says a witch came every night and knocked at the people's door and speak out in the voices of their relatives. Listening to which, people open their doors and she murdered them. It is the tale of 1990, for protection from the witch people write outside on the walls of their house, Nale Ba, a Kannada word meaning 'come tomorrow'. But, just as the time went and globalization took place, the whole adventure vanished.
There was a limited score on the starting day i.e., Day 1 which was ₹6.82 cr. After Day 2, the film sees a height of 10.87 cr. The film has done a good job as per the story and screenplay as reviewed by the movie analysts. Week 1 has done well for the film producers also. The coming week will be more prosperous as said by the business analyst. Here is the count of Stree Box Office Collection.
Stree Box Office Collection: Week 1
31 August Friday, Day1: ₹ 6.82 cr
1 Sept Saturday, Day2: ₹ 10.87 cr
2 Sept Sunday, Day3: ₹ 13.57 cr
Total: ₹ 31.26 cr
On Monday, as it is Janmashtami Holiday, the total collection will see a rise between ₹10 cr and ₹12 cr.
Coming to previous month released movies Box Office Collection, we see Gold 2018 has crossed the 100 crore mark. Released on Independence Day, the film on Week 1 earned ₹89.30 cr, on Week 2, it earned ₹14.70 cr, totaling it to ₹104 cr. The film sees a decline after the Week 1 ends, but now the film has been released in Saudi Arabia. Gold becomes first ever Hindi movie to be released in Saudi.
Another movie released on Independence Day was Satyameva Jayate which has collected ₹ 56.91 cr on Week 1. After that, the film business went down during Week 2. Total Box Office Collection of Satyameva Jayate is ₹ 88.20 cr.