Narcos Mexico Season 4 has been in huge demand since season 3 ended in November 2021. Fans want to see more of the infamous Mexican Guadalajara Cartel and how its bosses manage to escape from the police every single time!
Narcos Mexico has become one of the top crime drama TV series on Netflix owing to its spectacular plot, production and cast! All three seasons have made it to Netflix's top 10 today list! Thus, it is no surprise that the series has a fanbase of millions and all of them are asking for a fourth season! So will there be a Season 4? Is it in the making? Who will be cast in it? Keep on reading to find out!
Narcos Mexico Season 4 Release Date
Narcos Mexico Season 1 premiered in 2018 with a second season airing in 2020. Season 3 came out in 2021 and the producers also announced some very upsetting news with its release!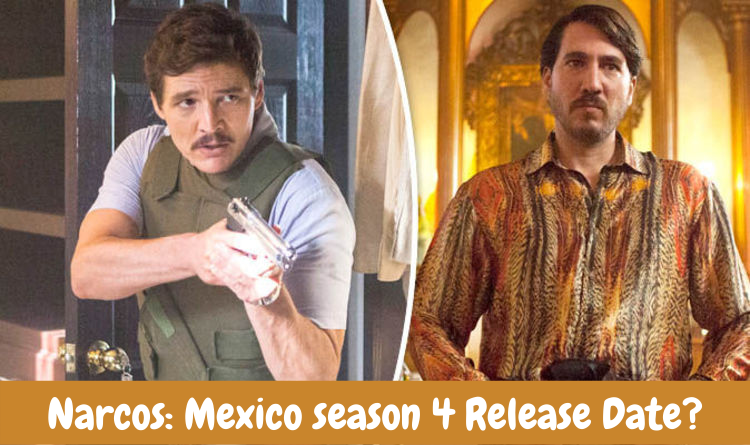 Narcos Mexico Season 4 was officially cancelled. Thus, fans should lose all hope of watching their favorite stars return to star in a fourth season.
According to Co-creator Carlo Bernard, the series was cancelled as,
"I saw this season as an origin story of the modern world that we live in. For me, it felt like bringing the show up to that spot where we now recognise, for better or for worse, made sense as a place to stop it. The show has been able to lift the curtains and show you how this thing began, how it evolved. Not to say that other stories wouldn't be compelling going forward. But to me, stopping at the moment where we had delivered the world that we now live in today made sense, thematically and narratively. We definitely don't want to repeat ourselves, ever."
Narcos Mexico was an extension of the original Narcos focusing on drug trade that took place in another country. Since the parent series (Narcos) ended with three seasons, we honestly aren't surprised that its successor (Narcos Mexico) is ending with three seasons as well. Fans can stream all three 10 episode seasons on Netflix!
Clarkson's Farm Season 2 Release Date Expectation and Latest Updates
Plot 
Unfortunately, the story of the Guadalajara cartel has come to an end with three seasons and there is no hope for Narcos Mexico Season 4. However, fans shouldn't be upset as the drug trade is still very much alive which gives the producers a lot more content for future series. Co-creator Bernard also hinted that there is a chance for the same crew to work on another series together in the future. He said,
"There aren't any plans, honestly, this is sort of the end of the ride, for now at least. There's nothing in the works, but unfortunately the drug trade isn't going anywhere so obviously the possibility of other iterations exist."
Additionally, the Narcos production team is currently working on another crime drama tv series called Griselda. This show focuses on the Colombian drug trade and the Colombian drug queen Griselda Blanco.
Narcos Mexico Season 4 Cast
The cast won't be returning to star in Narcos Mexico Season 4. Thus, fan's shouldn't hold out hope to see the main cast crew return including Michael Pea, Alyssa Diaz, Diego Luna, Matt Letscher, Tenoch Huerta Meja, etc.
Trailer
Narcos Mexico Season 4 won't be getting a trailer. This is because the show is getting cancelled for good.
Rust Valley Restorers Season 5 Expectations about Release Date and Filming