Who does not love a period drama with a twist of crime-fighting action in classical storytelling? Mainly when it centers around a headstrong female lead who is discriminated against in Victorian England while trying to prove herself as a great detective. Miss Scarlet and the Duke is a refreshing take on the female-centered period mystery dramas that not only possess a lively pulse to it. But also portrays a leading lady ahead of her time and emerging as the new standard for Victorian female detectives.
The beloved series is now diving head first toward Miss Scarlet and the Duke Season 3, as the fans can not wait to have more of the show's legacy!
Well, Fear not! We have got you covered. Here are all the details you need to know about Miss Scarlet and the Duke Season 3; whether it is renewed or canceled, its release date and plot, which the cast is, and the trailer is out.
Keep on reading the article to find answers to all of your burning questions!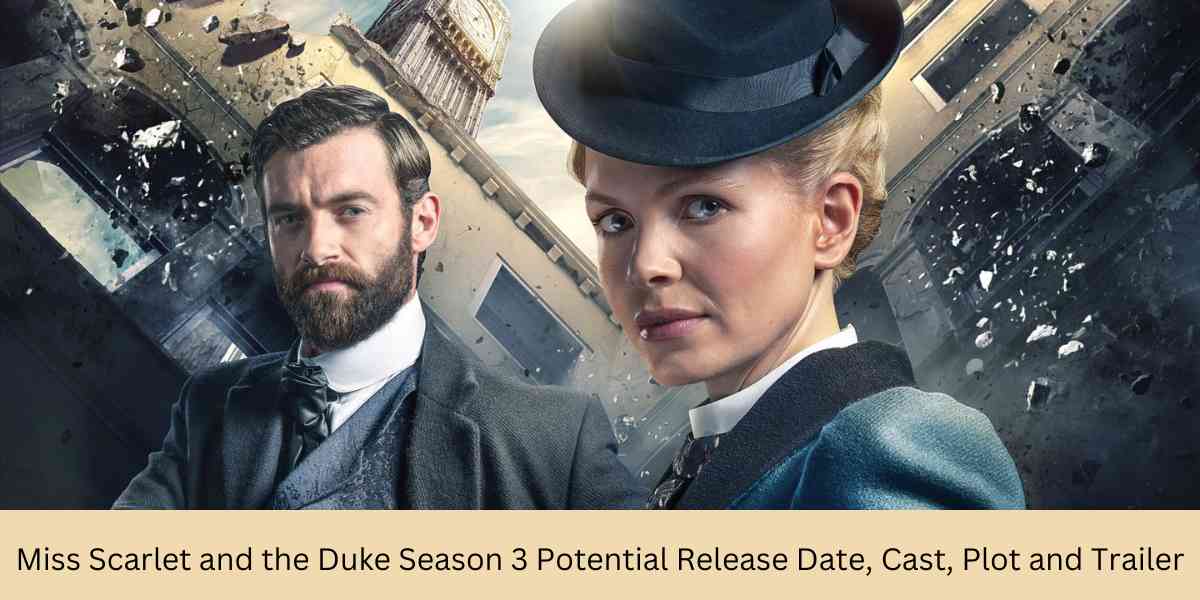 Are Miss Scarlet and the Duke Season 3 Renewed or Cancelled?
Shortly before the second season premiered, the concerned authorities renewed Miss Scarlet and the Duke for its third season.
What are Miss Scarlet and the Duke's Season 3 Release Date?
Mark your calendars, folks! Miss Scarlet and the Duke Season 3 is officially set to debut in the United States from 8/7c on Sunday, 8 January 2023, on MASTERPIECE on PBS, with the season finale airing on Sunday, 12 February 2023.
While people living in the United Kingdom and Ireland can watch the third season of Alibi on the date above.
However, as far as international fans are concerned, there is no other alternative available.
How to Watch Miss Scarlet and the Duke Season 3 Early?
Sometimes it is hard to wait and be patient when your favorite show is on the line. 
What if I say you can watch the forthcoming season early and easily too? Here are some options that you may avail of to get your hand on it as fast as possible:
Those who can not sit tight until the new year to watch the upcoming third season can binge-watch "all of its six spellbinding" episodes already available on PBS Passport.
P.S.: You can join PBS Passport at just FIVE DOLLARS per month!
Not only that, but PBS MASTERPIECE Prime Video Channel also started rolling out season three episodes every week in November as an early holiday gift to the fans. Amazon Prime users can sign up for a free seven days trial to watch it there.
So, what are you waiting for? Remember to watch Miss Scarlet and the Duke Season 3 once it premieres, or avail other given options to see it beforehand.
What Could be the Plot of the Third Season?
Much of the second season chronicles Eliza and William's involvement with separate plot lines and different cases. It concluded on a tense note as it seems both were about to confess their love for one another when they thought they would never see each other again. 
However, we did not get the much-anticipated love confession, much to many fans' dismay. The third season's synopsis hints that Eliza might have a rival in the new season, as there will be another lady looking for William's affection. But the main question here is whether the Duke will be swayed or will it inwardly affect Eliza and William's already complicated romance.
As per its official synopsis:
"Eliza finds herself in new and surprising mysteries, ranging from a disappearing magician to police corruption, as she struggles to build her detective agency. Growing competition from a rival agency creates new problems, and all the while, she is still juggling her relationship with Inspector William Wellington, the Duke. And she has a new challenge: a beautiful woman from her childhood has caught the Duke's eye."
There appears to be much more in stock for us than the crime-fighting scenes, mystery, and action, as love is in the air too!
I am already excited for Miss Scarlet and the Duke Season 3! Are you excited too? Share your views in the comment section.
Who are the Cast Members and Characters for the New Season?
Fortunately for the fans, most of the original cast is returning to reprise their roles in the new season to enthrall their fans with their thrilling performances!
In the third season, we will be seeing the following cast members portraying their respective characters:
Kate Phillips as Eliza Scarlet

Stuart Martin as William Wellington a.k.a 'The Duke.'

Danny Midwinter as Frank Jenkins

Ansu Kabia as Moses

Evan McCabe as Detective Oliver Fitzroy

Felix Scott as Patrick Nash

Andrew Gower as Rupert Parker

Matthew Malone as PC Honeychurch

Cathy Belton as Ivy

Kevin Doyle as Henry Scarlet

Simon Ludders as Mr. Potts.
Other than that, we do not have any information regarding any additional characters, as the officials have not made any casting announcements. 
Nothing can be said now, but we will update you once the franchise reveals further details.
How many Episodes are there going to be?
Per its official episodic schedule, the third season will consist of six episodes, and action will ensue as they tie the loose ends of season two.
Give below are their titles and the dates on which each episode will release:
Episode One: The Vanishing (8 January 2023)

Episode Two: Arabella (15 January 2023)

Episode Three: Hotel St Marc (22 January 2023)

Episode Four: Bloodline (29 January 2023)

Episode Five: The Heir (5 February 2023)

Episode Six: The Jewel of the North (12 February 2023)
What is the show "Miss Scarlet and the Duke" all about?
The result of the creative abilities of Rachael New, Miss Scarlet, and The Duke is a British-American period crime television drama that revolves around the story of two Victorian detectives.
Its official description reads:
"When her father dies, Eliza Scarlet faces a difficult choice. As an unmarried woman, she faces poverty without a husband to provide for her — unless she takes on the challenge of running her late father's detective agency, which would be unthinkable for a respectable Victorian lady. Fortunately, she finds an unlikely partner in the unconventional Detective Inspector William Wellington of Scotland Yard, known as "The Duke," and the pair begin to tackle the crimes and mysteries of Victorian London together."
Is there a Trailer out for Season Three?
Yes, there is! The trailer for the third season was released on 22 November 2022.