Aggretsuko has been unexpectedly excellent in tackling severe issues in the modern-day workplace. They provide an insightful take on relatable scenarios using its adorable characters and our death metal-loving red panda. The said animated series has been a breath of fresh air to the fans who can not wait to have the Aggretsuko Season 5 release date on their plates to relish in another one of its delightful comedy rides!
Curious? Well, fear not! Here are all the details you need to know about Aggretsuko Season 5 release date, cast, plot, trailer, whatnot, etc.
Just keep on reading the article to find answers to all of your burning questions!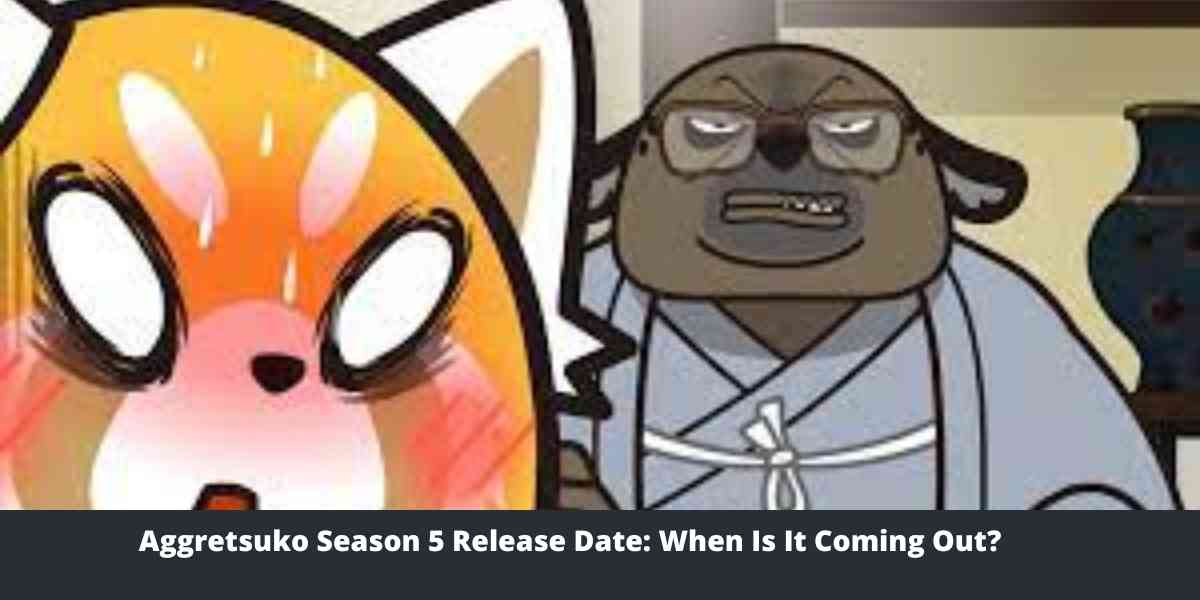 What is Aggretsuko Season 5 Release Date?
Aggretsuko Season 5 is set to make its official debut in February 2023 to take your mind away from the daily grind for one last time.
Though we have yet to determine the exact date on which the show will begin airing as the concerned authorities have yet to reveal it, the fifth season will also be the final season of Aggretsuko.
But we are to speculate based on its previous release date schedule. The fifth and final season series might premiere either on the 16th or 23rd of February. 
Why, may you ask?
Well, mainly because Netflix and Fanworks seem to have a preference for mid-month releases. Thus, considering both its previous two seasons dropped on Thursdays, the suggested Aggretsuko Season 5 release date is also on Thursday with the same time slots.
However, we can not say for sure if the stewards of the franchise will drop the final season on either of the given dates or not, but one thing is clear it is time to say goodbye to our leading lady, "Retsuko" and her shenanigans!
What is Aggretsuko Season 5 Renewal Status?
The fifth season of Aggretsuko was announced during the 2022 Netflix TUDUM Japan fan event on the 24th of September.
Opening the release date window for not only "Aggretsuko Season 5" but also for other series like "The Way of the House Husband Season 2" and "JoJo's Bizarre Adventure: Stone Ocean."
Did Aggretsuko's Fourth Season Already Hinted at the Return of Season Five?
Netflix was not hesitant to pull some tricks on the fans! Teasing the return of its final season in episode ten of the fourth season, the franchise already created a buzz about the upcoming season before it was officially announced.
Many of you might not have noticed, but at the end of the tenth episode, the text "Retsuko will return" was displayed in white over a black background, while the imposing number "five" was seen faintly hovering behind it.
Which makes one thing clear the fifth season of Aggretsuko was already in the works when the latest season was premiering.
What could be the Plot of Season Five?
Retsuko, a twenty-five-year-old red panda in her company's accounting department, which tends to let out her relentless frustration and despair over her job by singing death metal at karaoke, is up for some government drama in the final season.
Though the fourth installment focused intensely on her co-workers and their problems – specifically "Haida." Who had a tough time back then – the fifth one is going to focus more on Retsuko being involved with the Japanese government and her running for a seat on the National Diet.
Not only that, but Haida will also take a massive chunk of the forthcoming season.
His life will be covered after leaving his job and being kicked out of his parent's house, especially how he ends up meeting a talented artist named Shikabane (a new character in the series).
And, of course, there will be love in the air too! How can the series be complete without the unending romance between Retsuko and Haida?
Since it is the final season, let's hope that our leading lady will finally have some peace and will not have to sing her frustrations out anymore.
Who are the Cast Members and Characters for the New Season?
Without a doubt, the strength of the series lies in the cast of characters who make the show worth binge-watching.
Luckily for the fans, most of the original cast members will return to reprise their roles in the new season.
Following are the names of the cast and the characters they happen to be voiced in both English and Japanese dub:
Retsuko (烈子) – Voiced by: Kaolip, Rarecho (vocals) (Japanese) and Erica Mendez, Jamison Boaz (lyrics) (English)

Director Ton (トン) – Voiced by: Souta Arai (Japanese) and Josh Petersdorf (English)

Fenneko (フェネ子) – Voiced by: Rina Inoue (Japanese) and Katelyn Gault (English)

Haida (ハイ田) – Voiced by: Shingo Kato (Japanese) and Ben Diskin (English)

Director Gori (ゴリ) – Voiced by: Maki Tsuruta (Japanese) and G. K. Bowes (English)

Ms. Washimi (鷲美) – Voiced by: Komegumi Koiwasaki (Japanese); Tara Platt (English)

Tsunoda (角田) – Voiced by: Rina Inoue (Japanese) and G. K. Bowes (English)

Komiya (小宮) – Voiced by: Sota Arai (Japanese) and Todd Haberkorn (English)

Tsubone (坪根) – Voiced by: Maki Tsuruta (Japanese) and Debra Cardona (English)

Kabae (カバ恵) – Voiced by: Yuki Takahashi (Japanese) and Misty Lee (English)

Sasuke (れさすけ) – Voiced by: Shingo Kato (Japanese) and Max Mittelman (English)

Anai (穴井) – Voiced by: Sota Arai (Japanese) and Billy Kameez (English)

Tadano (只野) – Voiced by: Chiharu Sasa (Japanese) and Griffin Burns (English)

Retsuko's mother – Voiced by: Maki Tsuruta (Japanese) and Kaitlyn Robrock (English)

Hyodo (豹堂) -Voiced by: Sota Arai (Japanese) and SungWon Cho (English)

Manaka (マナカ) – Voiced by: SAYUMI (Japanese) and Deva Marie Gregory (English)

Inui (戌井) – Voiced by: Rina Inoue (Japanese) and Abby Trott (English)

Himuro (ヒムロ) -Voiced by: Yohei Azakami (Japanese) and Trevor Devall (English)
However, keep in mind that we still have to wait for the official notice from the franchise to see if all of them will be returning!
But as we mentioned above, there will be some new faces, but we have yet to determine who will voice them.
So, till then, stay tuned! We will update you once we get our hands on further information!
How many Episodes are there going to be?
Like its precedents, the fifth season of Aggretsuko will also have ten episodes.
Is the Trailer out?
Even though the trailer for Aggretsuko Season 5 is yet to be revealed by the officials, a short teaser is available to watch on YouTube and on Netflix.
Netflix revealed it during the Tudum Japan fan event.