Syra Yousuf – Pakistan Showbiz Industry's beautiful actress selfie photo with actor Bilal Ashraf went viral.
This picture of the actors has made the fans wonder whether the two actors will soon be seen together in a TV project or are busy in a photoshoot.
Syra Yousuf and actor Bilal have posted a photo on their respective Instagrams in which both can be seen. Fans, as well as people, are liking the photo of these two actors.
Syra's photo caption states, "Kind people are the best kind of people. 💙"
On the other hand, Bilal Ashraf shared a black and white photo with Saira Yousuf and wrote some secret words while tagging Syra.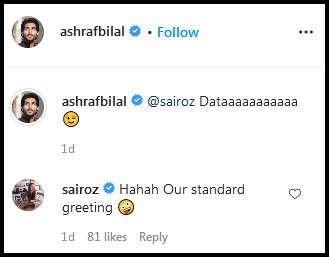 Saira Yusuf laughed while commenting and said that this is a way to greet her at meeting