In such a worrisome situation created by the Coronavirus, people couldn't just stop applauding the efforts by the braveheart cops for our safety. With the majority of the world practicing lockdown due to this pandemic, the doctors, sweepers, policemen and various other people are playing a great role. They aren't leaving even a single stone unturned to protect everyone from the deadly rage of Covid-19.
Presently, social media is flooded with remarkable and praiseworthy posts for the braveheart cops in India. Even the whole social media has started notifying these cops as the 'Corona Warriors.' They have always been recognized as the ones keeping their personal issues aside and coming up with the protecting aids for the people. These cops are continually prioritizing their work over anything else. On mentioning about these Corona Warriors, one such cop is PK Jadav who is the police sub-inspector at Dahod. His elder brother died recently in Ahmedabad, and he didn't even take a whole day leave for that. Instead, he completed the last rites of his brother and came back to work. On witnessing such a dedication, Vijay Rupani- Gujarat's CM praised Jadav.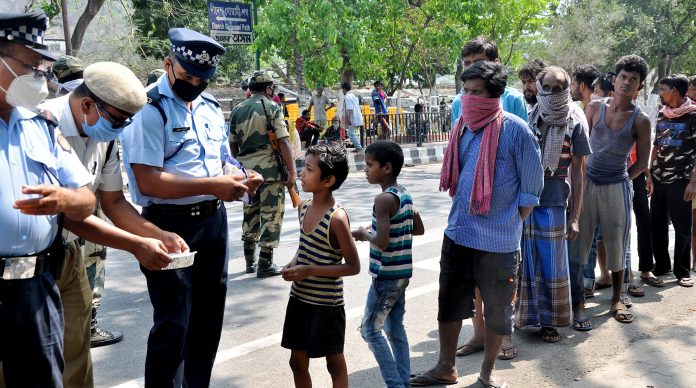 Well, not only Jadav, there has been another constable, namely Indravijaysinh Rehvar, who was always available for his duty despite having a fracture on one of his arms. He was serving the duty at the patrolling in a PCR van. On the other hand, there is constable Vipul Fultariya who didn't even take leave when he got the news of his baby girl's birth. Instead, he went to meet her and then came back to continue his duty.
Also, there is a woman constable Alka Desai posted in Bhuj, Kutch district, who was performing her duty while carrying her 2-year-old daughter. She said that her husband also serves as a police constable, and so, he couldn't stay at home to take care of the daughter. Thus, she decided to carry her along while being in the duty. She also added, "I have joined the police force to serve the nation. I can't take leave when the nation needs me the most. At the same time, I am also a mother. So, I have decided to carry on my duty with my daughter along".
Not only these, but many other Bravehearts are standing to serve our nation! We all should applaud them in no time.