Just after Nokia and Realme. Samsung joined the race Android 10 update devices after announcing list of devices that are ready to get the taste of Android 10 update. A very long list of Samsung devices getting Android 10 update appeared online, you can check the screenshot below that appeared online. But we aren't sure about its authenticity, but somehow it looks real if we look at the history.
No surprises here, because last year Galaxy S9 and Galaxy Note 9 were on the board too. But this year Galaxy S8 and Galaxy Note 8 series devices didn't made the cut. Because Samsung typically just promise to provide just two years of android update support. So, it was probably to be expected from the Korean giant.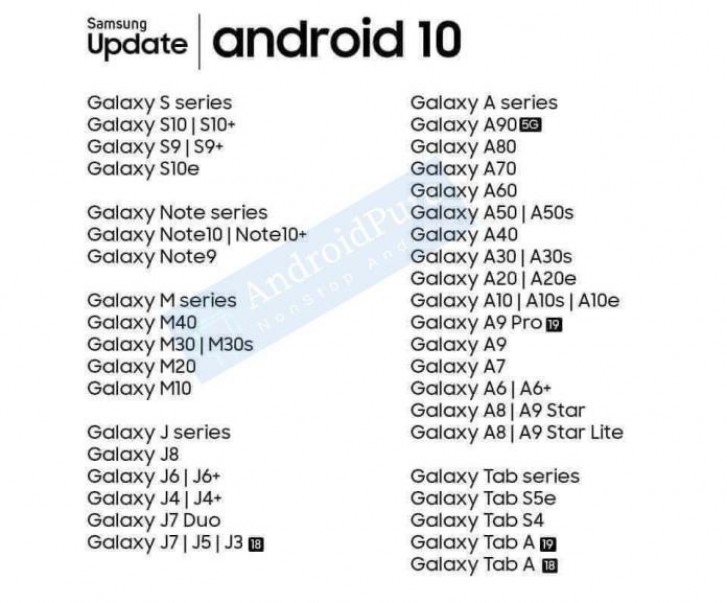 When Samsung Android 10 Update Will Roll Out?
The words about the availability of Update are still unwrapped and the list also doesn't indicate any sign. So, we just need to wait for the official announcement from Samsung.
These days flagship devices are on the top of the Samsung developer's priority list of devices. Such as Galaxy S10, S10+, S10e, Galaxy Note10 and Note10+ but we are sure that Samsung lovers don't have to hold their taste buds to get the taste of mouth watering flavor of Android 10 update.
How to get Samsung Android 10 Update?
Like Samsung does it always. This Android 10 update will be available for the users OTA (Over The Air). All just users need to do is just download the update ( when available) and follow the on screen instructions to install.
If you are new for these updates or a newbie then here are the instructions for you to install android 10 update directly in your device.
First of all make sure device is connected to "Wi-Fi".
Open "settings".
Now scroll down and select "About Phone".
There you'll see an option, "Check for the updates" click on that and wait till device find any available system or android update. If any update is available for your device then you will be able to see it under this option.
If any update is available for your device then update button appear. So, Just tap on it.
Now just follow the on screen instructions and you are all done.