On December 18, after Argentina won the World Cup, Salt Bae, a Turkish chef, was seen on the field at the Lusail Stadium. Many people didn't like him being there because they thought he was getting in the way of the players' celebrations. Lionel Messi seemed especially annoyed by the internet craze.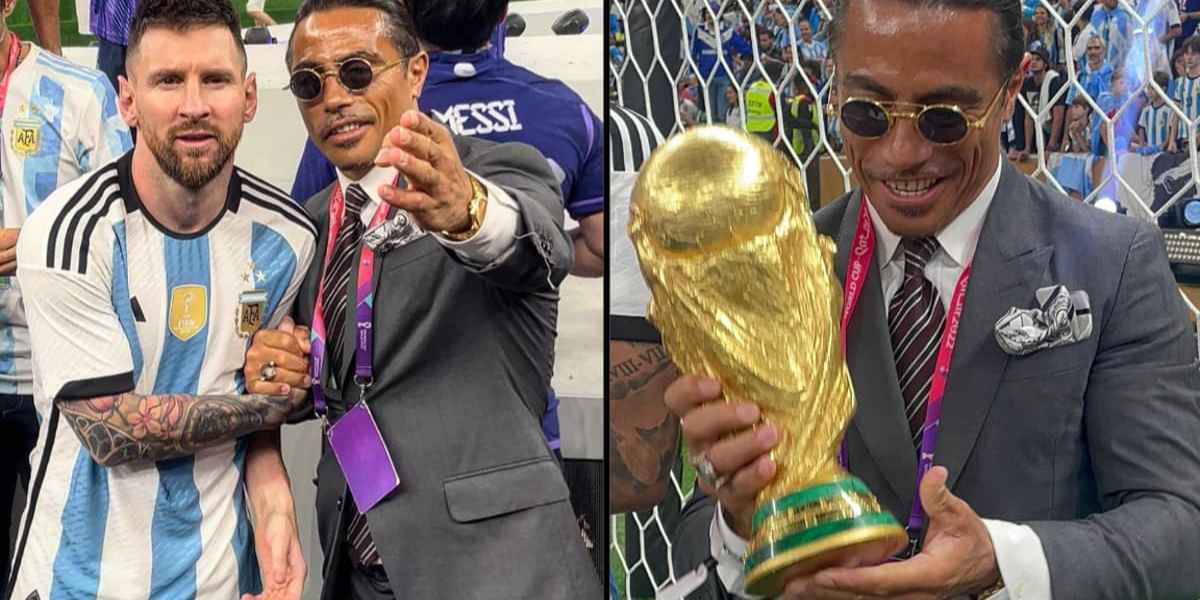 Fifa has just started doing things. In a statement, the governing body said, "Fifa is looking into how people got unauthorized access to the field after the closing ceremony at Lusail Stadium on December 18." The proper steps will be taken on the inside."
Who is Salt Bae?
Nusret Gokce, or "Salt Bae" as he is better known, is a Turkish butcher, chef, food entertainer, and restaurant owner. In January 2017, he went viral for how he spices steaks in a way that is different from what most people do. On the Twitter account for his restaurant, you can watch videos of Gokce cutting steaks with style, dropping salt from his fingers to his forearm, and then onto the dish. Because of his appearance, he was called "Salt Bae" and became a popular meme.
He owns Nusr-Et, a chain of high-end steakhouses in Turkey, Greece, the US, the UK, the UAE, Qatar, and Saudi Arabia. His chain of restaurants comes from his name and the Turkish word for "meat," "Et."
His popularity has gone through the roof since his video went viral. Even though his restaurant often gets terrible reviews for its food, which many critics call "overpriced," he serves many famous people today.
Salt Bae And His Relation With Football
Many famous people have been to Nusr-Et, and his most exclusive customers have been prominent football players. Some renowned soccer players who have eaten at Salt Bae's steakhouses include Karim Benzema, Cristiano Ronaldo, Gerard Pique, Lionel Messi, and David Beckham. In January 2021, the head of FIFA, Gianni Infantino, went to one of Salt Bae's restaurants in Dubai. There, he was seen with Salt Bae doing his signature salt-seasoning pose.
Previously, in 2018, he shared a video of the late soccer legend Diego Maradona being served meat by Salt Bae while he was crying very hard.
Nusret Gokce has stated in the past that he is a fan of football, and he was spotted in Qatar this year attending matches to watch games.
What was it precisely that Salt Bae did?
Following the conclusion of the championship match, Salt Bae made his way to the playing field, where the Argentinian players were rejoicing with their trophies and medals. Even though the players appeared annoyed, he approached several of them and attempted to take their pictures. He was also caught on camera holding the actual FIFA World Cup Trophy while striking one of his signatures salt-sprinkling poses with it.
Unbelievably, Salt Bae bit the winner's medal that had been presented to Franco Armani, who was the reserve goalkeeper. Although Messi tried to disregard Gokce's antics, he was eventually forced to give in to the man's demands, even if it was to get Gokce out of his hair.
Notably, this is not the first time that Salt Bae has insulted fans with his behavior; fans have been angered by him in the past as well. In 2018, he was photographed with Mo Salah after the Champions League Final while Salah was nursing an injury.
FIFA Rules
The regulations of FIFA are designed to give players as much personal space as is reasonably possible. In addition, they hold the World Cup Trophy in the highest regard, considering it to be the most prestigious piece of silverware. Consequently, only a select few individuals can even touch the highly sought-after prize.
FIFA's official website states that the original World Cup Trophy of FIFA can only be touched and held by very selective people. It includes former winners of the competition."
Salt Bae Is Now Banned From the 2023 US Open Cup
The circumstances surrounding Salt Bae's presence on the field are currently under investigation by FIFA. Pop star Rihanna had similar legal trouble in 2014. Due to his antics, Salt Bae has been banned from the 2023 US Open Cup. It is one of the most crucial and old soccer tournaments in the United States.