Aerodactyl is a rock type Pokémon which every player love to get their hands on. Pokémon Go Aerodactyl is one of the most hyped Pokémons. The main reason behind it is that this Pokémon can't only fly bit is also very rare to catch. It can efficiently operate Rock Throw and Rock Slide. Being a rare category Pokémon, it comes with a CP of 2783, 221 attacks and an amazing defence of 159. It also has breathtaking stamina of 190 points.
How to catch Pokémon Go Aerodactyl?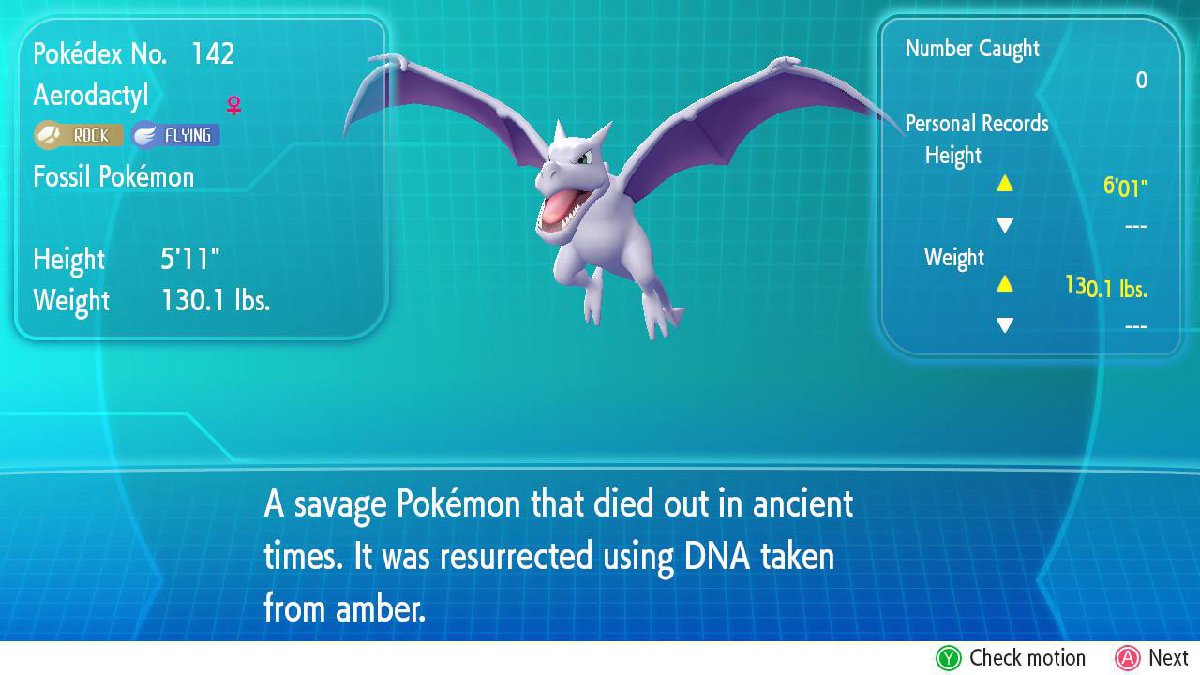 Getting your hands on an Aerodactyl in Pokémon Go is not one of your easy tasks. You will need to take your game up a notch to catch it. This will allow you to complete an eighth challenge (a part of Let's Go, Meltan research tasks).
Once you have the Aerodactyl, you will earn 4,000 XP and become much closer to the ninth set, the final set of the research tasks.
There are three different ways to catch an Aerodactyl. All of them have been listed below:
Specific Field Research Task
This method is the easiest among all the three methods. All you have to do is complete the Field Research Task in which you have to complete the five raids. Moreover, once you finish doing the raid, you will get an Aerodactyl for sure.
However, this research task does not show up for all players since it pops up randomly at unplanned Pokestop. The all you need to do is to go to different pokestops until you get it.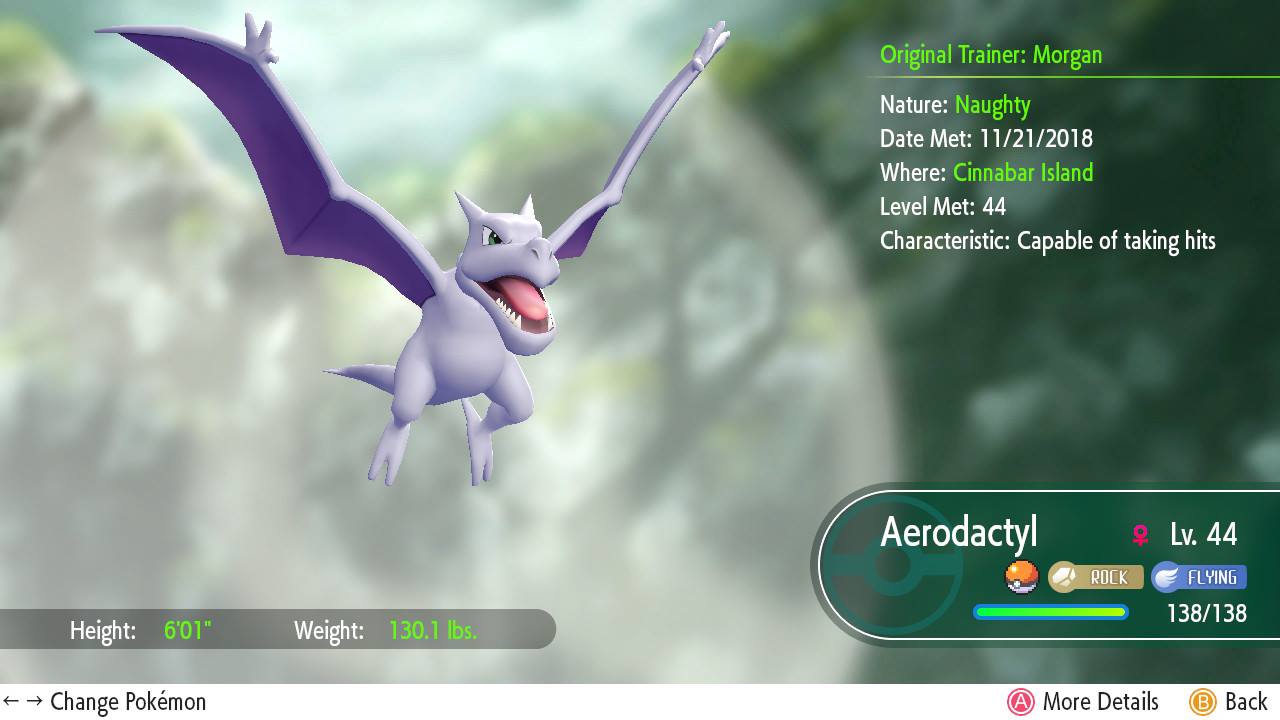 Pokémon Go Aerodactyl Spawn Locations
There is a total of seven tiers of Rock Type Pokémons. An Aerodactyl is the second from the top, which ultimately makes it one of the rarest Pokémon.
Luckily, there are only a few places where there is a higher chance of Aerodactyl to be found and caught. These include Farmland or Nature Preserve locations.
In fact, Farmlands have the highest spawn rate for Rock Types, which means you should definitely go to farms if you are looking to get an Aerodactyl.
Nature Preserves has the second-highest spawn rate for Rock Types. So, visit both of these places, and you might be in luck to find this flying rock-type Pokémon.
Hatching 10km Eggs
If you are trying your luck to get Aerodactyl through 10km eggs, then we don't suggest you try it, as it won't count. Therefore, we advise you to catch one of the pterodactyl-inspired pocket monsters.
Pokémon Go Aerodactyl's weaknesses
The rare Pokémon has a few weaknesses as well. These weaknesses are Electric, Ice, Rock, Steel and Water-type moves. Being an opposing player, you can use these type of moves and defeat Aerodactyl.
Counter Attacks to Bring Aerodactyl Down
Check the list below to find which Pokemon's attack is effective against it.
Aerodactyl – weak to Water, Ice, Electric, Rock, Steel
Electivire – Thunder Shock, Wild Charge
Mega Blastoise – Water Gun, Hydro Cannon
Raikou – Thunder Shock, Wild Charge
Mamoswine – Powder Snow, Avalanche
Kyogre – Waterfall, Surf
Rampardos – Smack Down, Rock Slide
Gallade – weak to Fairy, Flying, Ghost
Rayquaza – Air Slash, Hurricane
Chandelure – Hex, Shadow Ball
Moltes – Wing Attack, Sky Attack
Ho-Oh – Hidden Power, Brave Bird
Gengar – Shadow Claw, Shadow Ball
Slowking – weak to Electric, Grass, Bug, Dark, Ghost
Electivire – Thunder Shock, Wild Charge
Raikou – Thunder Shock, Wild Charge
Gengar – Shadow Claw, Shadow Ball
Chandelure – Hex, Shadow Ball
Cradily – weak to Fighting, Ice, Bug, Steel
Mamoswine – Powder Snow, Avalanche
Machamp – Counter, Dynamic Punch
Lucario – Counter, Aura Sphere
Conkeldurr – Counter, Dynamic Punch
Breloom – Counter, Dynamic Punch
Weavile – Ice Shard, Avalanche
Tyranitar – weak to Fighting, Fairy, Ground, Bug, Steel, Water, Grass
Machamp – Counter, Dynamic Punch
Conkeldurr – Counter, Dynamic Punch
Lucario – Counter, Aura Sphere
Breloom – Counter, Dynamic Punch
Sirfetch'd – Counter, Close Combat
Dusknoir – weak to Dark, Ghost
Chandelure – Hex, Shadow Ball
Gengar – Lick, Shadow Ball
Darkrai – Snarl, Shadow Ball
Weavile – Snarl, Foul Play
Mamoswine – weak to Fighting, Fire, Grass, Water, Steel
Conkeldurr – Counter, Dynamic Punch
Lucario – Counter (Bullet Punch), Aura Sphere
Machamp – Karate Chop, Dynamic Punch
Kyogre – Waterfall, Surf
Mega Blastoise – Water Gun, Hydro Cannon