Pete Davidson and Emily Ratajkowski's relationship took the world by surprise when the duo was spotted together late in 2022. There is nothing new in Pete dating the most popular and high-profile celebrities. But the relationship was too brief since the hottest couple in the town had now broken up. Yes, the comedian Pete Davidson of Saturday Night Live and supermodel Emily Ratajkowski were all cozy in late 2022. What appeared to be the beginning of a new fairytale was just another short fling of Hollywood. 
Though it wasn't the year for Pete or Emily to thrive in their personal life, the fans who were shipping them are confused over this break-up. So, what went wrong with Pete Davidson and Emily Ratajkowski's relationship?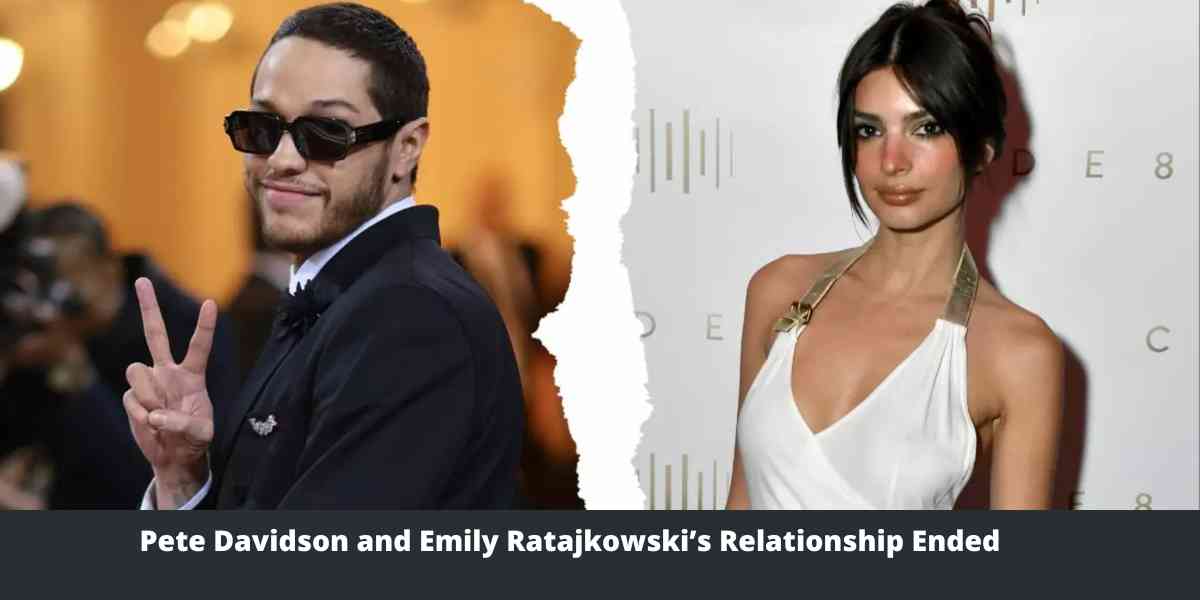 Why Did Pete Davidson and Emily Ratajkowski's Relationship End? 
Pete Davidson and Emily Ratajkowski's relationship has shifted into the friend zone, and both are happy with the current status. The former couple did have a short-lived affair, but a source close to them confirmed that Emily still admired Pete's hysterical nature, whereas Pete thinks Emily is "smoking hot." They are both just focusing on growing in their individual lives without pressure.
Pete and Emily both came out of big break-ups earlier this year before finally dating each other. The SNL comedian was making headlines all this year when he started dating Kim Kardashian, who is having an ugly spat with her ex-husband Kanye West. But then, the former power couple broke up in August 2022. On the other hand, Emily just came out of her marriage with Sebastian Bear McClard after he was caught cheating on her in June 2022. This led to Emily filing a divorce in September. The town's single and most eligible celebs were ready to take the next step in finding love.
Relationship Timeline of Emily And Pete
Emily previously met Pete while shooting for Moose Knuckles Canada's Fall/Winter 2021 Collection in September 2021. She once said in Late Night With Seth Meyers that Pete is "super charming," and his vulnerability makes him attractive. But in 2022, Pete Davidson and Emily Ratajkowski's relationship rumors sparked, which turned out to be true. 
A celebrity gossip account was the first to report Pete and Emily's romance rumors in early November. Pete's hands were all over the supermodel. Paparazzi did spot the new-in-love couple being adorable on 16th November 2022 while they were celebrating Pete's 29th birthday.
But soon, the then-couple confirmed their relationship when they went to a Knicks game together on 27th November 2022. They were totally flirtatious and constantly smiling. It looked nothing less than a date. Fans were hoping to see a new relationship blossoming into something precious. But only over a month after making their debut, the couple officially ended their relationship. They did part ways on a good note, but still, it didn't get to be a love story that would make fans' hearts melt.
Interestingly, one of the sources recently said that Emily and Pete were dating casually and "doing their things." The couple was not serious at all about their relationship.
Is Pete Davidson and Emily Ratajkowski Dating Anyone After Break-up?
Rumors were floating that Pete Davidson and Emily Ratajkowski's relationship ended because of Brad Pitt. You heard it right! News on the internet stated Emily left Pete since she was seeing Brad Pitt. There is no doubt; still, let us clarify that all those are fake news.
Emily and Pete both have moved on but with some other partners. Since Emily hasn't been single in a long while, she wants to enjoy the phase and also diligently follow her duty as a mother. Moreover, she is ready to explore more before committing again. On the other hand, Pete is keeping his heart open, and who knows, he might get the girl he wants.
But what about their dating update? Are they seeing someone? As hard as it will be for some fans, Emily was sharing a passionate kiss with artist Jack Greer. The paparazzi did upload photos of the same. Besides, after Pete Davidson and Emily Ratajkowski's relationship, the comedian was captured kissing Chase Sui Wonder, his co-star for Bodies Bodies Bodies. Who knows if this is a budding romance or another casual affair, but fans are eager to see a new love chapter.
Final Words
The former pair is still in contact with each other. So maybe someday, Pete Davidson and Emily Ratajkowski's relationship will take a new turn. But until then, let us accept that the duo had broken up and be happy for them. Both the stars have been through a lot, and we wish them nothing but happiness!