Before the launch of Reno Ace, the tech giant Oppo added another feather on their hat. Today company officially introduced the second generation of super fast charging technology. Named as 65W SuperVOOC fast charge 2.0. There are two more 30W Wireless VOOC Flash Charge and VOOC Flash Charge 4.0.
If we discuss the market competition. Then Reno Ace with 65W SuperVOOC 2.0 fast charging technology is very high from the market competition. Currently, Huawei premium flagship smartphones come with 40W fast chargers. And recently, Vivo released NEX 3 series smartphones with 44W fast charging support. While Xiaomi and Vivo have already developed 120W ultimate super fast charging technology. Unfortunately, they have not yet started production and the same is yet to be included in their upcoming gadgets.
To introduce this new tech to its users, Oppo shot video to elaborate the features of newly launched 65W SuperVOOC fast charge 2.0 tecghnology. In the video Oppo claims that their new upcoming smartphone Reno Ace can be charged 1% to 100% just within 27 minutes with 65W SuperVOOC 2.0 fast charging technology.
After a lot of anticipation about 65W SuperVOOC, let me show you how fast it really is! 😎 pic.twitter.com/p1UHi18v6Q

— Brian Shen (@BrianShenYiRen) 17 September 2019
65W SuperVOOC fast charge 2.0 is inheritor of fast Super VOOC which was introduced with Oppo Find X Lamborghini edition last year.
How Oppo achieved this 65W SuperVOOC fast charge 2.0 technology gem?
In order to provide super fast charging to their customers. Oppo choose to take up Gallium Nitride (GaN) semiconductors. Which helps to shorten the charging time and also reduce the adapter's size that result in making it super easy to carry it in your bag and even in pocket.
Throughout the whole set of adapter, wire and handset. Company is providing the five safety layers for the user protection and great peace of mind.
Oppo Reno Ace Specifications are still limited. But Apart from getting equipped with super fast new charging technology, Reno ACE is also expected to come with a display that refresh at 90Hz speed. If rumors are spread to be belived. Then Reno Ace is likely to be powered by Snapdragon 855 Plus processor chipset.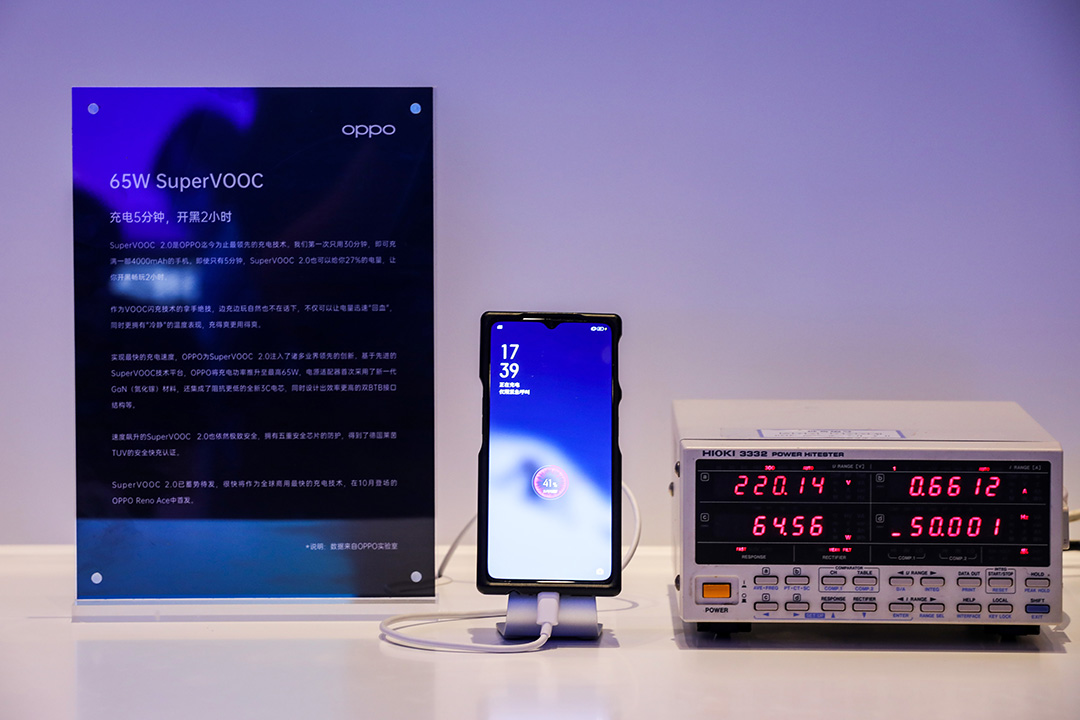 The 30W VOOC fast wireless flash charger will be able to fill a 4,000 mAh power unit within 80 minutes. It comes with Qi standards, which means the devices that support wireless charging but can't receive more that 5W or 10W power can also use the fast charging tech.
VOOC 4.0 is considered as next gen fast charging solution is also capable to touch 30W. It is 12% faster than other VOOC chargers as it will be able to charge 67% in 30 mins and 100% in 73 mins tested on a 4,000 MaH battery. All credit goes to optimized VFC algorithm that reduced the extra time span needed to charge for the last 10% capacity of the cell.
To avoid overheating, Oppo changed several hardware designs HDVC and a foreign object detection function.
Conclusion
Smartphone manufacturer giants don't advise using fast chargers, which are easily available in the market, because they can harm the battery or they may result in leak or blast. But what kind of battery is Oppo placing in Reno Ace? and why will a huge 65W charger won't harm it? There are so many questions in everyone's mind, but nothing can be predicted before the official launch of the product.
Although, it is a great move because we don't need to wait for hours to charge mobile phones as it will charge the phone up to 27% within just 5 minutes, and it would be a great deal to charge your phone while waiting for the coffee.
Stay tuned with us for a detailed review of Reno Ace to know more about the device.