The latest superhero series, The Boys, seems to be taking the internet by storm these days. This new show seems to be causing rage in current pop culture. This probably explains why even before season 3 ends, people are already inquiring about the status of The Boys Season 4. Luckily for fans, the fourth season is currently under production. Well, we have accumulated all the information hinting towards the new season. To find out more, continue reading head!
Directed and produced by Eric Kripke, the series has an impressive 8.7 out of 10 IMDb rating and a 93% overall rating on Rotten Tomatoes. The show is exclusively available for viewers to stream on Amazon Prime Video. It is inspired by the comic book of the same name by Garth Ennis and Darick Robertson. 
The series is set in a world where humans with superpowers (the Supes) are the public's heroes. However, the world remains oblivious to the selfish and corrupt personalities that hide behind their superhero facade. To combat this, the titular team of vigilantes (The Boys) arises. The vigilantes' only focus is to take down Vought and his evil superheroes.
The Boys Season 4 Cast
The Boys Season 4 is still in its early stages of production. Therefore, the team is yet to reveal the cast for the new season. We hope that the show's entire cast reprises their role in the upcoming installment. Nevertheless, we cannot ignore that The Boys is notorious for spontaneously killing off characters. Hence, the entire cast would likely return if no further deaths occurred. Here is a list of the season 3 cast that we expect would be in the fourth season as well: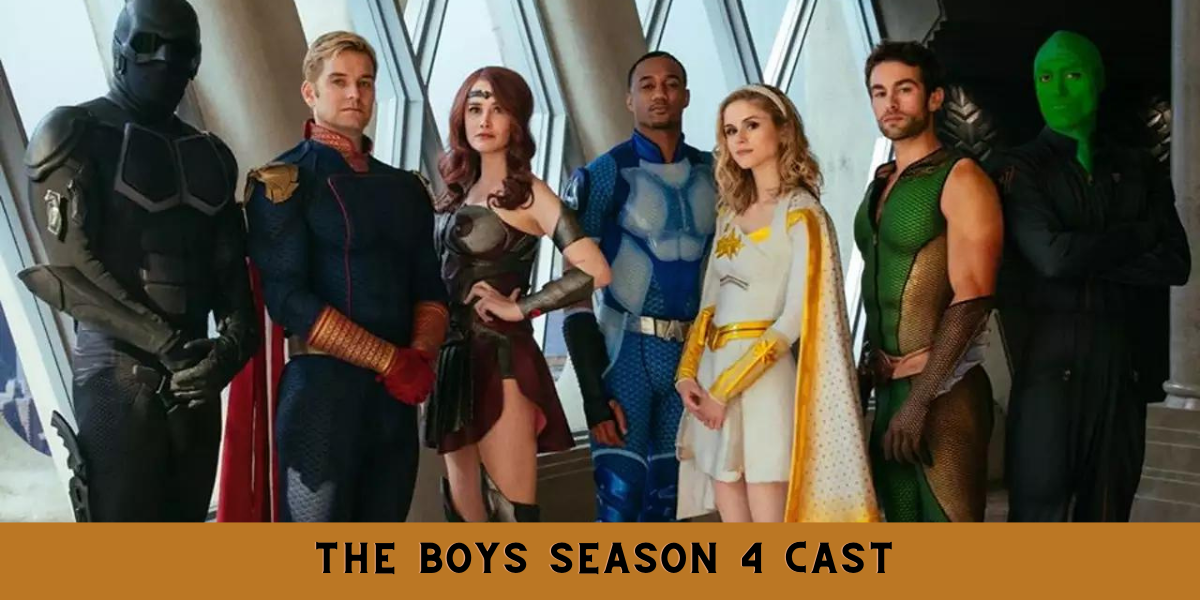 Karl Urban As William "Billy" Butcher

Jack Quaid As Hugh "Hughie" Campbell Jr.

Antony Starr As Homelander

Erin Moriarty As Annie January/Starlight

Jessie T. Usher As Reggie Franklin/A-Train

Laz Alonso As Marvin T. "Mother's" Milk

Tomer Capon As Serge/Frenchie

Karen Fukuhara As Kimiko Miyashiro

Chace Crawford As Kevin Moskowitz/The Deep

Dominique McElligott As Maggie Shaw/Queen Maeve

Giancarlo Esposito As Stan Edgar

Claudia Doumit As Victoria Neuman

Colby Minifie As Ashley Barrett

Jensen Ackles As Soldier Boy
Moreover, as part of the supporting cast members, we have:
Miles Gaston Villanueva as Supersonic 

Aya Cash as Stormfront

Nathan Mitchell as Black Noir

Laila Robins as Grace Mallory 

Katy Breier as Cassandra Schwartz 

Jim Beaver as Robert Singer 

Laurie Holden as Crimson Countess

Sean Patrick Flanery as Gunpowder

Katia Winter as Little Nina

Nalini Ingrita as Janine

Frances Turner as Monique 

Simon Pegg as Hugh Campbell Sr.

Cameron Crovetti as Ryan 

Malcolm Barrett as Seth Reed 

Christian Keyes as Nathan Franklin 

Kristin Booth as Tessa and Jack Doolan as Tommy 

Sabrina Saudin as Ashley

Joel Labelle as Airburst 

Ryan Blakely as Mindstorm
The Boys Season 4 Filming Status and Release Date
The immense success of this unique superhero show is undeniable. Therefore, just a week after the third season, Prime Video gave the green light for a renewal. The show's star, Karl Urban, further verified this news. He confirmed that the fourth season is well on its way. However, filming is yet to begin.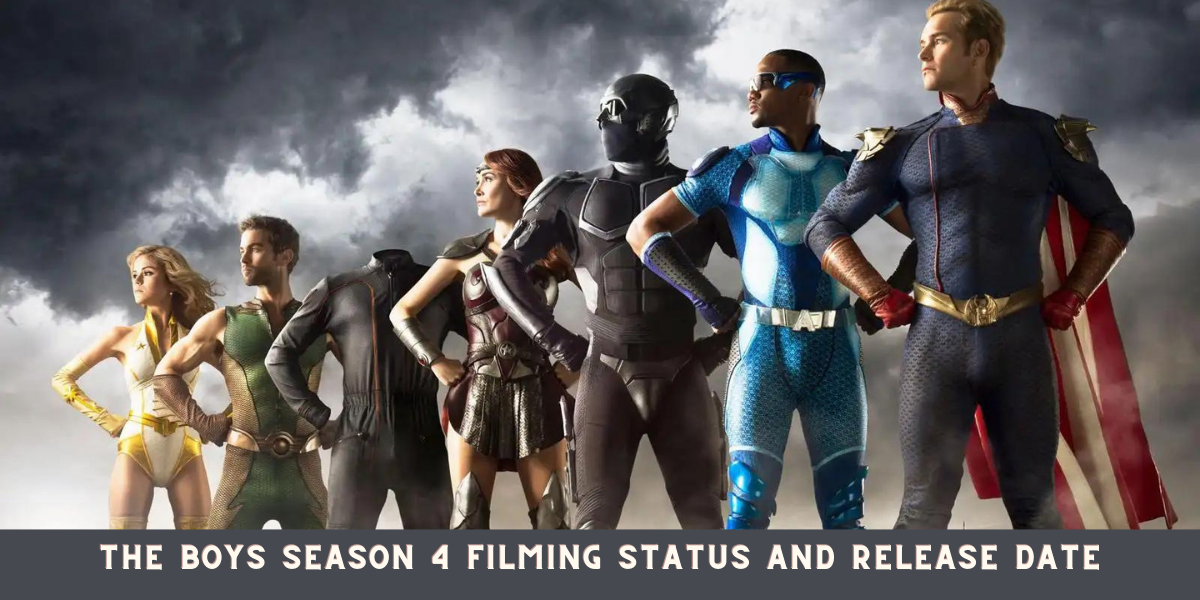 He stated, "Yeah, we're starting, I think, August the 22nd; we're going to be starting season four. So I'm getting back, getting my Butcher back on, and I can't wait. It's a fun gang to play with, we work hard and play hard, and I can't wait to see where they take the characters from where we leave them at the end of this season."
Receiving news about a new season even before the 3rd season ends is truly a treat for all fans. According to Urban's statement, filming for the series will begin later in August (August the 22nd). Hence, provided that there are no further delays, the new season should release sometime in the middle of 2023.
Evil Season 4 – Is it Renewed or Canceled on Paramount+
Maggie Season 2 On Hulu – Is It Renewed Or Cancelled?
What's Currently Happening in The Boys Season 3?
Disclaimer: If you are not up to date with the series, we recommend skipping this article section.
The current season of The Boys is full of multiple ups and downs. As usual, it is keeping us at the edge of our seats. The addition of Jensen Ackles' Soldier Boy indeed had the fans pleasantly surprised. Recently, it is revealed that Victoria Newman is in fact, adopted by Stan Edgar, the CEO of Vought. It will be interesting to see how this new revelation affects Newman and the rest of the team. We hope season 4 can further develop on this.
We see The Boys going legit after the adrenaline-inducing events of the second season's finale. The government now recognizes them as a separate identity. Their job? More or less still the same. To ensure that the Superheroes stay in line. However, now they have to do this without breaking the law. 
Moreover, the team also discovers Vought's top-secret production of Compound V.. The Boys now have super powers of their own as well. They are using these powers as they plot their revenge against Homelander. With increasing hostility between the Supes and the Boys, an intense battle is inevitable as we make our way towards the third season's final episodes. 
KinnPorsche Season 2 Release Date and Renewal Expectations
The Good Doctor Season 6 Premiering in October – What's New?
Storyline
The detailed synopsis of The Boys Season 4 currently remains a secret. There are still two episodes left before the third season reaches its conclusion. Keeping this in mind, it is not a shocker that the team remains extra secretive about the season 4 storyline. Further, it is difficult to predict what The Boys Season 4 may have in store for us. Only once season 3 ends can we discuss a potential plotline for the fourth season. 
It turns out that even protagonist Karl Urban has not touched the script yet. In an interview of his, he stated,
"We're about two months away from filming, and I have no idea. So that'll tell you something, but yeah, not too far away. I mean, I expect that we'll… I'm actually going to be seeing Kripke next week, and I expect conversations will start to happen about what he's got in store. I like to give them the respect of being able to do their writing process and not be harassed by actors going, "What are we doing?" But I can't wait. They always come up with insane stuff, so yeah, it's going to be fun."
The Good Doctor Season 6 Premiering in October – What's New?
Fans are not the only ones being kept in the dark. Most of the cast is also unaware of the upcoming installment's script. Regardless of what the script may be, all fans genuinely care about is that the new season brings back the same zest that the previous installments are notorious for. Plus, we wouldn't mind watching another Herogasm.