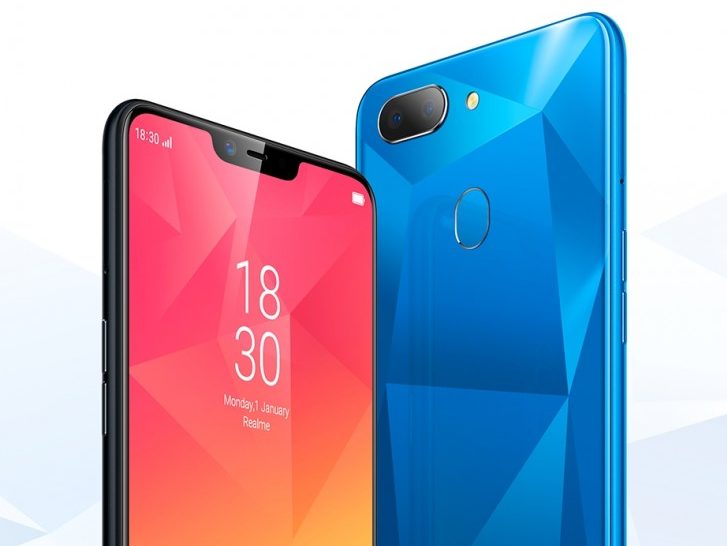 Talking about the design, Realme 2 is very similar to its sibling Realme 1. Its glass back having diamond or geometrical shape is very much alike the Oppo Realme 1. We witness a beautiful image both from the front and back of the new device. This image is pulled out after some time from the company's new official website.
From the front Realme 2 flaunts a notch which is no similar to the descendant. The notch carries a selfie sensor while there are dual camera sensors at the back. Along with it is LED flash and fingerprint sensor which is not present in the previous prototype. Realme 1 is the simple 6″ LCD display smartphone having only one camera at the back of 13-MP and no fingerprint sensor. More to your knowledge, the new Realme device might sport a display of 6.3″ having FHD + resolution. The chipset might consist of Mediatek as in Realme 1 and of course, it will be octa-core.
Another latest report we found is that the retail box of Realme 2 smartphone has been leaked. All the internet mob is hanged for seeing such surprising detail. So, the device can approach soon. All this happened after the Realme launched its official website. It means now onwards Realme will program under its own roof apart from OPPO. There are no details from the detail box as no back image of the box is there. The only front image is known.
From the image above, the smartphone will launch in two colours i.e., Blue and Black. The expected price for the device will be around Rs 19000/ 1860 Yuan. We will update you soon if the new report regarding the Realme device comes. For now, no launch date and incomplete specs are there.