Peter Pan and Wendy is the upcoming live-action adaptation of the classic novel "Peter Pan" by JM Barrie. Disney has released a new trailer for the film! This new take on the timeless story features Alexander Molony as Peter and Ever Anderson as Wendy, with Yara Shahidi playing the role of Tinker Bell. Peter Pan and Wendy promises to be a visually stunning and exciting new addition to the long line of Peter Pan adaptations.
This is not our first time seeing a Peter Pan adaptation on the big screen. The 1953 animated Disney version, Robin Williams' "Hook" from 1991, and Johnny Depp's "Finding Neverland" from 2004 are just a few examples. But this time, Disney has teamed up with director David Lowery and screenwriter Toby Halbrooks to bring a fresh perspective to the classic tale. Lowery, who previously directed "Pete's Dragon," is known for his visually stunning work and promises to capture the wonder and magic of Neverland in this new adaptation.
Peter Pan and Wendy: Release Date
The production for Peter Pan and Wendy began in March 2021 in Labrador and Newfoundland and wrapped up in June of the same year. Finally, the film is set to be released exclusively on Disney Plus on Friday, April 28th, 2023. Fans of the beloved story have eagerly anticipated this release and are excited to see what this new take on the classic tale will bring.
Peter Pan and Wendy: Cast
One of the most exciting things about Peter Pan and Wendy is the cast. Alexander Molony and Ever Anderson will be playing Peter and Wendy, respectively. Furthermore, Jude Law will take on the role of the infamous Captain Hook. Jim Gaffigan will also be joining the cast as Mr. Smee. But the most exciting casting news is that Yara Shahidi will play Tinker Bell, becoming the first person of color to portray the beloved fairy. Shahidi is known for her roles in "Black-ish" and "Grown-ish."
Can I Watch Avatar The Way of Water on Disney+?
In a recent interview, Shahidi shared her admiration for Halle Bailey. Shahidi and Bailey have discussed the challenges of playing roles that rely heavily on motion capture technology. But beyond the technical aspects, Shahidi is having a blast playing Tinker Bell. She said, "We've started already, so it's been really fun bringing that to life and pretending to be five inches tall." Fans of the story are excited to see how Shahidi brings her unique perspective to this iconic character.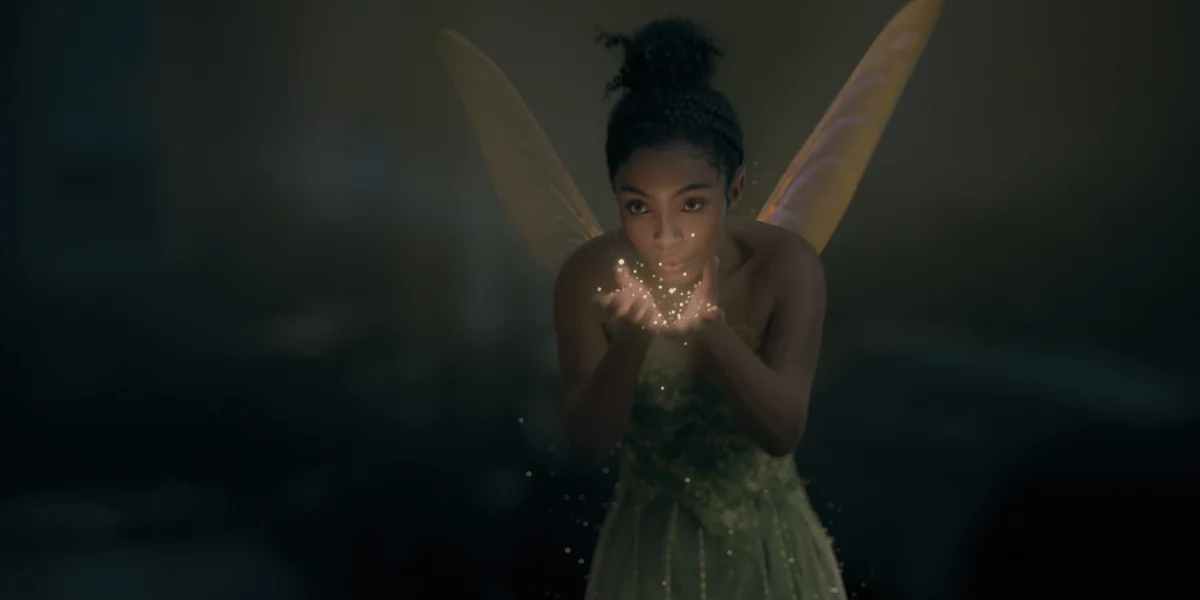 Disney's Strange World is coming to Disney+ this Christmas.
Peter Pan and Wendy: Plot
So what can we expect from the plot of the classic old tale? The story follows Wendy, a young girl who meets Peter Pan, the boy who refuses to grow up. Together with Wendy's brothers and Tinker Bell, they journey to the magical world of Neverland. In their journey, they encounter Captain Hook and embark on a dangerous adventure that will change their lives forever. Director David Lowery promises to bring a new perspective to the fairy tale. He plans to do it by exploring the idea of growing up and the fear and excitement of it.
Trailer For Peter Pan and Wendy
The Peter Pan and Wendy trailer is out; fans are already excited. The trailer shows glimpses of Neverland, the iconic characters of Peter, Wendy, and Tinker Bell, and the dastardly Captain Hook. It promises a thrilling adventure that will take us on a journey through the lush landscapes of Neverland. Watch here!
'Peter Pan and Wendy' is shaping into an exciting new take on the classic tale. With a talented cast, a director with a unique vision, and a beloved story, fans eagerly await its release on Disney Plus later this year. So mark your calendars to watch Peter Pan and Wendy.