Mighty Doom is the latest addition to Bethesda and Alpha Dog Games' iconic DOOM series. The new mobile game is focused on offering fun arcade gameplay where the gamers have to progress through multiple levels to collect power-ups, unleash the power of Mini Slayer, upgrade gear, unlock skills, and enjoy the new coolest features. Players will be armed with legendary weapons to fight in intense battle arenas against iconic bosses like Doom Hunter. It is a top-down, rogue-lite shooter game featuring simple controls.
The developer Alpha Dog Games has been teasing the fans about the Mighty Doom for quite some time, and now it is preparing for its launch. Recently, the official trailer of Mighty Doom dropped on 21st February 2023 to share more insights about the game and upcoming release date. Interested players can now pre-register to get instant access to the game upon launch, making it all more exciting for the fans. So when will it release, where can you pre-register it, and what rewards will you get? Check out all the details below.
Mighty Doom Release Date
Mighty Doom is set to release on 21st March 2023 on iOS and Android, as confirmed by Bethesda during its trailer launch. You can also pre-register for the Mighty Doom right now. The game's beta version arrived on 12th April 2021 on Android devices in Canada and New Zealand. The game has been in development for years, and fans will finally play it on their devices.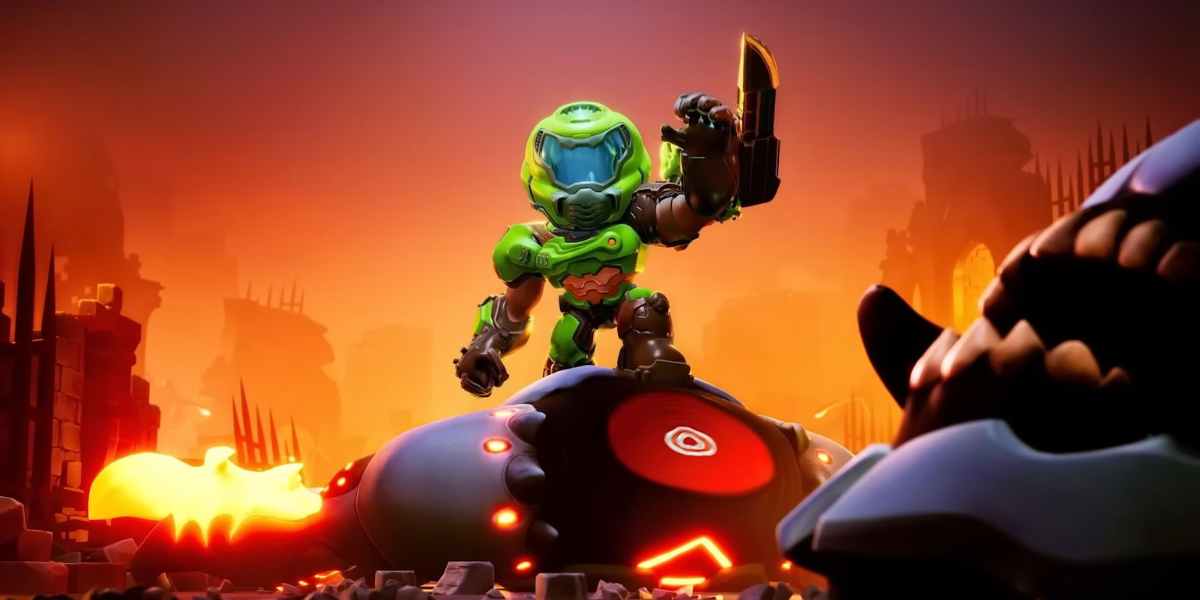 How To Pre-Register For Mighty Doom?
It will take up to a few minutes to pre-register. The pre-register option has gone live on both Android and iOS devices. It would help if you visited the Google Play Store and App Store first to have access to the option. If you are still looking for the pre-register section, head over to Bethesda's official page and click on the link given for Mighty Doom pre-registration. The link will direct you to the Google Play Store and App Store page.
Once you successfully launch the page, then perform the actions as directed.
 For Android phones, users have to click on "Install." A dialog box will notify that Mighty Doom will be automatically installed once released.

The users of iOS devices will have to click on "Pre-Register Now!". Then a pop-up will ask you to enter an email address. Once done, "confirm" it. The users will receive a confirmation mail upon successful pre-registration. When the game is officially available, the developers will share an email to remind the user to download Mighty Doom.
Please note the last date to pre-register is 19th March 2023. The official website has updated the information. So, pre-register now!
PSVR 2 Release Date, Games, Price, Specs: Everything You Must Know
What Are The Rewards You Will Get For Pre-Registering To Play Mighty Doom?
The developers have planned on exclusive Mighty Doom pre-registration rewards. The gamers must play the game from 21st March to 20th April 2023 to receive the Mini Slayer's Pack. Though the dates are subject to change, the players need to follow the current updates to get the rewards. So here is the list of items you will find in the Mini Slayer's Pack:
Baron of Hell Heavy Cannon Weapon Skin

Cacodemon Rocket Launcher Weapon Skin

3 Equipment Keys

1 Weapon Key

80 crystals
The rewards will enhance your overall gaming experience.
Is Mighty Doom Free To Play?
Mighty Doom will be free to play. However, it will have several in-app purchases and paid upgrades.
If you still need to pre-register, make no delays. It is only a matter of time before the game launches on mobile platforms. 
5 Key Factors for Successful Video Game Porting: Insights from Industry Experts