Joyride is already out! With her brave decisions in the movie and television scenes, Olivia Colman has continued to dazzle audiences from The Crown to Empire of Light. However, the Academy Award-winning actress is taking a break from her recent string of dramatic roles to take on a lighter, more comedic project. Joy, played by Colman, is a solicitor who finds herself in a taxi with a baby in the back seat. Further, a 12-year-old is the driver.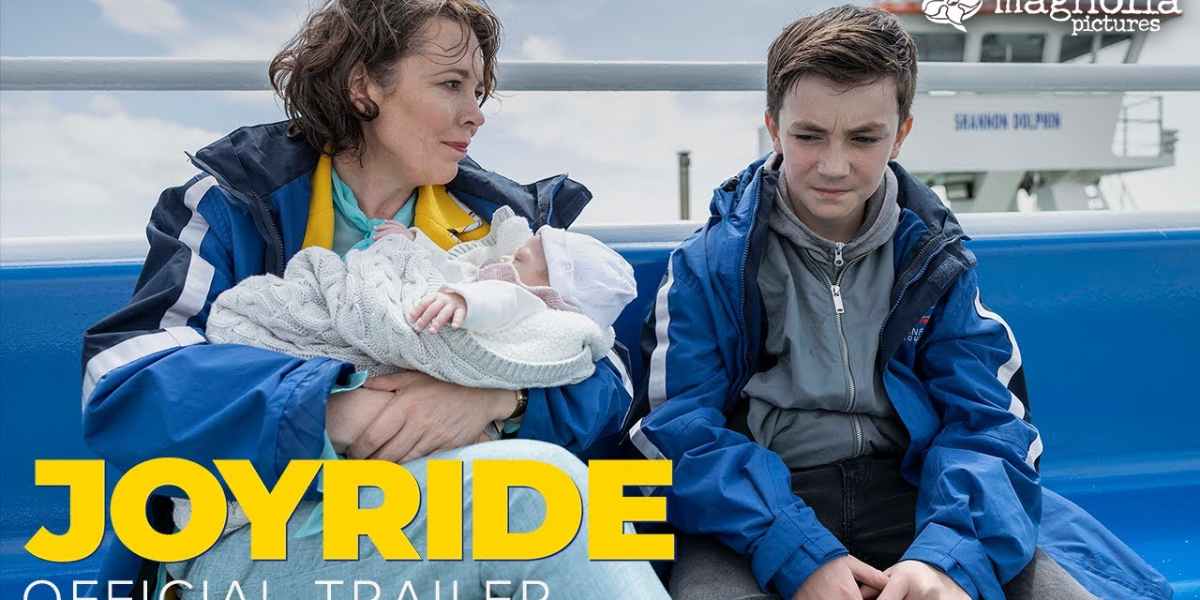 Given the out-of-the-ordinary circumstances that brought them together, unsurprisingly, the three develop an unexpected bond while driving across Ireland. Here's everything you need to know about this film if you're looking for a gentle and relaxing viewing experience with a dash of Irish humor.
Joyride: Release Date
In June of 2022, at the 34th annual Galway Film Fleadh, Joyride debuted to rave reviews. The film has been well received in the UK and Ireland, but it opened late in the US. On December 23, 2022, it premiered in theaters and was available on video-on-demand.
Joyride will only be in theaters for a limited time, like other recent releases like Glass Onion: A Knives Out Mystery and Pinocchio from directors like Guillermo del Toro. Also, double-check that your preferred theater is one of the select few showing the film. If you need help finding the nearest place to view it, you'll need to find the closest location. The weekend of its release will be very active. It's on par with other highly anticipated movies like "Babylon" by Damien Chazelle and "I Wanna Dance With Somebody," which follow Whitney Houston's life.
Plot of Joyride
Joyride is a film that will make viewers laugh and cry through its emotional scenes and unexpected twists and turns on the highway. The 12-year-old Mully is passionate about supporting a good cause through his fundraising efforts. But a significant roadblock stands in his way: his father wants to keep the money for himself rather than letting his son donate it to charity. Because his father is always on his case, Mully decides to steal a cab and run away with the proceeds.
He only realizes a woman and a baby are in the taxi after he has already pulled away. Joy, the woman, is a lawyer specializing in finding creative solutions to problems but has trouble conceptualizing what it means to be a parent. She needed the taxi to get to a meeting that could influence her decision about whether or not to leave her newborn child with her parents. Through their travels across Ireland together, Mully and Joy come to know each other and benefit from each other's company.
Joyride: Casts and Crew
The previously mentioned Olivia Colman plays the lead role in this independent film. The actress plays Joy, a mother who suffers from postpartum depression and finds it difficult to enjoy being a mother. The themes explored in Joyride may appeal to viewers who enjoyed The Lost Daughter (another film starring Colman). Alongside Charlie Reid, the British actress has appeared in several films.
In the road movie, the young actor makes his debut as Mully, who flees his father and is welcomed by a stranger in a stolen cab. James, Mully's greedy father, is portrayed by Lochlann O'Mearáin. In addition, the actor has appeared in Love & Friendship, Outlander, and Vikings. Other cast members of the movie are:
Elaine Kennedy, 

Seamus Kennedy, 

Tim Landers, 

Olwen Fouéré, 

Seán O'Connor, 

Sean Crowe, 

Sam Crowe, 

Sé O'Neill Hasik, 

Damian Dargan, 

Aislín McGuckin,

 Bill Conry, 

Diarmuid Griffin, 

David Pearse, 

Tristan Heanue, and 

Shauna Courtney.
Joyride is Emer Reynolds' first time directing a fictional feature film, but she has extensive experience in the documentary genre. The Dublin-born director's impressive work includes the classics Here Was Cuba and The Farthest. In addition, she has edited films like "I Went Down," "The Actors," and "Eclipse," among others, and has won five IFTAs for her work.