The experts advises of the new in-display fingerprint sensor technology that came up as a new revolution with Vivo X20 Plus UD being the first to integrate it. While second follower of this unbelievable tech was followed by Vivo X21 UD smartphone launched recently on 21 March. The news from Taiwan ensures that the Huawei Mate 20 Pro will have an integrated fingerprint sensor on the screen. However, the main attribute which would be featured by upcoming flagships of various brands this year and ahead is in-display fingerprint.
Earlier, the mobile processor manufacturing brand Qualcomm takes the challenge of manufacturing its individual in-display fingerprint tech. However, the sources imparts, Huawei shall affix its new handset by this feature developed by Qualcomm. The company's first handset will be launched in the second half of the year featuring in-display fingerprint. Recalling the info, it has been a year since this manufacturer unveiled plans to launch fingerprint sensor mobile on the screen in the summer of 2018.
As reported, Qualcomm's fingerprint sensor shall be three times more expensive than current capacitive sensors.
The 3 variants of Qualcomm Fingerprint Sensor:
The fingerprint tech will be coming in three variants namely Behind the phone, Under-display and Under-Glass.
Premium smartphones will bear the under-display fingerprint sensor.
Under-glass sensor will cover by Upper-mid level devices.
And, behind the phone means rear fingerprint sensor will owned by Mid and Low level handsets.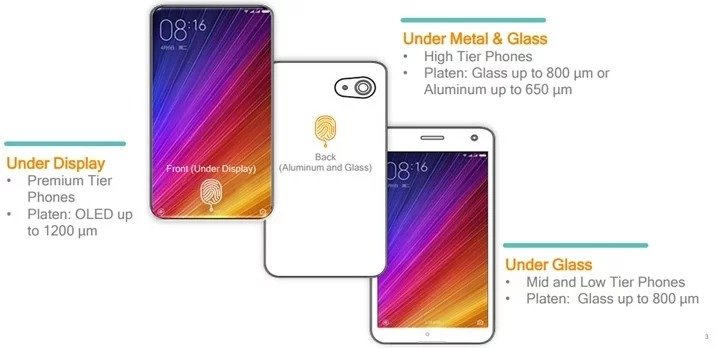 However, Qualcomm sensor is thinner with only 0.44 mm. This sensor will have the capacity to operate on glass with a thickness of up to 800μm. The Huaewi Mte 20 Pro will have sensor in OLED display with thickness upto 1200 μm. Nowadays capacitive sensors can only operate up to a maximum thickness of 200μm or 300μm.
Another information that also comes from Taiwan is that the Chinese manufacturers will not replicate the Apple Face ID used on the iPhone X, since this sensor costs about 50 Euros. This would make smartphones very expensive.