It has been a long since chapter 1 was released, and now this game lover is eager to know for Deltarune Chapter 2 release. So, here we will uncover everything we know about Deltarune Chapter 2, which is the most awaited game in 2021, and for a long time, there is no update in its developing process.
Deltarune Chapter 2 Release Date 
It has been three years since game lovers are waiting for its chapter 2. But unluckily officially, there is no announcement made by the authorities about Chapter 2 released. According to a Famitsu article, development for the chapter has begun in the year 2020, and the developing team is trying to develop it in lesser time than the previous chapter.
Another thing is… while celebrating the anniversary of chapter 1, Fox made a tweet and saying, "We're still working hard on Chapter 2 of the game and making steady progress. I can't say much, but I can tell you with confidence: This is easily one of the silliest things I've ever made…" So guys, you have to wait for Deltarune Chapter 2 Release.
Can I see Deltarune Chapter 2 Trailer? 
The official trailer of Chapter 2 is not yet released. However, some pictures are available with the same kind of feature that will be in Chapter 2 so game lovers can make an idea of chapter 2.
The gameplay of Deltarune Chapter 2 
As we all know, this is a role-playing PC-based game in which a human named Kris is controlled by the player in the city of monster. Like chapter 1, the second will also filled with fantasies and surprises. As per resource now, players would see their enemies before face to face with them. So these such things would be interesting and made this game addicted.
Would it be last Chapter of the Deltarune Game Series? 
Definitely not…!!! According to the source, it was said by the officials that there would be approx. Six chapters so that gamers can enjoy so long. In addition to this information, added in terms of "Map Design," would vary the map from chapter to chapter, and the previous chapter has competed in all manners. So guys, you no need to worry in this regard, and definitely, you will enjoy this game for so long.
Let's Have a look on Deltarune Team.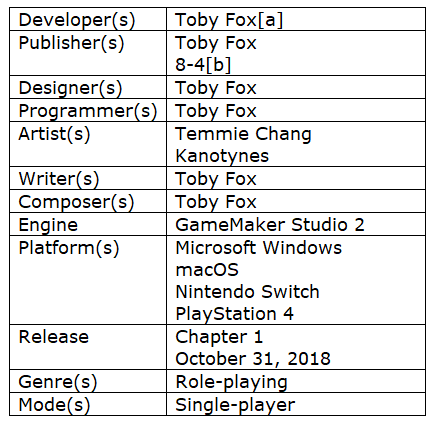 Guys, till the Deltarune Chapter 2 is released officially, you can enjoy other games meanwhile, and we make sure that you will be the one who got to know its release date. So be in connect with us and must do comment. If you have something to share with us, we would love to hear you.